Cesar E. Chavez
Elementary School (4-6th Grade)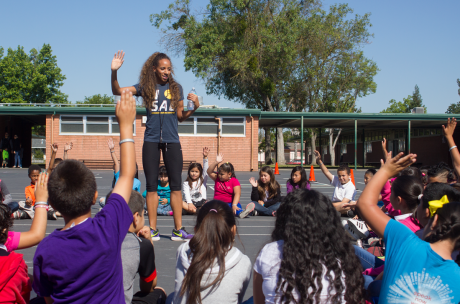 Contact: (916) 395-4530
Grades: 4-6
Mascot: Eagle
School colors: Burgundy and gray
Uniform: Black or blue bottoms, white tops
Signature field trip: Fog Willow Farms
Special programs: Dual language (Spanish) in grades 4-6. Click here to learn more.
After-school program: Target Excellence
Cesar Chavez Intermediate is composed of only three grade levels, 4th-6th. All students will achieve academic success while becoming effective communicators and developing confidence in their learning. Our mission will be achieved by working collaboratively to ensure all students acquire the knowledge, skills and qualities required to be lifelong learners and successful in our diverse society. Our staff is committed to increasing student learning by engaging all students, providing differentiated instruction, the use of technology and research-based best practices in all settings including the bilingual and special education programs.