Student Support
Student Support and Health Services (SSHS) offers a wide range of social, emotional, and health resources to help students thrive. We promote attendance and a positive school climate by focusing on the whole child, providing critical support services and removing barriers to learning.
Community Schools Survey
We want to hear your voice! We are collecting surveys from students, parents, and staff at the following schools:
Fern Bacon Middle School
Hiram Johnson High School
John Still K-8 School
Luther Burbank High School
Rosa Parks K-8 School
Will C Wood Middle School
If you attend/your child attends one of these schools, please fill out a survey below.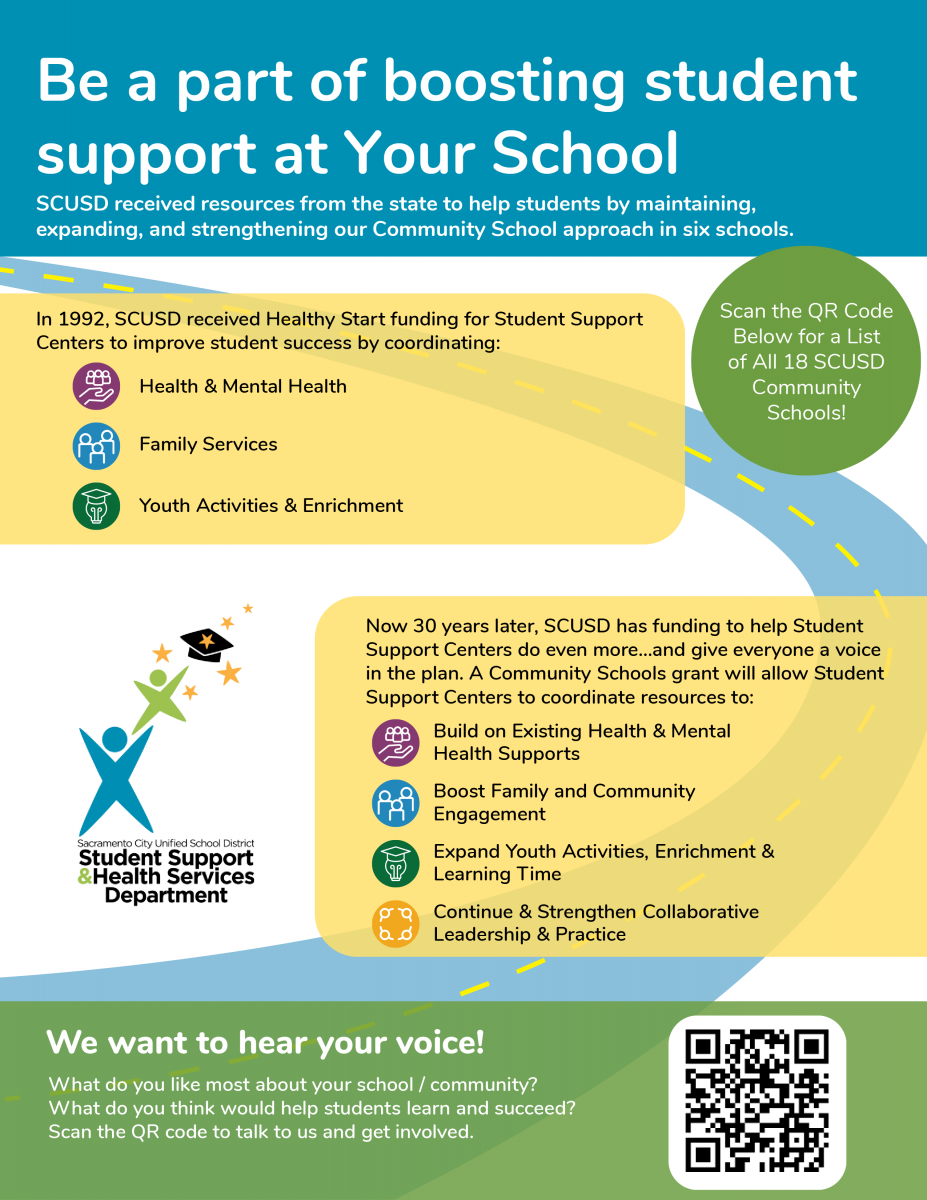 The California Department of Education (CDE) Community Schools Partnership Program defines a community school as "any school serving pre-Kindergarten through high school students using a "whole-child" approach, with "an integrated focus on academics, health and social services, youth and community development, and community engagement." As a school improvement strategy, community school initiatives enable the local educational agency (LEA) and school to work closely with educators, students, and families to understand and address the unique needs, assets, and aspirations of the school community."
Foster Youth Services (FYS) – a group of school professionals with expertise in the both educational and social service systems – joined the SSHS family in 2018. The FYS program is designed to serve the unique educational, social and emotional needs of children in foster care by building assets that make them resilient and ultimately successful. FYS began operating in 1973 in SCUSD. Our program has successfully served thousands of foster youth, markedly improving their school performance and increasing their chances for success later in life.
We recognize the connection between health and academic achievement, and the importance of using evidence-based policies and practices to promote student health and wellness. Health Services credentialed school nurses, teachers, and staff provide health-related interventions, assessments, screenings, education, procedures, and referrals. We are health advocates for children by assisting families and communities to manage health problems and enable students to access to learning.
Health Services
Serna Center Box 764
5735 47th Ave
Sacramento, CA 95824
The McKinney-Vento- Education for Homeless Children & Youths act provides protections for students who are unhoused/homeless, including enrollment rights (see below: Rights for Students Who Are Unhoused). The SCUSD Homeless Services Office supports the enrollment, attendance, and achievement of students who are experiencing homelessness to ensure they receive equal access to educational opportunities.
Definition of Students who are Unhoused / Homeless
SSHS operates Student Support Centers at schools throughout the district to provide support to students who are struggling socially, emotionally, behaviorally and/or academically. At each center, a coordinator works closely with school staff to identify students in need of assistance. Once identified, social workers, family advocates, interns, and community partners work directly with students and parents to address issues that are of concern to them, drawing on other resources for additional support.
The SCUSD Connect Center is a centralized Student Support Center that serves as a "gateway" to critical support services for students and families in our school district. It offers an innovative solution to addressing the health, wellness and educational needs of SCUSD's children, youth and families. This central hub is designed to increase coordination of services by providing a single, easily identifiable point of access and assistance to address the social, emotional, and health needs of all students.
A variety of mental health services are available to students experiencing social or emotional difficulties. With specially trained staff and a wide array of community mental health providers, Student Support and Health Services staff provide services directly to students and families.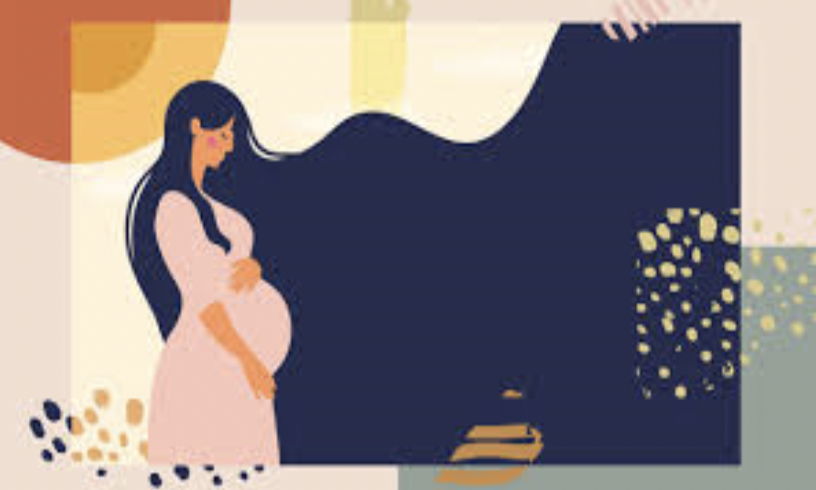 Student Support & Health Services (SSHS)' Pregnant and Parenting Students program is focused on supporting the well-being of SCUSD adolescent parents and their babies. Our goal is to maintain students' academic success and support life skills to enter the world, college or career ready.
Once a student is identified as pregnant or parenting, a referral form is sent to the program Coordinator. The Coordinator will meet with the student to complete a collaborative assessment and provide them a welcome packet. The packet contains resources for health care, birth control, lactation rights and their student rights and protection under Title IX.
Title IX protects students who are pregnant, parenting or who have been pregnant from being excluded from or participating in any part of an educational program. SSHS will partner with community agencies to refer students for comprehensive services and support when needed. With strategic partnerships, SSHS' goal is to improve the knowledge and skills of adolescent parents to be advocates in their own education, successful parents and have healthy transitions into adulthood.
The Student Support & Health Services Department provides district oversight of Section 504 Accommodations.