Student Support
Student Support and Health Services (SSHS) offers a wide range of social, emotional, and health resources to help students thrive. We promote attendance and a positive school climate by focusing on the whole child, providing critical support services and removing barriers to learning.
Foster Youth Services (FYS) – a group of school professionals with expertise in the both educational and social service systems – joined the SSHS family in 2018. The FYS program is designed to serve the unique educational, social and emotional needs of children in foster care by building assets that make them resilient and ultimately successful. FYS began operating in 1973 in SCUSD. Our program has successfully served thousands of foster youth, markedly improving their school performance and increasing their chances for success later in life.
SSHS operates 31 Student Support Centers at schools throughout the district to provide support to students who are struggling socially, emotionally, behaviorally and/or academically. At each center, a coordinator works closely with school staff to identify students in need of assistance. Once identified, social workers, family advocates, interns, and community partners work directly with students and parents to address issues that are of concern to them, drawing on other resources for additional support.
The SCUSD Connect Center is a centralized Student Support Center that serves as a "gateway" to critical support services for students and families in our school district. It offers an innovative solution to addressing the health, wellness and educational needs of SCUSD's children, youth and families. This central hub is designed to increase coordination of services by providing a single, easily identifiable point of access and assistance to address the social, emotional, and health needs of all students.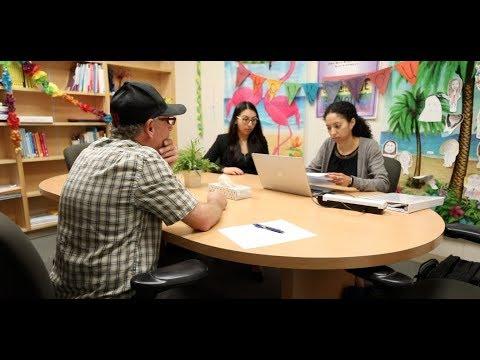 The Homeless Services program supports the enrollment, attendance and achievement of homeless students to ensure they receive equal access to educational opportunities. Specific services include assistance in the following areas: school enrollment and attendance support services, records retrieval, school and hygiene supplies, health/immunization referrals, shelter/housing and community referrals, and education support services under McKinney-Vento Homeless Assistance Act: Education for Homeless Children and Youths.
A variety of mental health services are available to students experiencing social or emotional difficulties. With specially trained staff and a wide array of community mental health providers, Student Support and Health Services staff provide services directly to students and families.
In addition to the mental health services provided at SCUSD's Student Support Centers and Connect Center, SSHS oversees and coordinates several distinct mental health programs including:
The Student Support & Health Services Department provides district oversight of Section 504 Accommodations.
With the support of district administrators, community partners, local funders and state policymakers, the Student Support & Health Services Department has been coordinating efforts to launch two pilot programs related to student chronic absence and attendance improvement. These projects focus on the use of school and community data to identify trends in student absence and points of intervention.
With funding from The California Endowment's ten year Building Healthy Communities Initiative, the Sacramento City Unified School District collaborated with LPC Consulting Associates Inc. to produce a school ranking to identify schools with a high need for health care services and prioritize the placement of school-based health clinics. The ranking includes school-site attendance, income, chronic disease, behavioral health and safety, and sexual health indicators, as well as community-based indicators that impact student health.