Mark Twain
Elementary School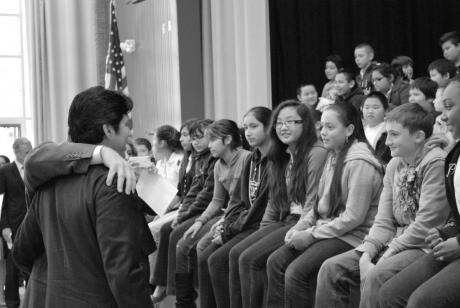 Contact: (916) 395-4640
Grades: K-6
Mascot: Frog
School colors: Green and white
Uniform: White tops, blue bottoms
After-school: Target Excellence
Preschool? Yes
Mark Twain's mission is to build a positive school environment to meet the needs of each student by providing opportunities to develop academic and social skills necessary to meet grade level standards and to become passionate life –long learners. Our staff aims to provide a safe and positive environment that values cultural and ethnic diversity, and that empowers families with meaningful opportunities to participate in their child's education.
To promote and enhance positive traits in everyone, the school has implemented a school wide focus on the following traits: respect, responsibility, teamwork/cooperation, giving and service, initiative, caring, trustworthiness, justice and fairness, perseverance, and acceptance. Each month emphasis is given to one of these traits.
The Mark Twain staff recognizes students for positive contributions, good attendance, academic progress, and good citizenship through various incentives and monthly assemblies.
To support struggling students, the following structures are in place: Student Success Team, individualized intervention for students during the school day, tutoring, and differentiated instruction in the classroom with assistance from classroom aides and peer tutors from Hiram Johnson West Campus High School.
The Target Excellence Program provides academic support with a safe, positive learning environment. The academic program component includes homework assistance, and a variety of enrichment and recreational activities. The program's primary goal is to provide additional student skill development with the following areas: education, health and wellness, fitness, and social and life skills.
Mark Twain also houses two preschool programs (State Preschool and Head Start Preschool) through the district's Child Development Department that have proven to be very successful.