California
Middle School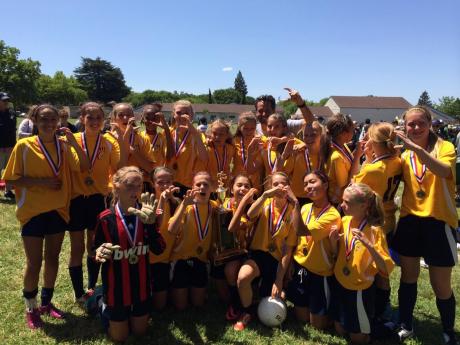 Contact: (916) 395-5302
Grades: 7-8
Mascot: Bear
School colors: Blue and gold
Uniform: None required.
Special programs: GATE
Sports: Basketball, golf, soccer, softball, track and field, Mighty Lion Running and Fitness
Clubs: ASES, Bear Book Club, Broadcast News, Crazy Contraptions, MESA, Public Speaking Club, Yearbook
The arts: Orchestra, drama
Technology: State-of-the-art Apple computer labs
Signature field trips: Yosemite National Park; Oregon Shakespeare Festival
California Middle School, in the heart of Land Park, is a perfect representation of the diversity of Sacramento, blending all socio-economic backgrounds into a cohesive, rigorous and relevant educational program. California Middle School provides an environment where all children are able to meet and exceed their academic potential.
A small, family atmosphere allows our teachers and paraprofessionals to learn about each of our students and develop close, meaningful relationships that help to foster success. Through weekly content area collaboration, our teachers examine student work and plan instruction according to identified areas of need. Through a variety of enriching extra-curricular offerings including a nationally-recognized Speech and Debate Program, a unique advanced art curriculum, full-time music and AVID, California Middle School supports the development of children as a whole.