Student Attendance & Engagement
We are the CARE Team- Connect. Ask. Relate. Engage.
Vision Statement
"Authentic relationships with students, families and the community are at the core of our work to reduce chronic absence, increase student engagement and ensure academic success for ALL students, especially our most vulnerable."
Why we monitor attendance & engagement: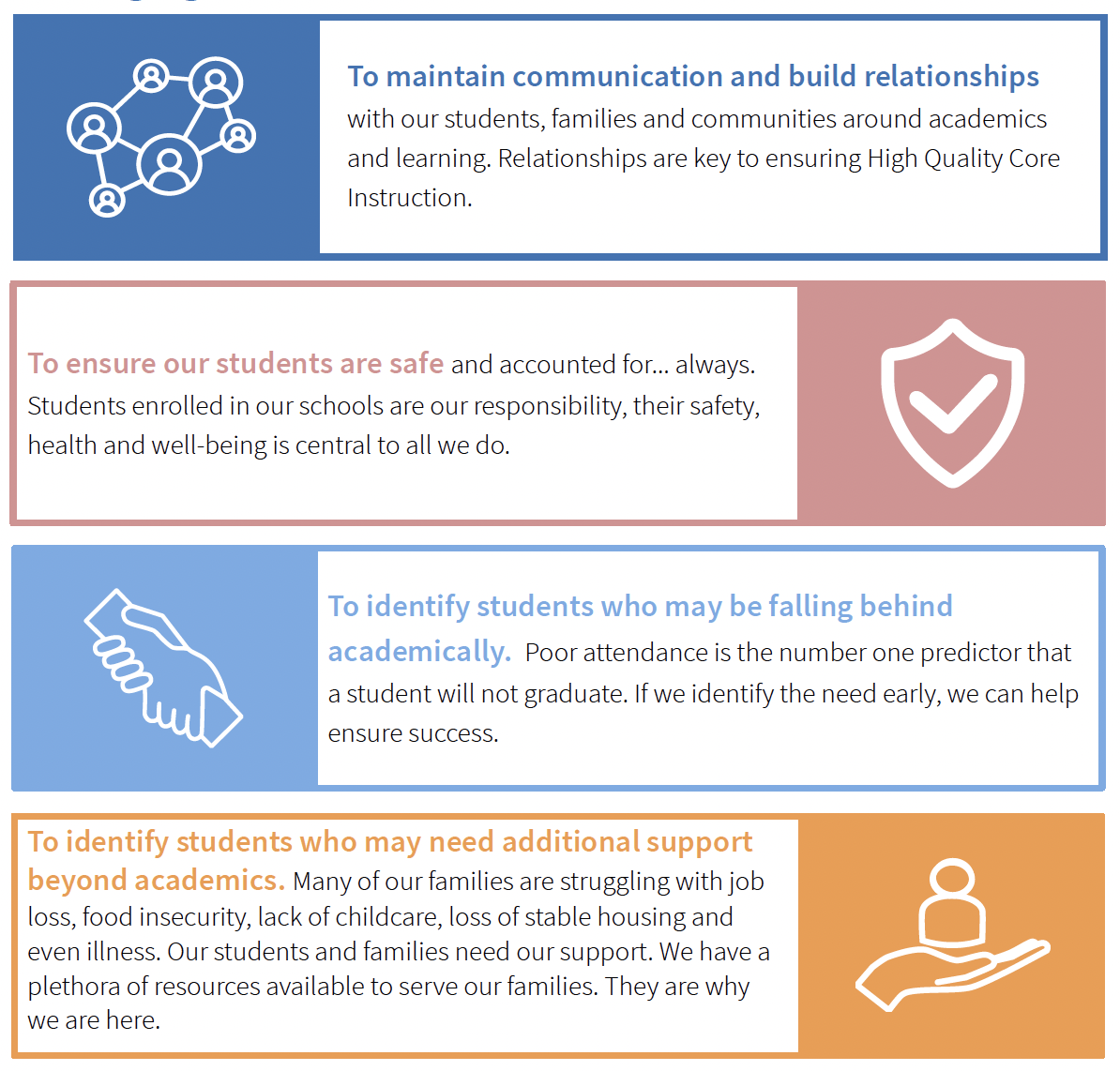 Attendance & Engagement in SCUSD
SCUSD's Attendance Office launched a multi-year campaign that rallied for our students to "Be HERE!" When COVID closed schools and changed education as we know it in 2020, we could no longer ask our students to be physically present, we had to reevaluate and change our focus. A meaningful connection to friends, caring adults, engaging subject matter and activities in class and in our community are the core of what our students need to learn and thrive. Not only do we want students to be present, we want them to be engaged by interacting, thinking and connecting with school staff and peers.
When students are not at school, they are not learning and they are not connecting or building relationships. Students absent just 2 days per month, for any reason, are considered chronically absent. Research shows these students fall behind and have a difficult time ever catching up with their peers. SCUSD's chronic absence rate has nearly doubled since 2019. We are facing a crisis of unprecedented proportions, as we work to change practices and policies to keep students safe while still providing them the education they are entitled to.
Education has the power to be a pathway of opportunity and experience in what has become a very unpredictable reality. For students to thrive and flourish, we as educators have the honor and responsibility to inspire and guide them. We seek to partner with parents and families to keep our students engaged, not just attending.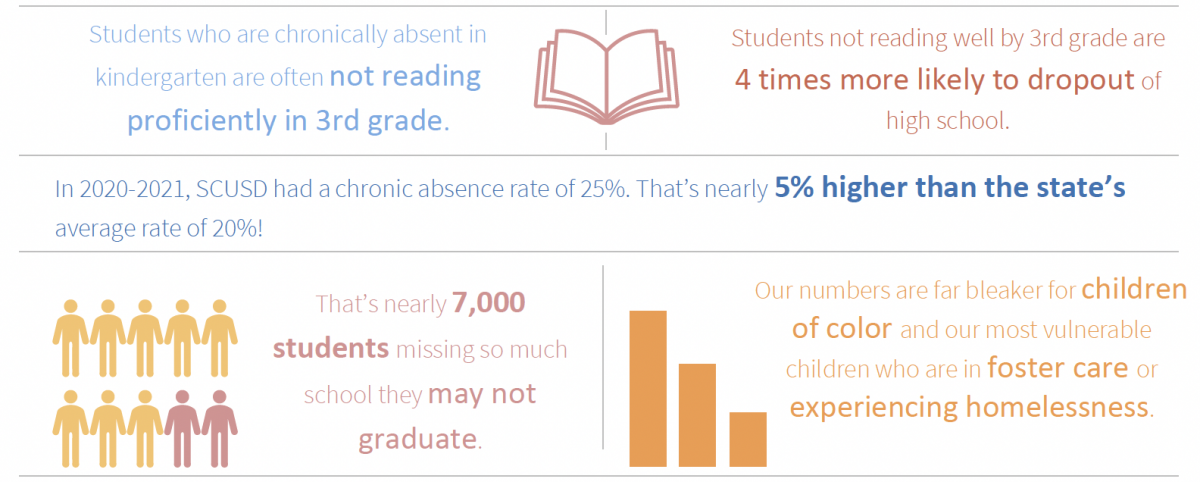 Please visit our website: care.scusd.edu to learn more.
Parent and Family Resources
To report an absence please contact your child's school directly. It is important to stay in communication with your student's school when they need to miss class. We want to make sure your student's absences are excused and they can get their assignments and lessons from their teacher(s), so call your school directly to report absences.
For ease of understanding, Sacramento City Unified has a standardized absence process for all grade levels. Our goal is to provide help before harm, so we seek to partner with families to remove barriers to good school attendance and engagement.
Log in to the Infinite Campus Parent Portal to view your child's attendance record.
Questions related to COVID attendance, quarantine and isolation:
BASIC GUIDANCE FOR STUDENTS, FAMILIES AND STAFF: The most recent SCPH isolation and quarantine guidance for schools can be found here.
General Attendance Questions
General attendance questions should be directed to your student's school directly or the Student Attendance & Engagement Office at Serna, 916-643-2121.
Please contact your student's school directly if:
You are unsure if your student should attend based on symptoms, exposure or any other COVID related concern.
Your student will be, is, or was absent, or
You have a question about an automated message you've received
If you have any other questions or concerns about your student's attendance, Quarantine absences, Independent Study or if you need support to improve your student's attendance, do not hesitate to contact your student's school, or the Student Attendance & Engagement Office at 916-643-2121.
Options for Seriously Ill or Hospitalized Students
Students who are unable to attend school due to serious injury or illness for a period of three weeks or more may be provided home instruction. The student's condition must be verified by a physician. Students with mental health conditions must present authorization from a physician and a treatment plan from their doctor. A student with a temporary physical, mental or emotional disability who is hospitalized or receiving care in a residential health facility, excluding state hospitals, for a determined amount of time may receive a plan from their therapist. A student with a temporary physical, mental or emotional disability who is hospitalized or receiving care in a residential health facility, excluding state hospitals, may receive individual instruction from the school district in which the facility is located. The family is responsible for notifying the school district about the student's need for educational services. Contact our district's Home-Hospital Liaison Nicole Castles at (916) 826-4379 to obtain information about eligibility and educational options. (EC § 48206.3-48208)
Attendance Handouts for Families
Attendance Information for Families
Initial Absence Letter (Chronic Absence) 2021-22
NEW!! District-wide Absence Process
Attendance Resource Guide 2020-21
My Student's Attendance Success Plan
Staff Attendance Resources
2021-22 Attendance & Engagement Toolkit
Attendance Awareness Month Toolkit
NEW!! Tiered Re-engagement Strategies (2021-22)
NEW!! Attendance & Engagement Messaging Template (2021-22)
Attendance Resource Guide (2020-21)
Contacts
Attendance & Engagement Main Office, 916-643-2121
Jennifer Kretschman, Director, MTSS Student Attendance & Engagement
Onniel Sanchez, Student Services Supervisor
Sandra Laird, Student and Family Support Specialist
Child Welfare and Attendance Specialists