Superintendent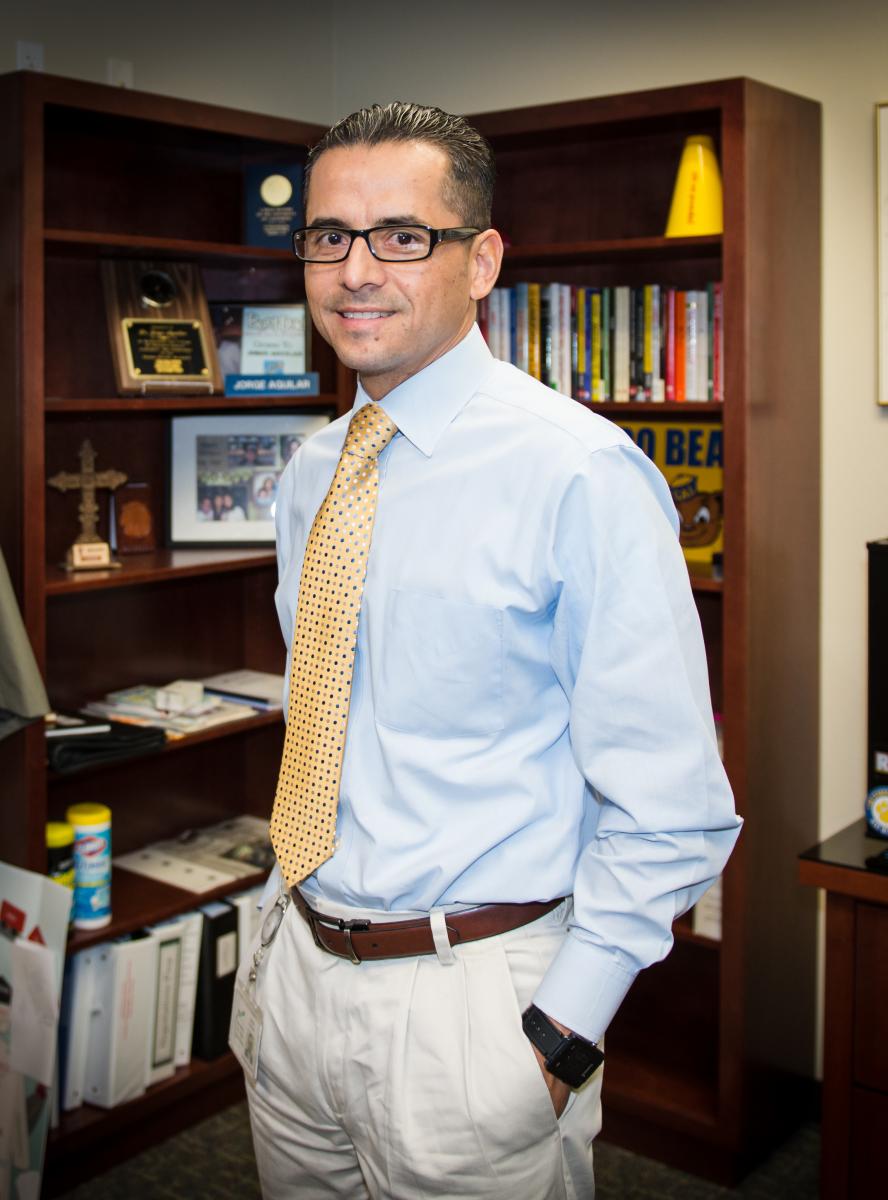 Jorge A. Aguilar became the twenty-eighth Superintendent of the Sacramento City Unified School District on July 1, 2017. He leads the thirteenth largest school district in California with 40,711* students, more than 4,700 employees and a budget of more than $640 million. Aguilar was selected Superintendent by the Board of Education because of his proven track record using data to improve student outcomes. (*2020-2021 Certified CalPADs Enrollment data)
Superintendent Aguilar has more than twenty years of K-12 and higher education experience with a strong focus and background on issues of equity and student achievement. The results of his commitment and dedication to equity have already resulted in improved outcomes in Sacramento City Unified. For example, under the leadership of Superintendent Aguilar:
The California Dashboard's recent results shows that the District's graduation rate has increased to 85.9%, an approximately 3% improvement from the prior year. The District is now ahead of the state graduation rate average for the first time in several years.
More District students are now graduating college and career ready as calculated by A-G completion rates, another area where the District surpassed its previous year's performance by 4.9% to 40%.
The District created a historical data sharing agreement with all of the region's major higher education institutions to collect and share data that enables the District to seamlessly transition its students into higher education by identifying the challenges preventing students from obtaining a high school diploma and helping them transition successfully to a college or university.
Prior to serving as Superintendent, Mr. Aguilar was the Associate Superintendent for Equity and Access at Fresno Unified School District. In his career, Superintendent Aguilar has also served as an Associate Vice Chancellor for Educational and Community Partnerships and Special Assistant to the Chancellor at the University of California, Merced; as a Spanish teacher at South Gate High School; and a legislative fellow in the State Capitol.
In 2015, Superintendent Aguilar was invited by then first lady Michelle Obama to present on education equity and access best practices at an annual White House education conference hosted by the National Consortium for School Counseling and Postsecondary Success. The foundation of his work is rooted in a philosophy that all students should graduate the K-12 system with the greatest number of postsecondary choices from the widest array of options. This vision is what drove Mr. Aguilar's work in Fresno Unified, where he successfully led efforts that used data to improve student outcomes including:
Increasing graduation rates from 69.2 percent to 85.4 percent between the 2009-10 and 2015-16 school years.
Reducing dropout rates almost in half – from 20.1 percent down to 10.6 percent between the 2009-10 and 2015-16 school years.
Increasing "A-G" completion rates – from 25.8 percent in 2008 to 49.02 percent in 2016.
A son of farm workers who grew up in the central valley, Superintendent Aguilar is a product of the migrant education program. He spent his early childhood migrating back and forth between Parlier, California and the state of Michoacán, Mexico. He graduated from Parlier High School and was accepted into the University of California, Berkeley, where he graduated with a bachelor's degree in Latin American Studies and Spanish and Portuguese. He spent his junior university year abroad at the National Autonomous University of Mexico. Mr. Aguilar also earned his Juris Doctor degree from Loyola Law School in Los Angeles after graduating from college.
Superintendent Aguilar is a Winston Doby Impact Award recipient. This award is presented to exceptional professionals chosen by their colleagues for commitment to improving educational opportunities for California students. In 2015 State Superintendent of Public Instruction Tom Torlakson appointed Aguilar to the Advisory Task Force on Accountability and Continuous Improvement which advises the State Superintendent on developing recommendations on a new California system of public education accountability and continuous improvement.
Mr. Aguilar is married to Consuelo Vellejan-Aguilar, who is also a lifelong educator. They have four young children who are enrolled in Sacramento City Unified schools.
(916) 643-9010
(916) 399-2058 FAX