The Met Sacramento
High School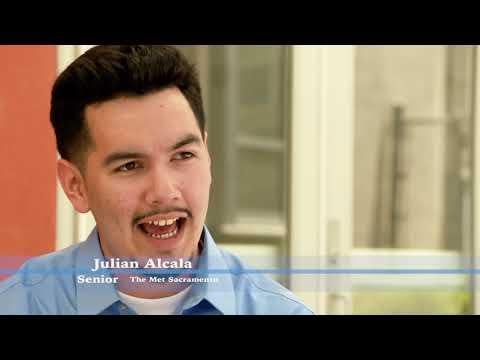 Contact: (916) 395-5417
Grades: 9-12
Enrollment: 300
Founded in 2003, the Met Sacramento High School is part of the district's innovative small high schools. The Met Sacramento High School is one of 54 schools nationwide that is part of The Big Picture Company which believes that schools must be personalized, educating every student equally, one student at a time. Each student's learning plan should grow out of his or her unique needs, interests, and passions. We believe that the education system must ensure that students and families are active participants in the design and authentic assessment of each child's learning. Schools must be small enough to encourage the development of a community of learners, and to allow for each child to be known well by at least one adult.
The Met Sac prides itself on real world learning, rigorous curriculum and a deep connection with all of its students. We accomplish this by a student friendly 1:18 student to teacher ratio. We have eight teachers who are called advisors because they also act as school counselors as well as conduits to the greater Sacramento community. We also have a special education teacher that works with our students for both RSP and ED reasons.
All students learn through internships. Students are present at their Learning Through Internships (LTI ) two days a week. These internships range from work at the state capital, local schools, lawyer's offices, the zoo, various retail shops and a myriad of other establishments in the community – both by sending students out to learn from mentors in the real world, and by allowing the school itself to serve as an asset to the local community and its needs. Finally, schools must allow for admission to, and success in, college to be a reality for every student, and work closely with students, families, and colleges.
The Big Picture
The advisory structure is the core organizational and relational structure of a Big Picture School. It is the heart and soul of the school and is often described as the "home" and "second family" by students. The students will work with their advisor for the entire time they are enrolled. We have math classes three times a week where students work in a more traditional classroom environment.
The advisor's role is to manage the student's LTIs and individual, personalized learning plans. To do this, the advisor must get to know and build relationships with each student and his or her families. This includes home visits, and one-on-one meetings with each student and their families. It is not unlikely that a life long bond will form between the advisor and the student. Though certified in one area, the advisor does not "teach" his or her subject area; rather he or she needs to draw on many disciplines to meet the needs of each student, their projects, and the advisory activities.
Big Picture Schools hold very high standards for students. We have designed our educational program from the end-goal backwards – meaning, we have a clear vision of our graduates' skills, knowledge and personal qualities that will help lead them to success and fulfillment. However, we also know that to truly educate one student at a time, our goals for their learning must be flexible enough to accommodate the diversity of student needs and personal aspirations. Our assessment system then is based around two sets of goals, five school-wide Learning Goals, and each student's own personal goals. Woven throughout all of the goals is our commitment that learning be real and meaningful, and that each student should become a life-long learner.
The five school-wide Learning Goals are based on our belief that high school graduates must know how to reason, problem-solve and be cooperative members of the community. At Big Picture Schools, there is no canon of information that all students must know.
At the Met Sacramento, advisors look at the big picture of each student's learning and challenge the student to do academically rigorous project work that incorporates the Learning Goals and is focused around his or her personal interests and passions. Older students assist younger students in understanding and addressing the Learning Goals and are valued as role models of self-directed learning and goal achievement. Most importantly, Learning Through Internship, LTI, projects provide students with the opportunity to address the Learning Goals in the real world.
The Met Sacramento High School, as well as all Big Picture schools, strive to create a respectful, diverse, creative, exciting, and reflective culture. There is a culture of respect and equality between students and adults, as well as among students and among all of the adults in the school. Students are encouraged to take leadership roles in the school and student voice is valued in decision making processes. For the adults in Big Picture Schools, teamwork is a defining aspect of the culture. Principals create regular opportunities for professional development and life-long learning. Staff members also reflect regularly and share ideas through a weekly, internal publication called TGIF. Additionally, staff members meet regularly in a variety of configurations (whole staff, grade level, buddies, etc.).
Parent engagement in a child's learning is essential and Big Picture Schools "enroll" families as well as students in the entire life of the school. By bringing students out into the community and bringing the community into the school, Big Picture schools become community assets and positive, learning-rich contributors to their surrounding neighborhoods, towns, and cities.
College Going Culture
All Big Picture School students are required to take college entrance exams and apply to at least one college or post-secondary school program. No matter what their chosen course, Big Picture Schools require all students to develop post-high school plans.
Alumni of Big Picture schools are forever considered members of the school community and are encouraged and supported throughout their post-school years to remain life-long learners. Each Big Picture School develops programs and services to work with students through the important transition from high school to post-graduate life, and beyond. Many of these programs also provide opportunities for Big Picture School alums to serve as role models to current students and takes part in mentoring and speaking to new and prospective students.
The Met Sacramento graduated its entire class of students last year. They were all eligible for a multitude of state and UC colleges nationally and abroad. This was the first graduating class. By continuing strong relationships with students and their families, including home visits, we hope to continue this success.