High School Specialty Program Application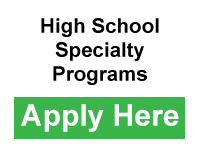 Application Deadline: Thursday, December 17, 2020 at 5:00pm
The High School Specialty Program Application is an opportunity for each student who resides permanently within the boundaries of the Sacramento City Unified School District (SCUSD) to apply for enrollment in a SCUSD high school specialty program, based on space availability for the 2021-2022 school year. SCUSD offers specialty programs at both our neighborhood and small specialized high schools.
Some specialty programs have specific requirements to complete the application process. Carefully look over the requirements for each specialty program before applying.
The application process is not on a first-come, first-served basis. An application can be submitted anytime during November 16 – December 17, 2020 to be considered. Only one application can be submitted per applicant.
Students will be able to apply to a first and second choice program through the application.
When eligibility requirements are met, applications will either be accepted or moved on to a lottery system. A lottery will be implemented when eligible applications exceed the grade capacity at the requested specialty program. If your student isn't selected during this step, he/she will be placed on a waiting list for your first choice only.
The Enrollment Center will mail out notification letters to applicants by the end of January 2021.
Academic Criteria Assessments
Three specialty programs – C.K. McClatchy HISP, John F. Kennedy PACE and West Campus – require students to take additional assessments as part of their application.
Virtual Assessment Dates
All three programs require students to take a virtual essay assessment.
West Campus requires additional applied math tasks that will be administered virtually.
The deadline to take the assessment(s) on Monday, November 30, 2020 at 1:30pm and Saturday, December 5, 2020 at 10:00am has passed.
To sign up for the make-up session on Monday, December 7, 2020 at 1:30pm, Sac City Unified students need to fill out this Google form.
Students who wish to take the additional applied math tasks for West Campus will take them after the essay assessment.
Translation Assistance
Video tutorials are available to walk families how to use fill out the application in Chinese, Hmong, Spanish, and Vietnamese.
Students Currently Attending Other Schools
Students that live within our district boundaries but do not go to a Sac City Unified school are required to pre-register before they can apply for a specialty program or register for assessment sessions. Learn more at https://www.scusd.edu/hssp-preregistration.
Students who live outside our district boundaries (including those currently on an inter-district permit) are not eligible to participate in the online application. Students may apply during our inter and intra permit window April 1, 2021 – May 3, 2021. Out-of-district applicants who meet the program requirements will be accepted or go on the waiting list after qualified in-district applicants per California Education Code.
Questions
Please contact Lisa Lewis at lewisl@scusd.edu with questions.
The following table shows the availability by grade level for the 2021-2022 school year for each of our specialty programs.
* Additional assessment criteria required
♦
Dependent Charter School