Sustainability
In order to protect the health, wellness, and learning potential of all our students and staff, SCUSD is thinking deeply about how to both adapt to a rapidly changing climate, as well as mitigate our impact on it.
Our schools are becoming healthier and more sustainable learning environments for students due to the vision of our Board of Education and the hard work of countless employees, parents, students, and community partners. As we approach any construction or maintenance project, sustainability is always top of mind. We recognize that the impacts of climate change are not experienced equally across demographics, and the equity index embedded in our Facilities Plan ensures that our most vulnerable communities and families are receiving an equitable share of these benefits.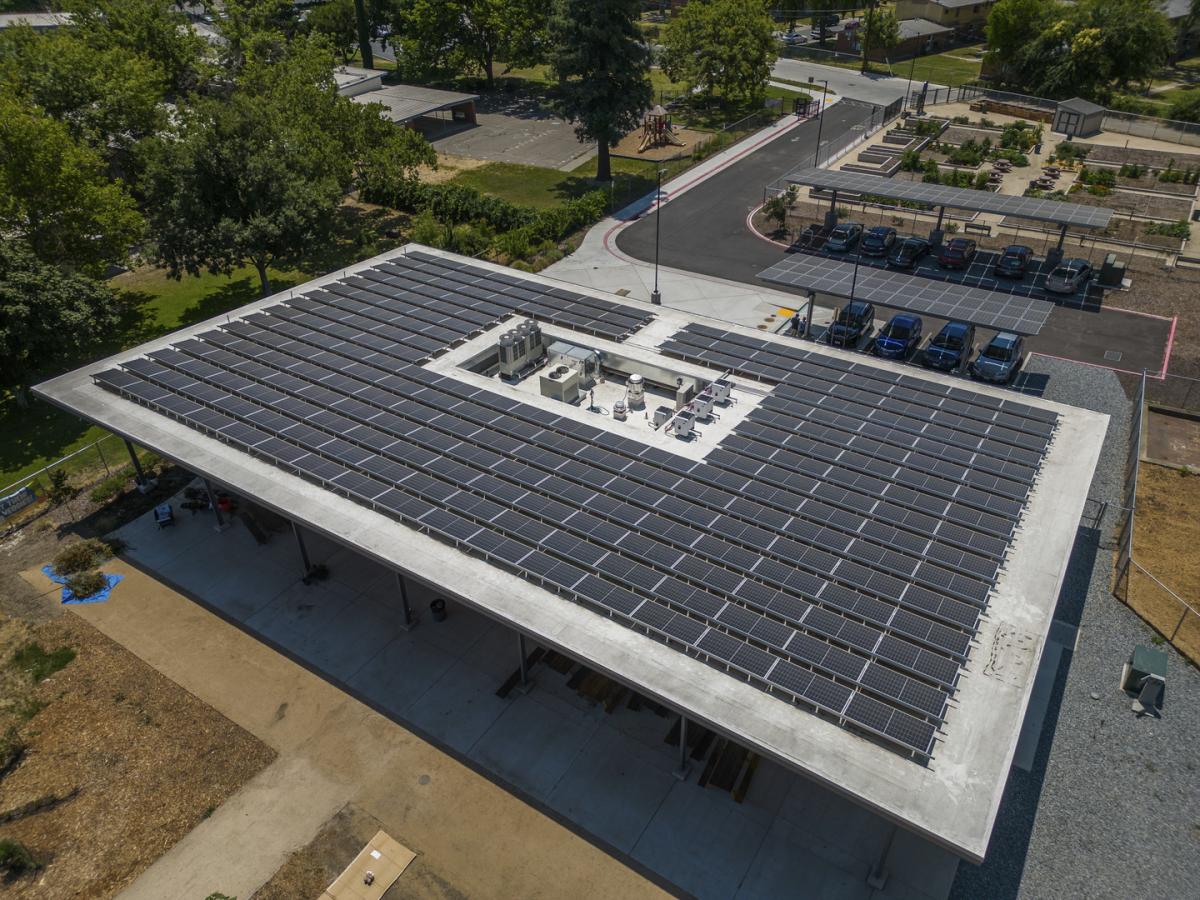 BUILDINGS
Carbon Neutral Goals and Guidelines: Our big picture goal is to eliminate carbon emissions from our building's energy usage by at least 2045. Eliminating carbon emissions means moving away from the burning of fossil fuels, like natural gas, to heat our classrooms, or to cook food for our students. Our project specifications will utilize a zero over time approach, meaning that all of our different projects-whether it's a new build, major modernization, or retrofit-will have project specific goals attached to them that all our designers and engineers must follow.
Read about our commitment to carbon neutrality here.
Approved Carbon Neutral Goals and Guidelines

Energy Efficiency Upgrades/Retrofits

We are currently re-building 3 new elementary schools over the next two years. These schools are located in high needs neighborhoods and they will be highly energy efficient, all electric, have solar arrays, and have greener, more climate resilient schoolyards with ample shade trees, outdoor classrooms, gardens, and nature play areas.
We are installing LED lighting throughout our campuses to save energy.
We are working on deep energy retrofits, electrification, and a financial assessment plan to assist us in meeting our carbon neutral goal by 2045.

Renewables: We have on site solar arrays at Umoja International Academy and Floyd Farms, which abuts Leataata Floyd Elementary School. We are very focused on adding solar/renewables throughout the District, in order to offset electrification, lower greenhouse gas emissions, and shade heat vulnerable areas of the school like the parking lot or schoolyard. We are part of a feasibility study with the Sacramento Municipal Utilities District (SMUD), our electric provider, and Twin Rivers Unified to potentially build community solar and battery back-up that will benefit the local community through reduced electricity rates and potential resiliency centers during emergencies.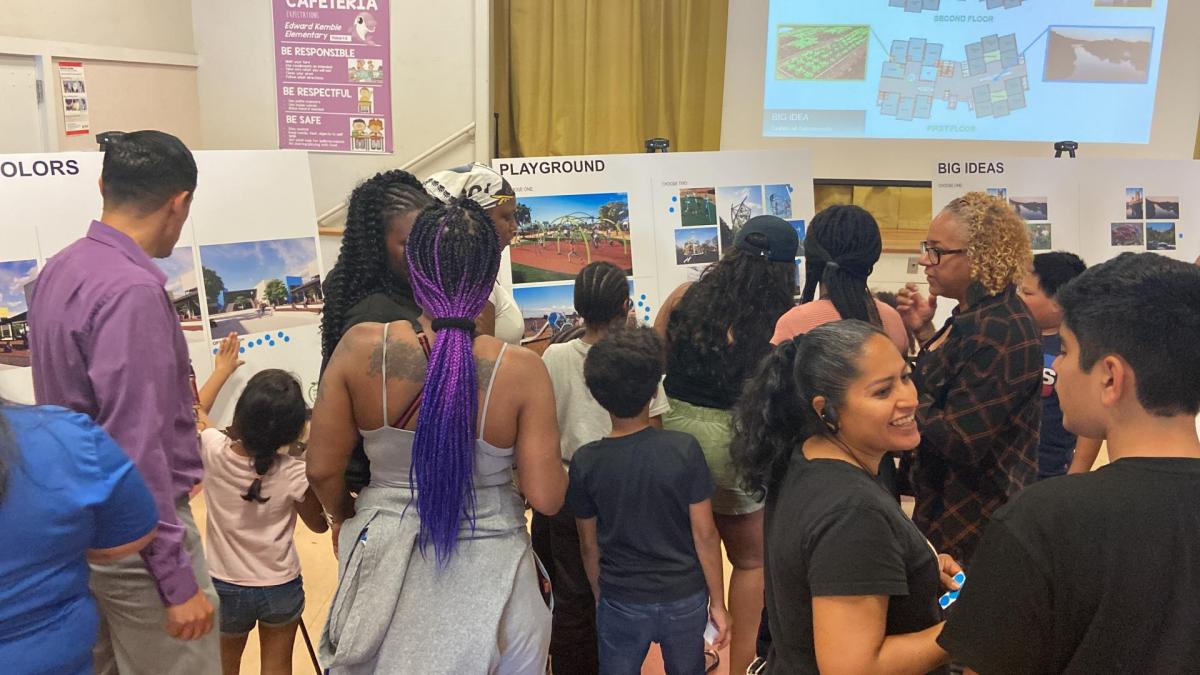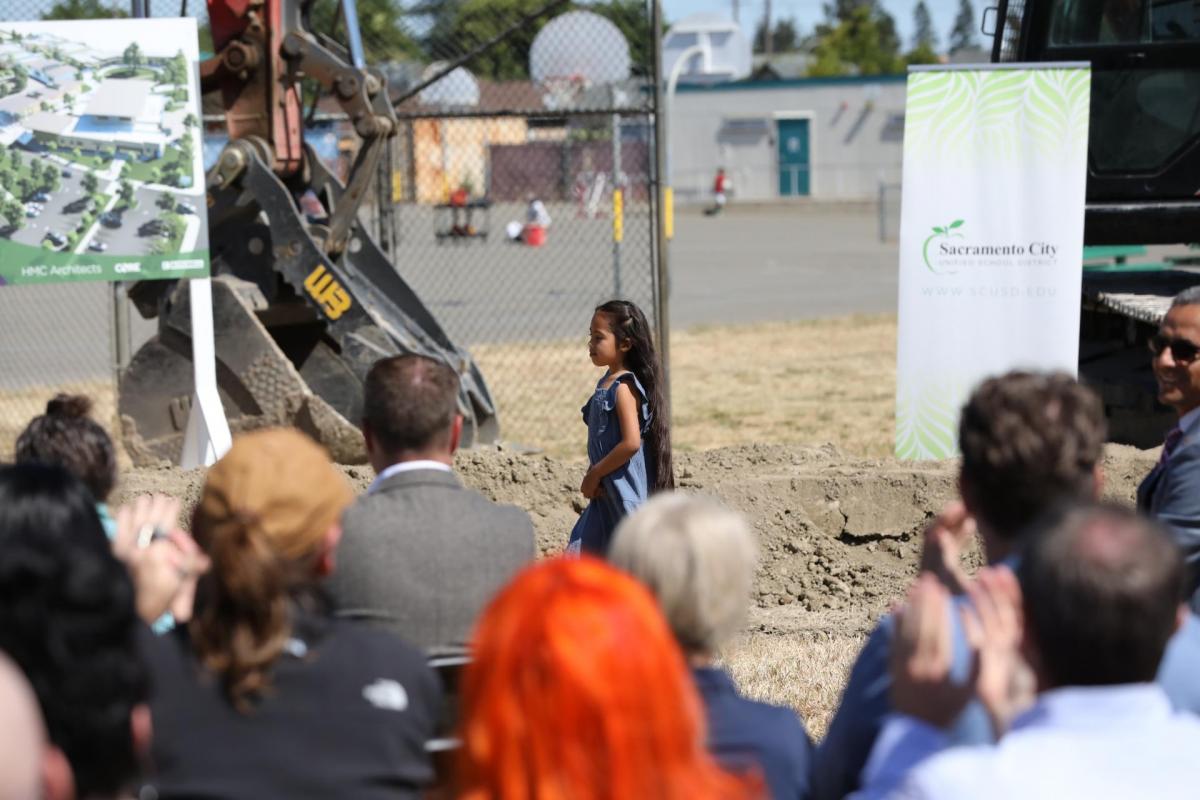 GREEN SCHOOLYARDS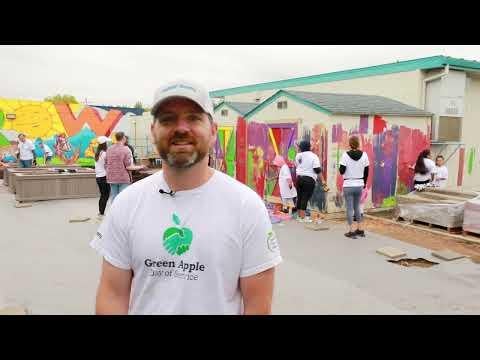 We are rethinking our schoolyards to make them more climate resilient and better equipped for diverse forms of play and learning. Most of our schoolyards were built decades ago, when the model was an unshaded blacktop next to an open, unshaded field. This design greatly increases the ambient temperature in these areas, what is known as the heat island effect, which impacts students health, wellbeing, and enjoyment outdoors. Our long term plan includes designing a greener, more climate resilient schoolyard that can be tailored to the needs and priorities of the community it will serve. This includes, but is not limited to, pocket forests, outdoor classrooms, nature play areas, gardens. We want these schoolyards to protect our students from extreme heat while also nurturing their development and growth.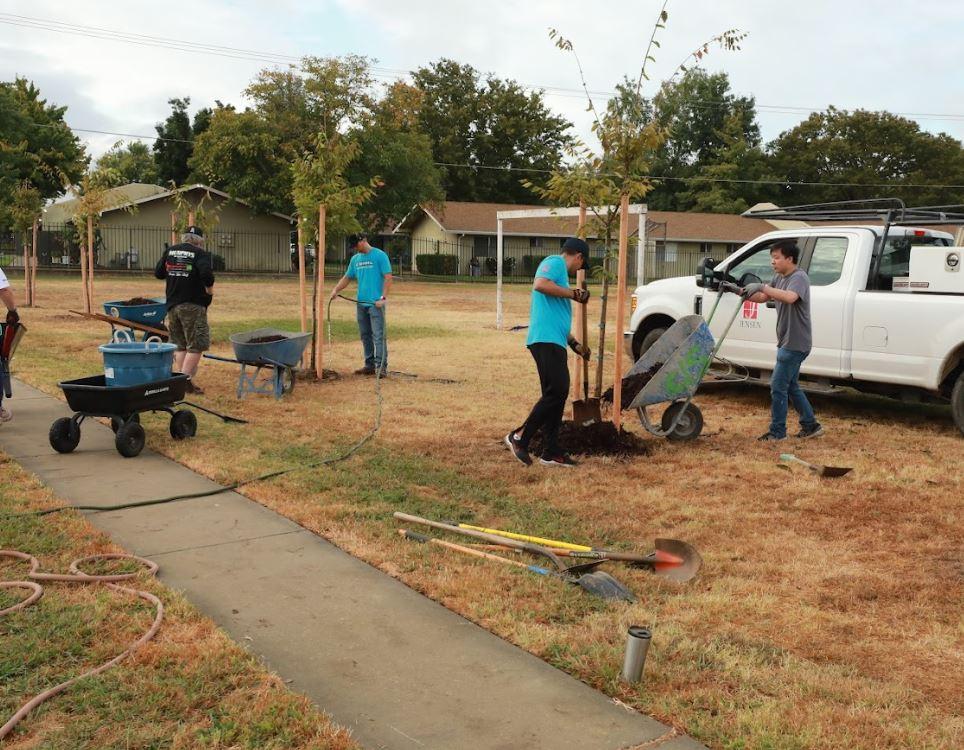 TRANSPORTATION
We offer our staff an affordable and convenient employee EV charging program.
We currently have 6 EV school buses and are in the process of purchasing 9 more through our local air quality district's rebate program. We hope to have them in action by early 2024. We will continue to electrify our bus fleet as opportunities arise.
We currently have a number of hybrid cars in our white fleet. We are working on a plan to transition our white fleet to electric vehicles over time.
WASTE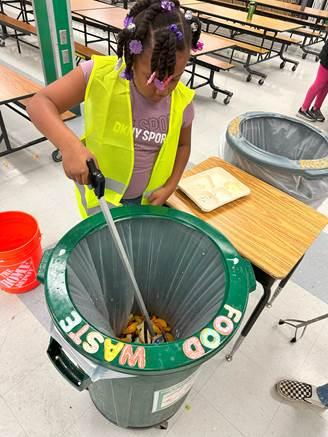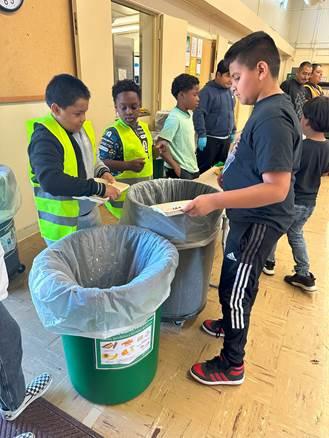 FOOD AND NUTRITION
Our Central Kitchen was completed in 2019. This new, highly energy efficient facility enables us to provide more locally sourced, nutritious, from scratch foods with a high level of quality control across the district.
We are in the process of building out our school site kitchens to best receive what the Central Kitchen can produce. The food will be prepped at the Central Kitchen, transported to the site kitchens with specialized, all electric combi ovens that can be programmed to complete the recipes with a high level of quality control across the District.
We are a recipient of the CA Farm to Schools grant, which supports a 3-year growing contract with Soil Born Farms, which is a local urban ag nonprofit in the Sacramento area. They will plant a variety of lettuce on their 55-acre farm, and we will buy and use all that they are able to grow. This funding allows us to support a hyper local farm and our students receive high quality organic lettuces on their school salad bars.
We also partner with Soil Born Farms to support outdoor learning programming with our elementary schools, which builds student's leadership and 21st century skills through exploratory and inquiry based learning. They also offer educational field trips to their farm, teacher training and garden curriculum support, as well as a college internship program that helps support school gardens at various schools in the district. By connecting youth to food, community, and the natural world, this partnership cultivates leadership, stewardship, and healthy futures for participants.
Through a partnership with the Food Literacy Center, our afterschool students learn fruit and vegetable appreciation, how to read nutrition labels, cooking skills and environmental impacts of their food choices. They also provide school day education to the students at Leataata Floyd Elementary, the school next to Floyd Farms, with the hopes of expanding to other schools soon.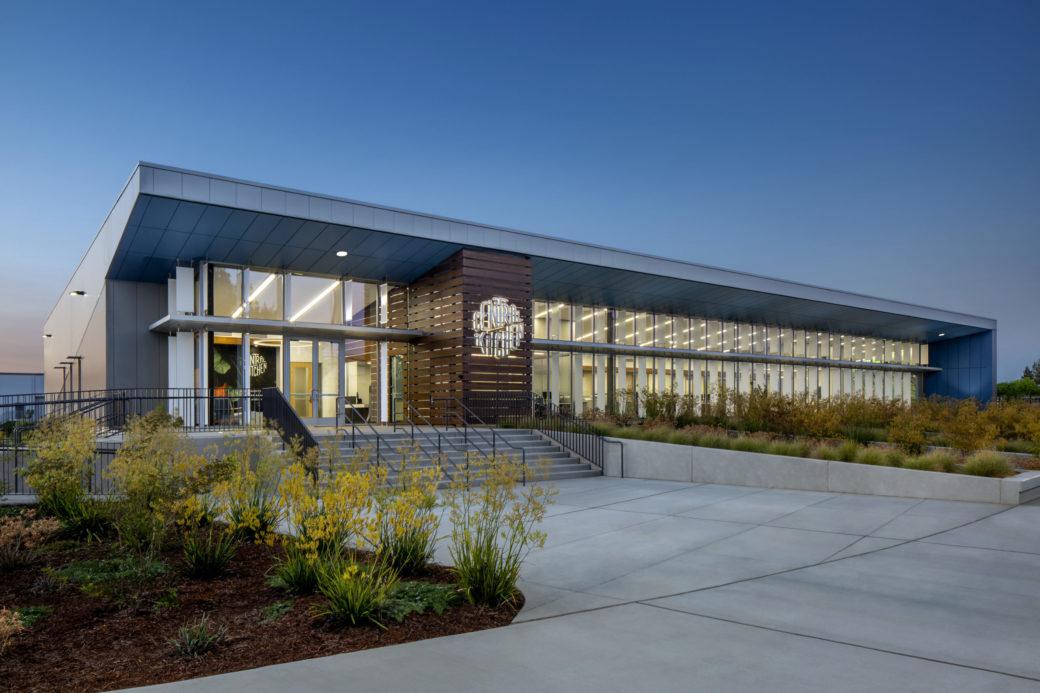 WATER
We track and work to reduce our water usage through the City of Sacramento's My Water tool.
We replace end of life plumbing equipment with highly water efficient equipment.
Our goal to create greener, more climate resilient schoolyards will also increase our groundwater absorbing capacity, reduce evaporation, and reduce water usage over time as mature trees require much less water than grass.