Human Resources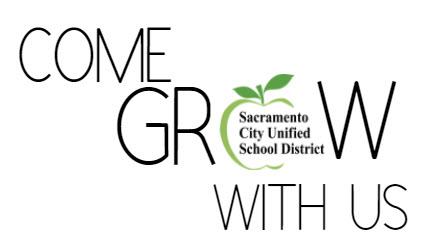 We welcome you to our Human Resource Services Department. We are a diverse urban school district located in the heart of Sacramento, California. With approximately 4,500 employees serving 78 schools, our mission is to attract and retain a diverse high quality workforce that will promote learning and growth for our students.
Human Resource Services Vision Statement:
Together we will make a positive difference in the lives of our students, employees, and community. Our investment in your personal and professional advancement is reflected in the academic growth and social-emotional well-being of our students. We recognize every day is a new opportunity to be better than the day before.
Retirements and resignations should be given with sufficient notice to the school site or department to allow for an effective transition. If you plan on retiring, be sure to contact either CalSTRS or CalPERS a few months ahead of your planned retirement date. Retiree health benefits vary by bargaining unit and you must retire with PERS or STRS within 120 days of separation to be eligible — refer to your contract or benefit office for more information.
Our return to exceptional learning opportunities.
Sacramento City Unified School District posts all Substitute Classified and Certificated opportunities on Frontline.
A Substitute Teaching Permit can be obtained through the California Commission on Teacher Credentialing.
LIST OF AGREEMENTS BETWEEN SCUSD AND LABOR PARTNERS
| | | | |
| --- | --- | --- | --- |
| AGREEMENT TYPE | IMPACTED UNION | DATE OF AGREEMENT | |