Curriculum & Instruction
Our approach to offering high quality instruction focuses on both academics and fostering safe, inclusive environments conducive to student learning.
Creating an equitable and welcoming school climate starts with robust educator training. Our staff receives anti-bias, anti-racism and trauma-informed trainings to help support their work in service of our diverse students.
We regularly review curriculum and engage the community to ensure that our students are provided with culturally responsive materials and instruction that align with state standards.
The Common Core State Standards provide a consistent, clear understanding of what students are expected to learn, so teachers and parents know what they need to do to help them.
Course Requirements
To obtain a diploma of graduation from a SCUSD high school, students need to complete the following course credits in grades 9 through 12.
Next Generation Science Standards (NGSS)
The California Department of Education (CDE) adopted the Next Generation Science Standards (NGSS) in 2013 and released the draft instructional framework for Science Education.
To prepare for the implementation of the new standards, the district collaborated with SCTA in the spring of 2015 to form a committee and develop a comprehensive three-year NGSS implementation plan.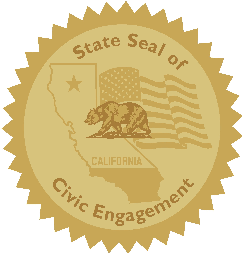 The California State Seal of Civic Engagement, marked by a gold seal on the diploma or transcript, recognizes high school graduates who have demonstrated understanding of civic knowledge; civic skills and action; quality student reflection; and have testimony of student civic mindedness.
California state law, the California Healthy Youth Act, requires that comprehensive sexual health education and HIV prevention education be provided to students at least once in middle school and once in high school, starting in 7th grade. Instruction must encourage students to communicate with parents, guardians or other trusted adults about human sexuality. Instruction must be medically accurate, age‐appropriate and inclusive of all students. It must include the following:
The FAIR Education Act (also known as Senate Bill 48) was signed into law in 2011. It requires that California public schools provide Fair, Accurate, Inclusive and Respectful representations of our diverse ethnic and cultural population in the K-12 grade history and social studies curriculum.
According to the FAIR Education Act, instruction in history/ social science shall include the following ethnic and cultural populations in the teaching California and United States history:
School libraries are at the core of learning in today's information age, and are one of a child's first opportunities to discover the wondrous joys of reading and exploration. Here at SCUSD we understand the importance of sending our students on to college and careers with the skills that will allow them to be successful, accomplished and create a positive impact within their communities. We strive to empower our learners through the explicit teaching of 21st century literacy skills and to create a spark of joy around lifelong learning and foster lifelong reading.