Classified Professional Learning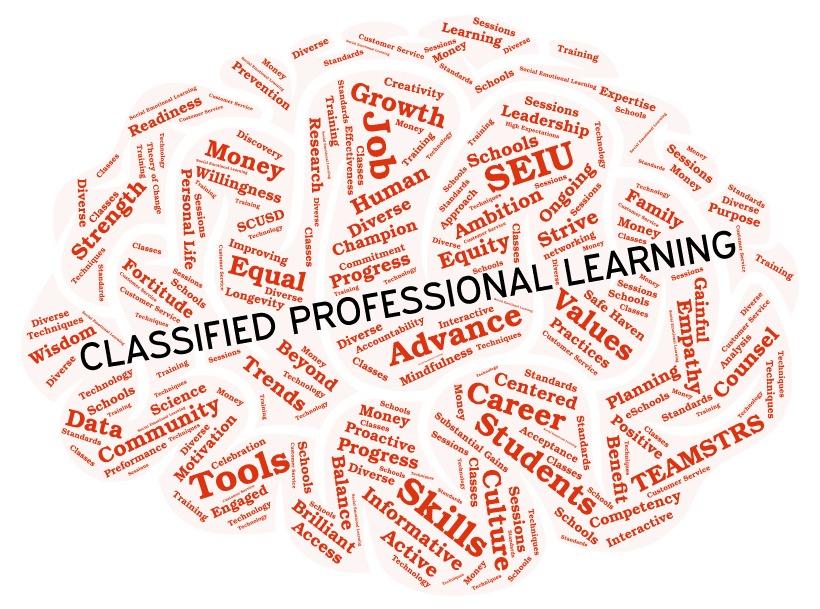 SCUSD is investing in and wants to maintain a highly skilled, well trained workforce. The goal for our Classified Professional Learning is to create a student learning environment that extends beyond certificated personnel to contribute to student success.
SAVE THE DATES! We look forward to sharing a wealth of knowledge with everyone.
Shared Reasons to Make Professional Learning a Priority: Career Learning Opportunities; Keeping Up with Current Trends; It's Fun; There's Money In It; Growth; Leadership; Discovery; Expertise; Informative; Inspirational; Learning; Networking; Educational; Include on Resume or at Interviews; Support Staff, Students and Colleagues
Attendees interested in Professional Growth "salary credit" will be required to SIGN IN for attendance verification. If you are over 10 minutes late you will not be eligible for credit. For more information see the Classified Professional Learning Protocols.
All SCUSD classified employees are invited to participate.
Another school year means new opportunities.
"Job specific experience, knowledge and it is always nice to see and to share thoughts with other classified staff."

"Very Interactive!"

"The trainings helped me grow professionally and personally."
We will not be using eSchools this school year. You are currently able to register for classes up to 12/31/18 by clicking on the sessions you are interested by clicking the "REGISTER HERE". The opportunity to be able to register and descriptions of the courses will be added as we move through the year.
Having trouble registering? Click Here
If you do not know your district email and password please contact the help desk at 916-643-9445.
PSL-F002
Classified Professional Growth Form