Classified Professional Learning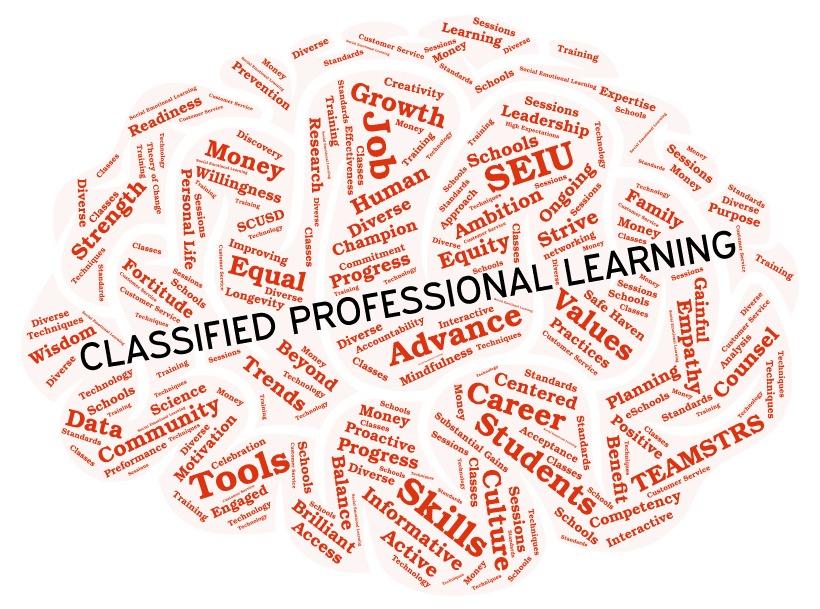 SCUSD is investing in and wants to maintain a highly-skilled, well-trained workforce. The goal for our Classified Professional Learning is to create a student learning environment that extends beyond certificated personnel to contribute to student success.
SAVE THE DATES! We look forward to sharing a wealth of knowledge with everyone.
Shared Reasons to Make Professional Learning a Priority: Career Learning Opportunities; Keeping Up with Current Trends; It's Fun; There's Money In It; Growth; Leadership; Discovery; Expertise; Informative; Inspirational; Learning; Networking; Educational; Include on Resume or at Interviews; Support Staff, Students, and Colleagues
Attendees interested in Professional Growth "salary credit" will be required to SIGN IN for attendance verification. If you are over 10 minutes late you will not be eligible for credit. For more information see the Classified Professional Learning Protocols.
All SCUSD classified employees are invited to participate.
Another school year means new opportunities.
"Job specific experience, knowledge and it is always nice to see and to share thoughts with other classified staff."
"Very Interactive!"
"The trainings helped me grow professionally and personally."
Upcoming Sessions 2019-2020
Classified Professional Sessions are being worked on. All of the physically in-person sessions have been canceled due to the COVID19 in shelter orders.
Mind, Heart, Body Series Monday April 27, May 4, May 11, May 18, May 25, June 1, June 8 12:15-1:15 these sessions will be via Zoom when you sign up for one; you are signed up for all. You do not have to attend them all. Attendance is taken at each session. Watch weekly classes taught by SEL coach Melissa Ferr.
These online classes are a professional growth series for SCUSD Classified Staff.
Thursday, May 28th, 4-5 pm. The Power of Mindfulness: Caring for Self & Others Description: In this one-hour interactive webinar, we will learn simple self-care and mindfulness strategies to support our relationships with self and others. We will explore the difference between responsive and reactive behavior, examine mindful speech and action, and learn some techniques to support our ability to respond with kindness in all situations. We will perform some light movement so please dress comfortably.
PSL-F002
Classified Professional Growth Form