Your Wednesday, September 28 Sac City Scroll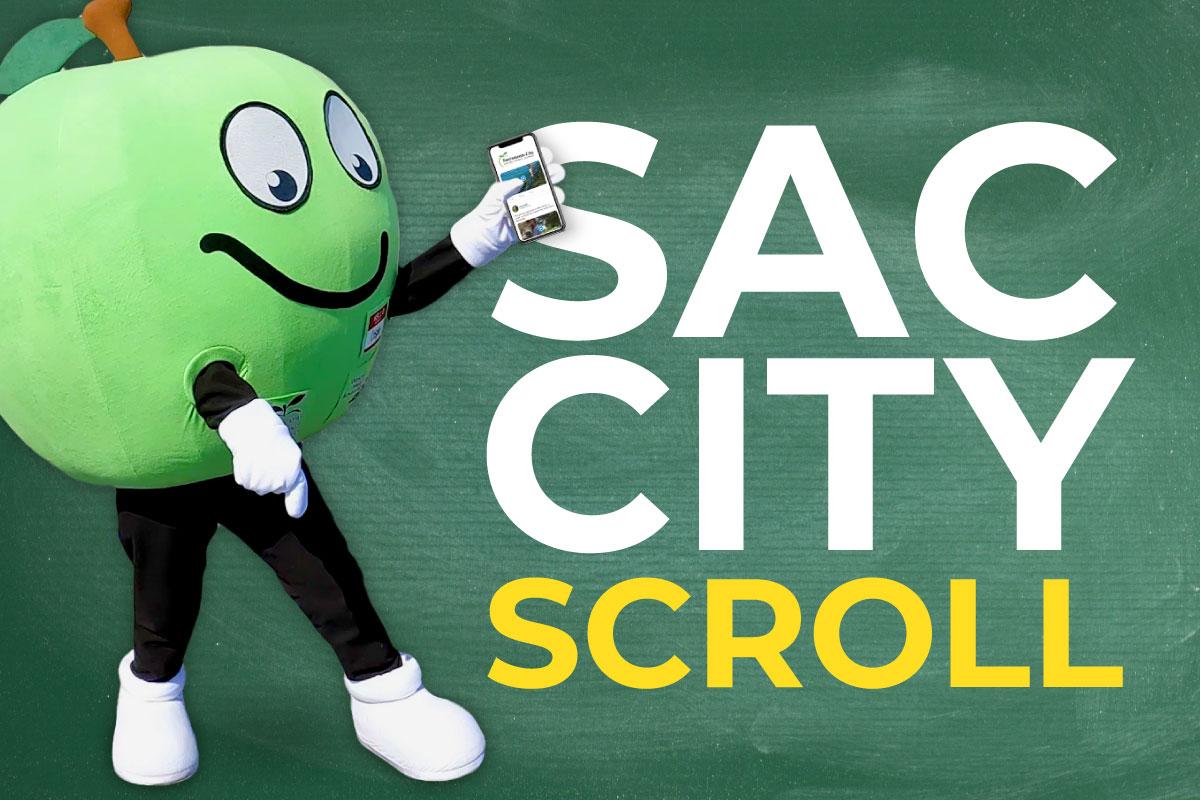 Dear Sac City Unified Families,
The school year is in full swing and we hope your student is off to a great start! We're in your inbox to share a few upcoming events and opportunities through our district and community. But first, a quick reminder.
Back-to-School Paperwork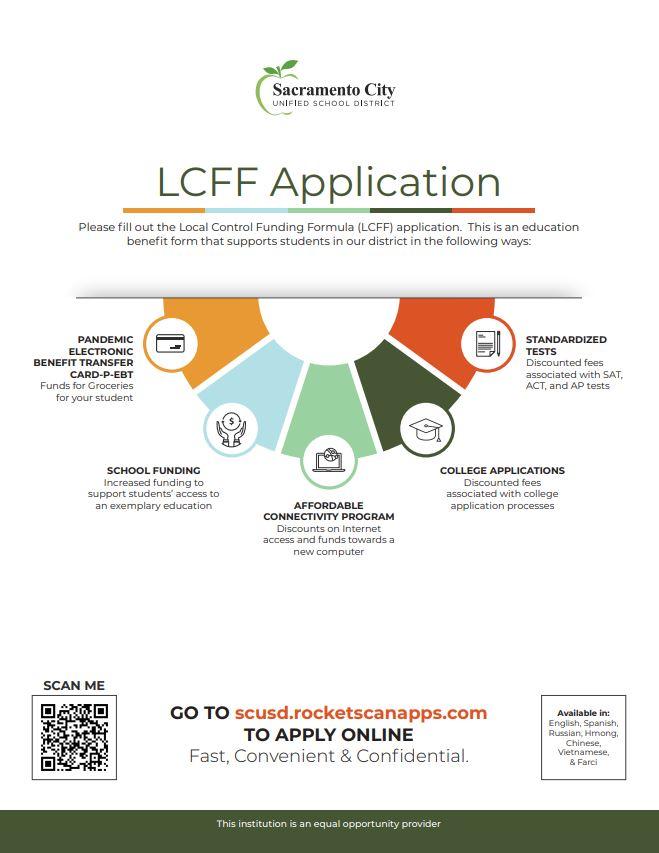 If you've already filled out all the forms in your child's back-to-school packet, thank you! If you're not sure or haven't had a chance yet, please turn in these important documents as soon as possible:
Work With Us!
We are currently looking for a leader to be the new principal at John Bidwell Elementary School. Check out our other job openings throughout the district, including bus drivers, instructional aides, teachers, substitute teachers, nutrition services, principals and more! Enjoy a rewarding career where you can make a difference in the lives of our diverse population of students. We also offer competitive pay and excellent benefits. Visit our page on edjoin.org to see all the opportunities we currently have available. Or join us on Tuesday, October 11 for our first Job Talks event which will be hosted at 2940 42nd Street from 3-5pm.
Feria de Educación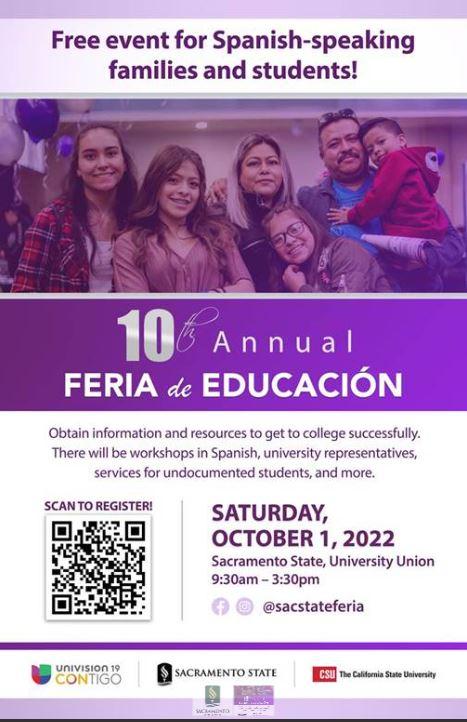 Feria de Educación empowers thousands of Spanish-speaking parents and students with information and resources to help them succeed in California's educational system and pursue higher education. This year, the event will take place Saturday, October 1 in person at Sacramento State.
Bicycle Courses for Teens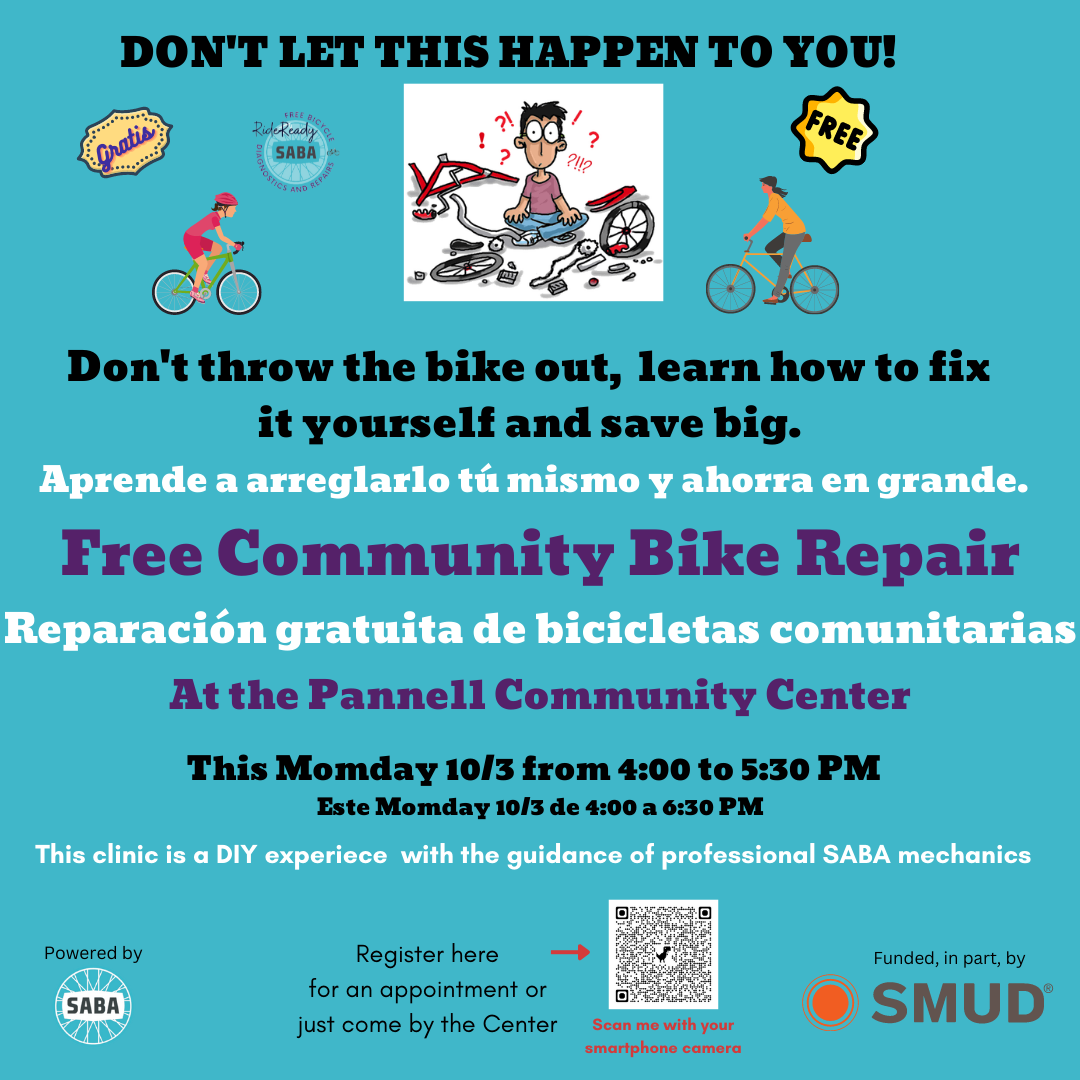 Sacramento Area Bicycle Advocates (SABA) is offering a course targeted toward teens who are interested in learning about bicycle maintenance and safe riding practices. Kids may attend all sessions, or pick and choose which sessions to attend. Contact robert@sacbike.org with questions or register here.
There is Such a Thing as a Free Ride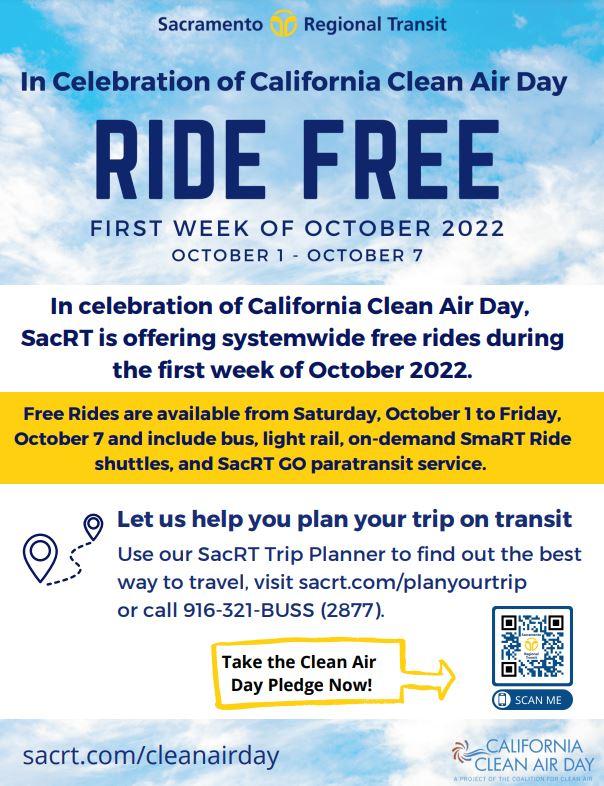 In addition to the RT Ryde Free program available to all students, Sacramento Regional Transit is offering a week of systemwide FREE rides for ALL individuals beginning October 1 through October 7, 2022. Help clear the air and save money by trying an alternative form of transportation. Take the California Clean Air Day pledge!
Adult Education Opportunity for English Language Learners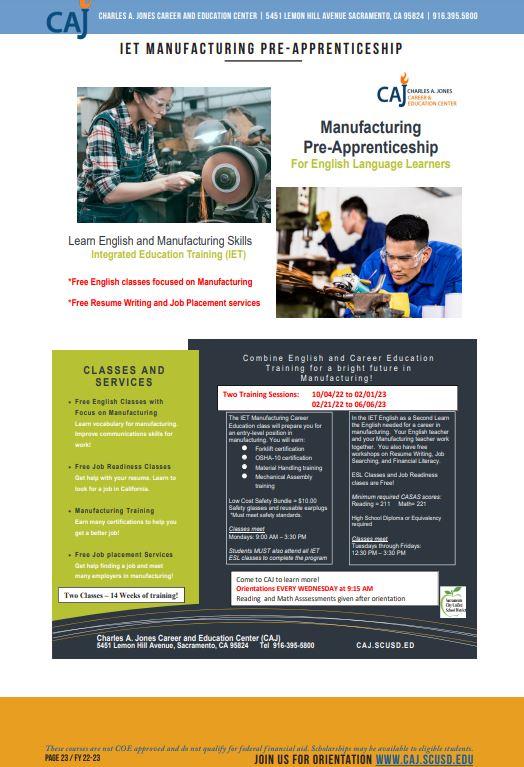 Charles A. Jones Career and Education Center offers manufacturing pre-apprenticeship training to adult ESL students. Students will study with an ESL teacher and a Career & Technical Education teacher to learn entry level skills for an exciting career in manufacturing. The next session begins on Tuesday, October 4. Learn more.
Upcoming Film Screening: Race to be Human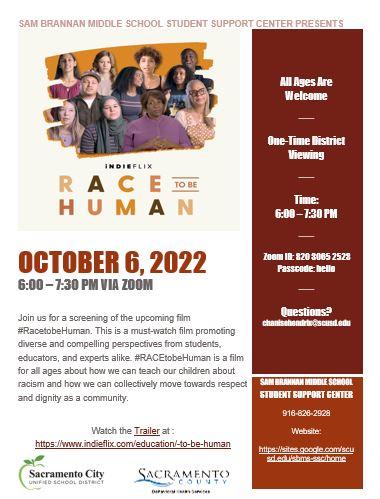 On Thursday, October 6, Sam Brannan Middle School's Student Support Center is hosting a virtual screening of Race to Be Human from 6-7:30pm. This movie is for all ages and addresses teaching children about racism and shares perspectives on moving toward inclusivity and celebrating diversity. Watch the trailer here.
Zoom ID: 820 3065 2523.
Passcode: hello