Happy Wednesday! It's Sac City Scroll time.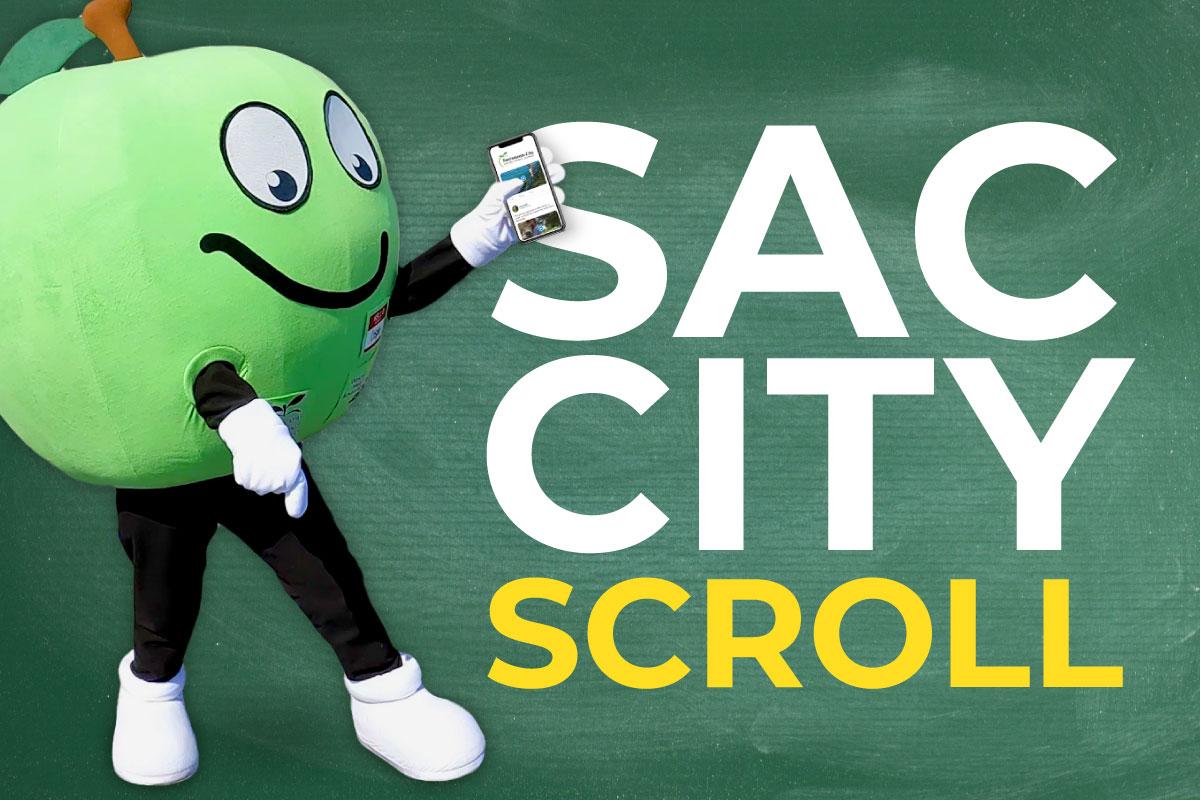 Dear Sac City Unified Families,
Friday is the last day of school before Thanksgiving Break! There is no school Monday, November 21 through Friday, November 25. School resumes on Monday, November 28. We hope you all have a restful holiday filled with love and gratitude.
Holiday Curbside Pantry Box Pickup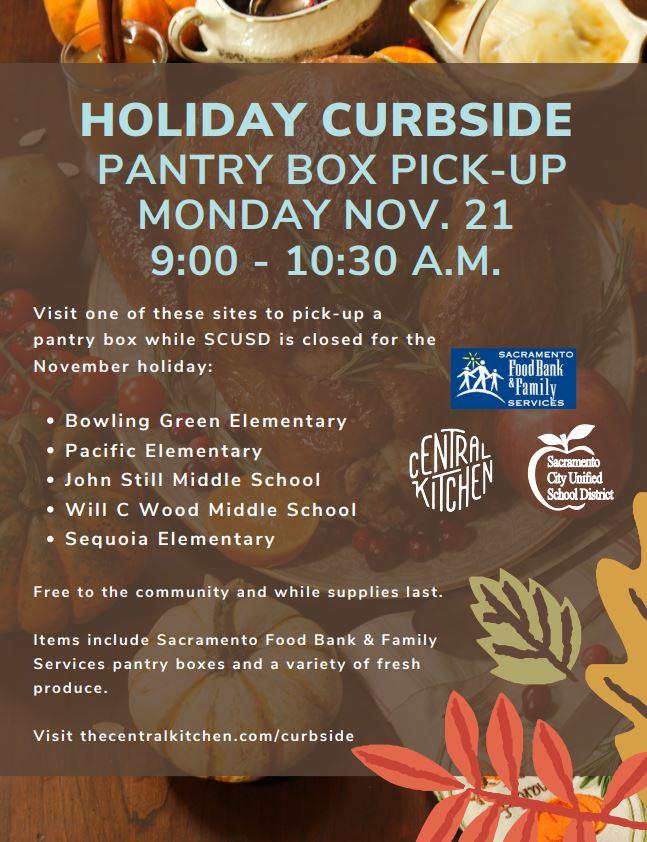 The Central Kitchen, in partnership with No Kid Hungry and Sacramento Food Bank & Family Services, will be providing curbside pantry box pickup at several locations throughout the district on Monday, November 21 from 9am to 10:30am. Find a curbside pickup location near you at thecentralkitchen.org/curbside.
Test Your Student on Sunday, November 27
More free at-home COVID test kits are being sent home this week to minimize post-holiday spread. Please test your student the day before school resumes as a courtesy to our community. Primary Health has launched a new app to make reporting your at-home test kit results even easier.
Community Fair & Wide Open Walls Wide at Bret Harte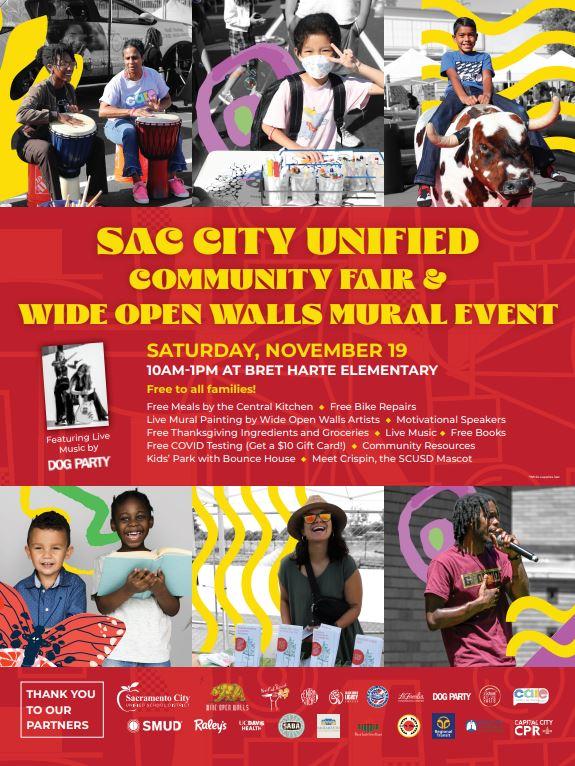 Join us for a huge celebration this Saturday at Bret Harte Elementary from 10am to 1pm! Our community fair will include live mural painting by more than 20 Wide Open Walls artists, live music with Dog Party and M'Ster Lewis, free meals provided by The Central Kitchen while supplies last, bounce houses, free brake light repairs, free bike repairs, community resources and fun for the whole family.
High School Specialty Program Applications Due by November 30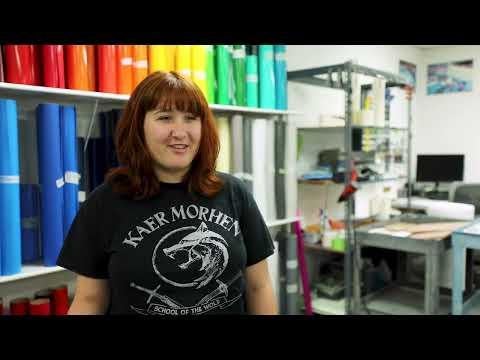 Our district has 31 high school specialty programs and every November, 8th and 9th graders have an opportunity to apply to an industry sector that interests them. Apply by November 30 here. And check out this recent video of some of our high school specialty program students touring local manufacturing operations!
Community Arts Team Recruitment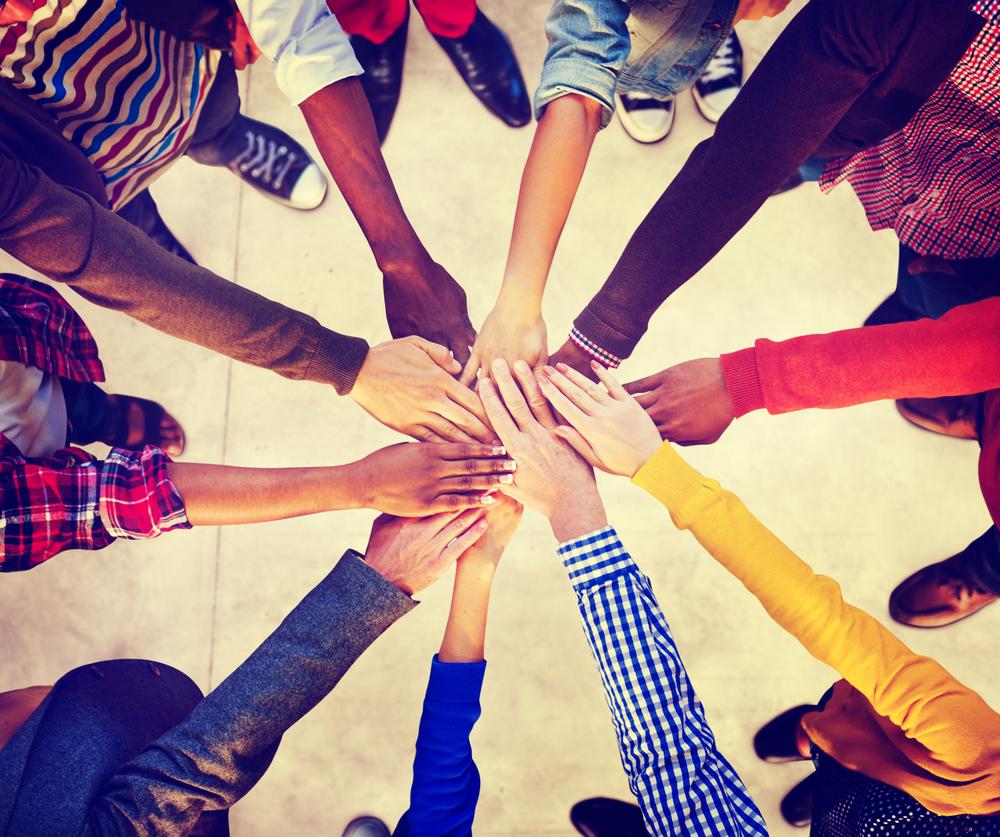 We're looking for students, parents, teachers, and community members to be part of our Community Arts Team (CAT)! Community Arts Team members will work to improve the quality, equity, and access to arts education for all Sac City Unified students through developing a Strategic Visual and Performing Arts Plan! The CAT meets quarterly. The next meeting is scheduled for December 8. Interested in joining? Fill out this interest form.
Protect Your Health This Holiday Season
This winter and the holiday season, CDPH urges Californians to protect themselves and their families against many circulating viruses, including the flu, COVID-19, and respiratory syncytial virus (RSV). California hospitals are under increased strain caring for infants and children under 12 years old. CDPH urges people to follow these five tips to protect themselves and others from winter viruses:
Get Vaccinated, Boosted (and Treated)
Stay Home if You're Sick!
Wear a Mask
Wash Your Hands
Cover Your Cough or Sneeze
Watch CDPH's video about holiday season measures you can take to protect yourself and your family from seasonal illnesses.
Fentanyl Parent Meeting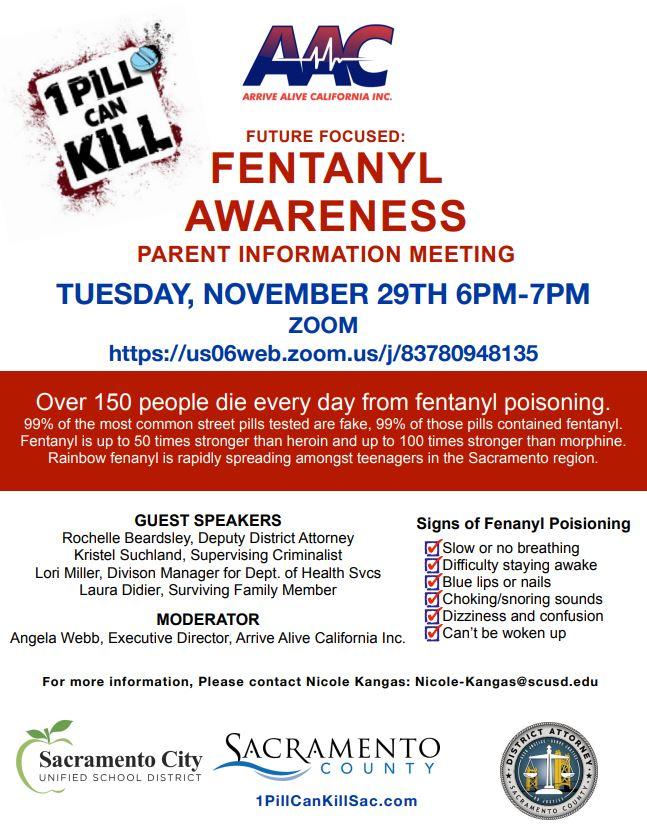 This free webinar on Tuesday, November 29, in partnership with Sacramento County, Arrive Alive California and the District Attorney's office, will cover fentanyl awareness for parents and guardians to learn the signs of fentanyl use and what to do if you suspect your student is using or overdosing on fentanyl.
Angst Film Screening
Sam Brannan Middle School is hosting a free online film screening of Angst which talks about student anxiety and tools that may help. Log on with Zoom ID: 89510940411, passcode: hello. The screening takes place on Tuesday, November 29 from 6-7:30pm via Zoom.
Fall Sports Updates
Congratulations to all of our varsity teams who reached the CIF Sac-Joaquin Playoffs this season:
Hiram Johnson football won a share of the Greater Sacramento League Championship this season and were joined by Rosemont in the CIF Sac-Joaquin Football playoffs!
C.K. McClatchy Water Polo for Boys and Girls both made it to the CIF Sac-Joaquin Quarterfinals!
Kennedy and C.K. McClatchy Girls Tennis teams both reached the CIF Sac-Joaquin Girls Tennis Playoffs!
Kennedy Girls Golf Team won the Metro League Championship! West Campus Girls Golf Team competed in this year's CIF Sac-Joaquin Section Girls Golf Masters Championship.
The C.K. McClatchy and West Campus Girls Volleyball teams made the CIF Sac-Joaquin Girls Volleyball Playoffs!
In Cross Country, C.K. McClatchy Boys and Girls varsity teams and the West Campus Girls varsity team competed in the CIF Sac-Joaquin Cross Country Championships! Congratulations to C.K. McClatchy's Boys Freshman team for a first place finish in the Freshman Division.
Congratulations on a great fall season to all of our student athletes!
Jacket Drive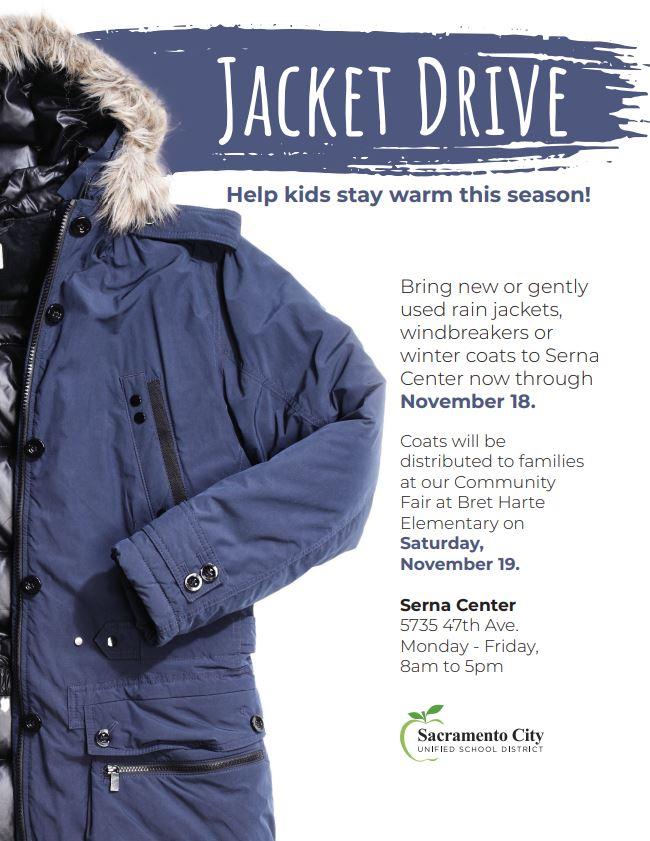 Help kids stay warm this season! Bring new or gently used rain jackets, windbreakers or winter coats to Serna Center now through November 18. Coats will be distributed to families at our Community Fair at Bret Harte Elementary on Saturday, November 19.