SCUSD Board Message to SCUSD Community on Negotiations with SCTA on Three Articles of Current Contract
At the direction of the Sacramento City Unified School District (SCUSD) Board the Sacramento City Unified School District (District) has entered into limited negotiations with our labor partner, the Sacramento City Teachers Association (SCTA), related to the 2022-2023 school year. This is because when the District and SCTA reached an agreement last spring, the District and SCTA agreed to negotiate again for the 2022-2023 school year on three articles to discuss for "contract reopeners."
The three topics that will be discussed during these negotiations are staff salaries (Article 12), as well as one article selected by the District and one article selected by SCTA. The District selected Article 8, the process for teacher transfers and hiring new teachers, which impacts how the district addresses vacancies. SCTA selected Article 17, which covers class size.
Article 8: Teacher Transfers and Hiring New Teachers
Article 8 was selected by the SCUSD Board of Education to better address our District's ongoing staffing crisis. Our teaching staff are the lifeblood of our District; they care for our students every day. It is important that we have a stable workforce and can ensure that every class has an assigned teacher. Unfortunately, like many districts in our region, state, and nation, SCUSD faces challenges to fill vacant positions. SCUSD is at a disadvantage in our region when it comes to recruiting teachers because of the timelines and procedures currently specified in Article 8.
The District is proposing changes to Article 8 that would enhance hiring and assignment timelines and procedures to give our District earlier and increased opportunities to fill teaching vacancies. These changes would make our District's hiring timeline more comparable with other districts in our region and encourage new teachers to consider SCUSD as their employer of choice earlier in the hiring process. The goal of these changes is for all SCUSD schools to have teaching staff assigned for all classes before the school year begins and that teachers remain with their assigned class for the entire school year, which provides more consistency for students.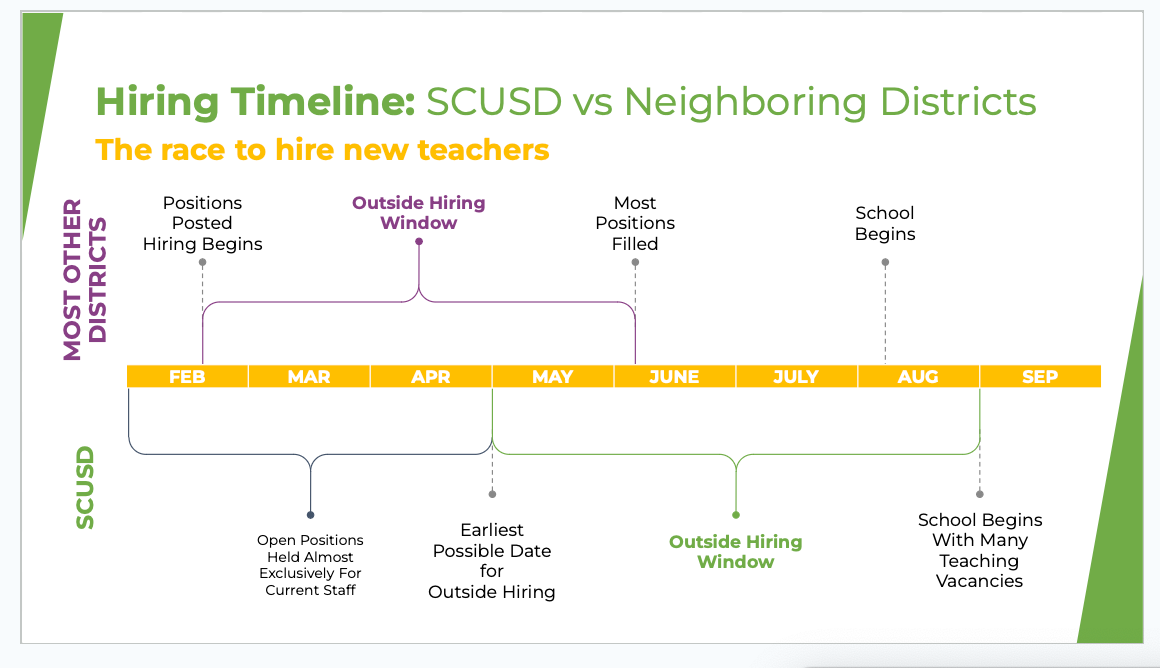 Currently, other districts in our region begin the recruitment process by posting jobs for external applicants as early as February, hosting job fairs in the spring, and interviewing external candidates after spring break. By contrast, SCUSD is extremely limited in being able to start hiring new teacher candidates until after May, leaving the District with a much smaller pool of candidates to try to recruit from, and a shorter window of time to recruit before the school year begins. This delayed start to the external candidate hiring process and restrictions on who may be referred for consideration for open positions in SCUSD often leads to our school year starting with a number of classes not having a permanently assigned teacher. This happens most often at schools serving our most disadvantaged students and hurts our schools that need teachers the most.
We want all schools in our District to be staffed with well-qualified teachers who can start and complete the school year with their assigned class. The District's proposed changes to Article 8 will move the hiring window up, increase the number of applicants referred for positions, and increase the options new teachers have to secure positions in Sac City Unified. This will help everyone target opportunities to teach and fully staff all schools. By shortening the window of time that is restricted for our existing staff to move to a new assignment, we seek to expand the pool of qualified candidates, including student teachers and teacher residents.
We know starting the school year with a teacher assigned to every classroom is vital for all students and have heard from many families how disruptive it is when this does not happen. The changes the District is proposing to Article 8 are responsive to this input and needs expressed by our community.
Article 12: Compensation
Teachers in SCUSD do amazing work serving our richly diverse students. We have great appreciation for our existing teaching corps and are thankful that so many of our teachers have served in our District for many years – some have served for decades. We hope that new teachers that our District recruits each year will also want to stay and serve our students and families over the long term.
We are proud to note that SCUSD currently offers total compensation to staff that remains highly competitive with districts in our region, as indicated in the following tables.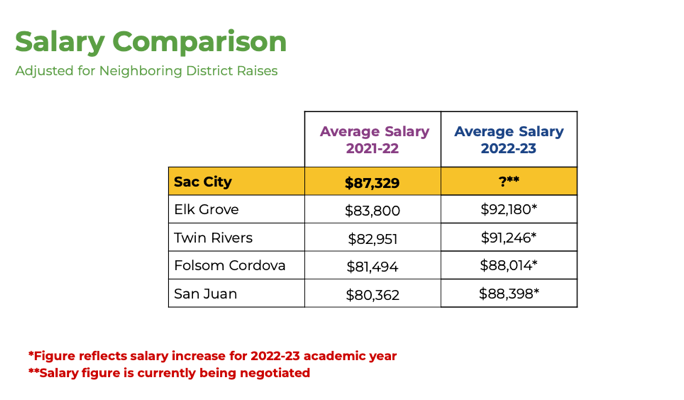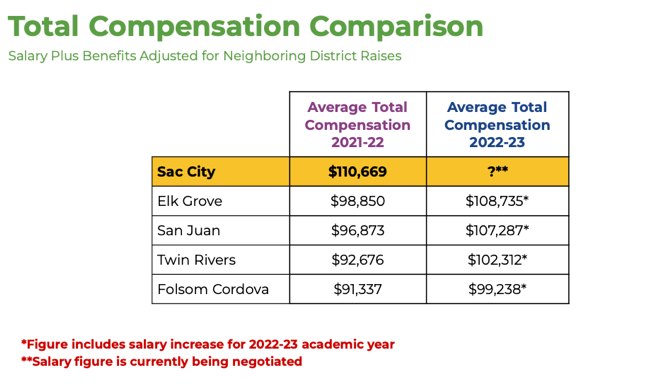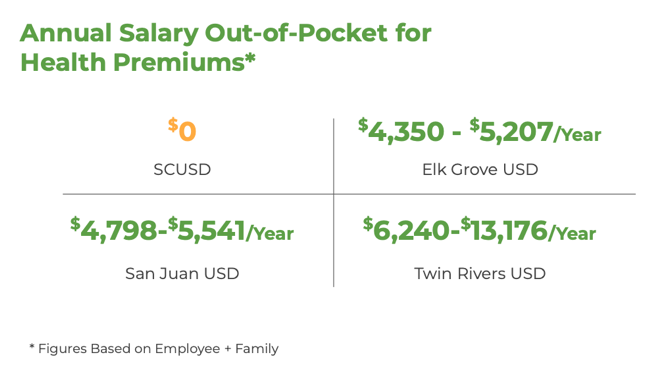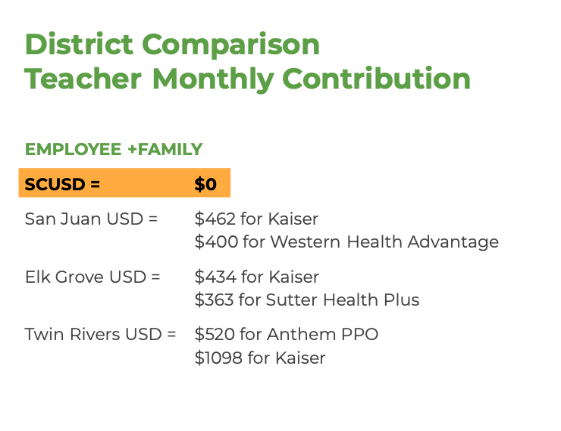 Expectations and Norms
Our Board expects that all parties participating in these negotiations in service of our students and staff will remain respectful, factual, and professional. We have identified and the District will propose norms that capture common sense professional behavior that the public should expect throughout the negotiations process. It is our hope that agreement to these norms will help start a new chapter in the relationship between the District and SCTA.
Commitment to Transparency
The SCUSD Board of Education remains committed to negotiating in good faith, and maintaining transparency with our community throughout the negotiations process. The District will publicly share updates and proposals that are passed back and forth during the negotiations. You can see all of the proposals and updates related to negotiations on the District's Labor Negotiations web page.