COVID-19 Testing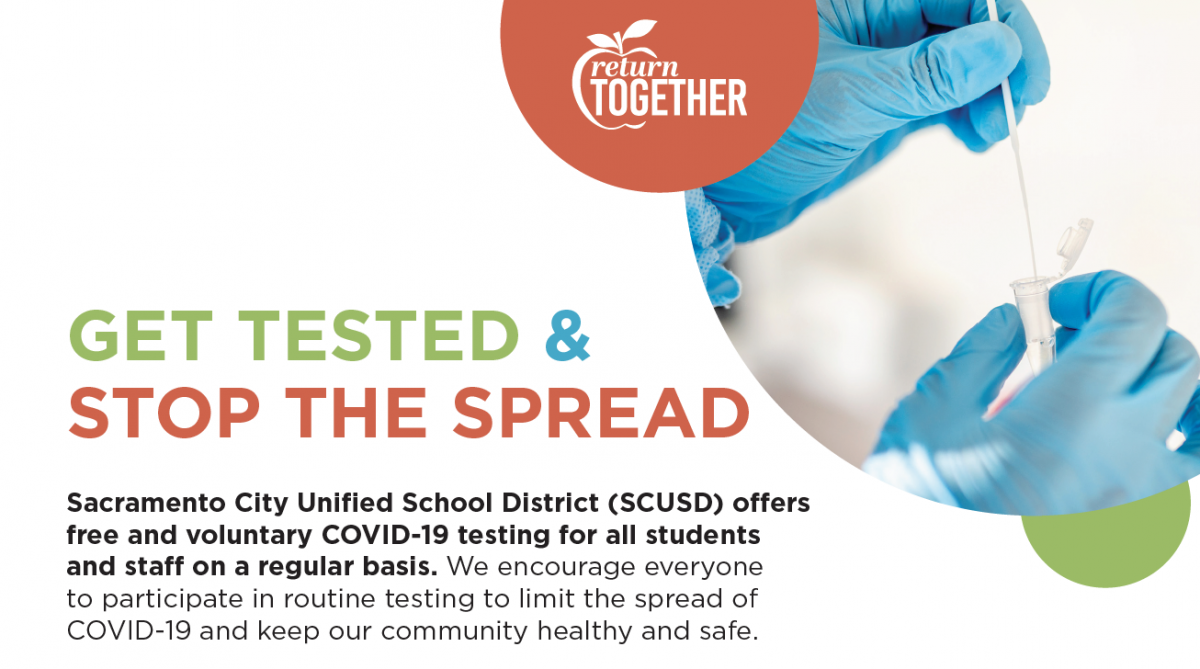 Sacramento City Unified School District (SCUSD) is pleased to offer free and voluntary COVID-19 screening testing for all students and staff at:
School Site Care Rooms
School Site Testing Events (schedules communicated at the site)
Serna Center; Every Monday – Friday, from 12:00-3:30 p.m.
SCUSD is utilizing two types of COVID tests. Both tests are self-administered nasal swabs, which means individuals use a long soft cotton swab to gently circulate in each nostril. These tests are simple enough for children to do themselves with a person instructing and observing.
PCR Testing is widely used and known as the most reliable test. Results are provided within 24-48 hours.
Rapid antigen tests/BinaxNOW provides results within 15 minutes, however any positive test results must be confirmed with a PCR test.
District testing is provided with the support of the California Department of Public Health (CDPH). CDPH provides test kits, test registration software, test processing, and technical assistance supporting this effort. The test samples are processed at the Valencia Branch Laboratory, a CLIA certified lab.
Instructions for Registering for PCR or Rapid Antigen Testing
Staff or students can register for PCR or Rapid Antigen testing using the links below. You only need to register one time. When you arrive at the test site, staff will confirm registration on the Primary application.
Download COVID-19 Testing Registration Flyer with QR Codes
Parent & Minor Consent
Consent for routine COVID-19 testing is provided when you register your student for testing.
Parent/guardian consent is required for students under 13 years old.
Students 13 years and older may register themselves and provide consent for testing.

Cal. Fam. Code § 6920 et seq and Cal. Fam. Code § 6920(a) ("A minor who is 12 years of age or older and who may have come into contact with an infectious, contagious, or communicable disease may consent to medical care related to the diagnosis or treatment of the disease, if the disease or condition is one that is required by law or regulation adopted pursuant to law to be reported to the local health officer, or is a related sexually transmitted disease, as may be determined by the State Public Health Officer.").
CDPH Valencia Branch Laboratory PLAYBOOK to Stand Up School-Based Collection Sites at page 20 (": Children who are 13 and older can provide consent and administer the tests themselves.").
Testing Frequencies
Registered students and staff will automatically be offered COVID testing based on the county risk level.
Staff or students may also access testing throughout the school day if they become symptomatic or learn of an exposure.
If a parent/guardian only wants to consent for testing one-time, please inform the Health Aide at the school site.
If parents want to revoke consent for testing, please notify the school in writing.
Why We Test
The results of this test can help keep your school community healthy and safe.
The results of this test can help limit the spread of COVID-19 to your family and your community.
Self-Collection Resources
To collect the specimen, the individual will place a swab, similar to a cotton swab/Q-Tip, inside of the tip of the nose.
Support
If you need help accessing your test results please contact Primary Support at 650-275-5419.
Please reach out the Health Aide at your site with any other questions or to Health Services at (916) 643-9412.