COVID-19 Testing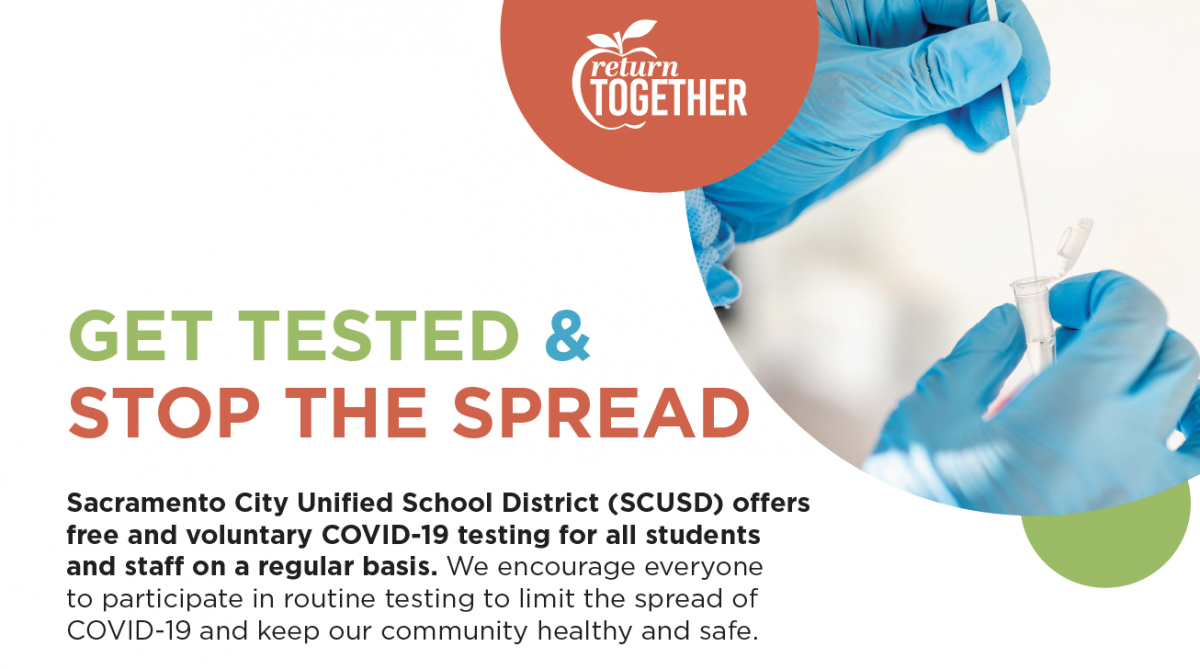 Students, staff and household members must register for testing using the link below:
Check out this video from Centers for Disease Control (CDC) about why your student should participate in surveillance COVID-19 testing at school.
Test to Treat Program
If you test positive for COVID-19, are 12+ years of age, and are at increased risk of developing severe COVID-19, you may qualify for the new federal Test to Treat program. To learn more about the program and local providers click here.
COVID-19 Testing Options
Sacramento City Unified School District (SCUSD) is pleased to offer free COVID-19 screening testing for all students and staff at:
SCUSD Regional Testing Centers
Serna Center
5735 47th Ave, Sacramento, CA 95824
Monday – Thursday: 10:00 a.m. – 4:00 p.m.
Fridays: 10:00 a.m. – 3:00 p.m. (shortened hours due to COVID-19 vaccine clinic)
SCUSD Employee only: surveillance testing available Monday – Friday from 9:00 -10:00 a.m.
Albert Einstein Middle School
9325 Mirandy Dr, Sacramento, CA 95826
Monday – Friday: 4:00-7:00 p.m.
Meadowview
2401 Florin Rd, Sacramento, CA 95822
Monday – Friday: 10:00 a.m. – 6:00 p.m. (when school is open)
School Site Care Rooms (during school hours)
COVID-19 testing through the Care Room will remain available on a daily basis.
Health Aides are staffed at all school campuses during school hours to provide immediate COVID-19 testing for individuals who become symptomatic or learn of an exposure while at school/work, or need/want testing for any other reason. Testing is also available at main district locations for employees working in those areas.
School Site Surveillance Testing
Students and families only need to register one time per school year. Students not yet fully vaccinated will be provided direct assistance to register for testing.
Surveillance Testing Cadence: Regular and routine testing cadence is based on public health guidance and current case rates. Given current case rate conditions, testing will be required on a weekly basis. Schools will be assigned a regular week day for testing.
Testing Type: Rapid antigen tests will be the primary type used for surveillance testing. This type of test provides results within 30 minutes, which allows our schools to quickly identify positive cases of COVID-19 on campus and respond accordingly. If rapid antigen testing supplies are limited, teams may pivot to using PCR tests.
Testing Schedule: Surveillance testing teams will be rotating to school sites on specific days to conduct surveillance testing.
Find your school site testing day below:
Monday: Albert Einstein MS, David Lubin Elem, Elder Creek Elem, Edward Kemble Elem, Genevieve Didion K-8, James Marshall Elem, John Bidwell Elem, John Cabrillo Elem, Kit Carson International Academy, Leonardo da Vinci K-8, Nicholas Elem, Sutterville Elem, Sutter MS, West Campus HS
Tuesday: Alice Birney K-8, Camellia Basic Elem, Ethel Phillips Elem, Father Keith B, George Washington Carver HS, John Sloat Elem, John Still K-8, Oak Ridge Elem, Pony Express Elem, Rosemont HS, School of Engineering and Sciences, Susan B Anthony Elem, and Tahoe Elem
Wednesday: AM Winn K-8, Abraham Lincoln Elem, Bret Harte Elem, Caleb Greenwood Elem, Caroline Wenzel Elem, Earl Warren Elem, Ethel I. Baker Elem, Golden Empire Elem, Hollywood Park Elem, John Morse Therapeutic School, Leataata Floyd Elem, Martin Luther King Jr K-8, Matsuyama Elem, New Joseph Bonnheim Elem, Parkway Elem, William Land Elem, Washington Elem, Woodbine Elem
Thursday: American Legion HS, CK McClatchy HS, Cal MS, Fern Bacon MS, Charles A Jones Skills Center, Golden Empire Elem, Health Professions HS, Hiram Johnson HS, John F Kennedy HS, Luther Burbank HS, Sam Brannan MS, Theodore Judah Elem, Will C Wood MS,
Friday: Bowling Green Chacon Elem, Bowling Green McCoy Elem, Cesar Chavez Elem, Crocker Riverside Elem, H.W. Harkness Elem, Hubert Bancroft Elem, Isador Cohen Elem, Mark Twain Elem, New Tech HS, O.W. Erlewine Elem, Pacific Elem, Peter Burnett Elem, Phoebe Hearst Elem, Rosa Parks K-8, Sequoia Elem, The MET HS
Sacramento County Testing Locations
Sacramento County also offers free COVID-19 testing. See their website for a list of locations.
Report At-Home COVID-19 Tests through Primary Health
SCUSD will now accept any At-Home COVID Test result if the test results are submitted with a picture to Primary Health.
This option is especially helpful when an individual is testing for an end to isolation, quarantine, or was experiencing symptoms.
Employees Only: Per Cal/OSHA ETS to meet the return to work criteria for isolation or quarantine (including experiencing symptoms) set forth in subsection (c)(10), a COVID-19 test may be both self-administered and self-read only if another means of independent verification of the results can be provided (e.g., a time-stamped photograph of the results). To remain in compliance, At-Home COVID Tests must be reported through Primary Health.

Employees needing a COVID-19 test to meet the Vaccine Verification for Workers in Schools Public Health Order (8/11/2021) employee testing requirement must have the test supervised and resulted by designated SCUSD staff with verifiable results via email or text.
At-Home Test Reporting Directions
Go to https://primary.health/
Click "Registered already with Primary? Click here to find your link to enter your COVID-19 test results."
Enter your phone number or email you used when you registered for testing. A code will be sent to you with a link to the page where you enter your At-Home COVID Test results.
VIDEO: How to Report Your At-Home COVID-19 Test Results
Testing at home or outside SCUSD's testing options? We'll show you how to easily report your test result to the district using Primary Health.
If not yet registered for COVID Testing, you will need to register here first: https://my.primary.health/l/scusd-edu
Vaccination Deadline
Starting on February 28, 2022* – students not yet fully vaccinated will be tested on a regular and routine basis. This includes the following:
students ages 5-11 not yet fully vaccinated
students ages 12+ with an exemption or not yet fully vaccinated.
Students in these categories must consent to testing, or provide testing results from an external testing provider on a regular and routine basis.
Individuals who are fully vaccinated will still be able to participate in testing if they want to. Some activities require individuals to participate in weekly testing, regardless of vaccination status (i.e. band, athletics, etc).
*The January 31, 2022 deadline was extended to February 28, 2022.
COVID-19 Testing Information
SCUSD is utilizing two types of COVID tests. Both tests are self-administered nasal swabs, which means individuals use a long soft cotton swab to gently circulate in each nostril. These tests are simple enough for children to do themselves with a person instructing and observing.
PCR Tests are processed in a lab and provide results within 24-48 hours.
Rapid antigen tests/BinaxNOW results are processed on site and provide results within 15-30 minutes.
Both tests are self-administered nasal swabs, which means individuals use a long soft cotton swab to gently circulate in each nostril. These tests are simple enough for children to do themselves with a person instructing and observing.
District testing is provided with the support of the California Department of Public Health (CDPH). CDPH provides test kits, test registration software, test processing, and technical assistance supporting this effort. PCR test samples are processed at the Valencia Branch Laboratory, a CLIA certified lab.
Instructions for Registering for PCR or Rapid Antigen Testing
Staff, students and household members can register for PCR or Rapid Antigen testing using the link below. You only need to register one time per year. When you arrive at the test site, staff will confirm registration on the Primary application.
Parent & Minor Consent
Consent for routine COVID-19 testing is provided when you register your student for testing.
Parent/guardian consent is required for students under 13 years old.
Students 13 years and older may register themselves and provide consent for testing.

Cal. Fam. Code § 6920 et seq and Cal. Fam. Code § 6920(a) ("A minor who is 12 years of age or older and who may have come into contact with an infectious, contagious, or communicable disease may consent to medical care related to the diagnosis or treatment of the disease, if the disease or condition is one that is required by law or regulation adopted pursuant to law to be reported to the local health officer, or is a related sexually transmitted disease, as may be determined by the State Public Health Officer.").
CDPH Valencia Branch Laboratory PLAYBOOK to Stand Up School-Based Collection Sites at page 20 (": Children who are 13 and older can provide consent and administer the tests themselves.").
Why We Test
The results of this test can help keep your school community healthy and safe.
The results of this test can help limit the spread of COVID-19 to your family and your community.
Support
If you need help accessing your test results please contact Primary Support at 650-275-5419.
Please reach out the Health Aide at your site with any other questions or to Health Services at (916) 643-9412.