Special Board of Education Meeting
Serna Center Washington Room
4:30 p.m.
Agenda
1.0 OPEN SESSION / CALL TO ORDER / ROLL CALL
2.0 PUBLIC COMMENT FOR CLOSED AND OPEN SESSION
Notice to the Public: Any members of the public who wish to comment may do so by submitting an e-mail to publiccomment@scusd.edu. The public comment deadline for submission for closed session (3.0) and for open session (5.0) shall be submitted no later than 4:00 p.m., September 24.
3.0 CLOSED SESSION
3.1 Government Code 54957.6 (a) and (b) Negotiations/Collective Bargaining TCS, SCTA Government Code 54957.6 (a) and (b) Negotiations/Collective Bargaining SCTA, SEIU, TCS, Teamsters, UPE, Non-Represented/Confidential Management (District Representative Pam Manwiller)
4.0 RECONVENE INTO OPEN SESSION
5.0 APPROVAL OF MOU WITH SCTA FOR PROFESSIONAL DEVELOPMENT DAYS FOR DISTANCE LEARNING (2020-2021 SCHOOL YEAR) (Cancy McArn and Rose Ramos)
6.0 ADJOURNMENT
NOTE: The Sacramento City Unified School District encourages those with disabilities to participate fully in the public meeting process. If you need a disability-related modification or accommodation, including auxiliary aids or services, to participate in the public portion of the special Board meeting, please contact the Board of Education Office at (916) 643-9314 at least 8 hours before the scheduled Board of Education special meeting so that we may make every reasonable effort to accommodate you. [Government Code § 54954.2; Americans with Disabilities Act of 1990, § 202 (42 U.S.C. §12132)]
Watch the Board Meeting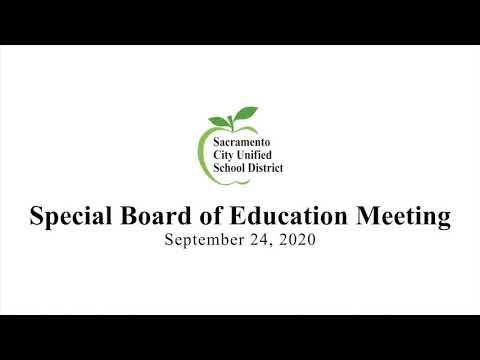 Please note: the September 24, 2020 Special Board of Education Meeting experienced technical difficulties. The recording begins during the Item 5.0 presentation.