It's Sac City Scroll time!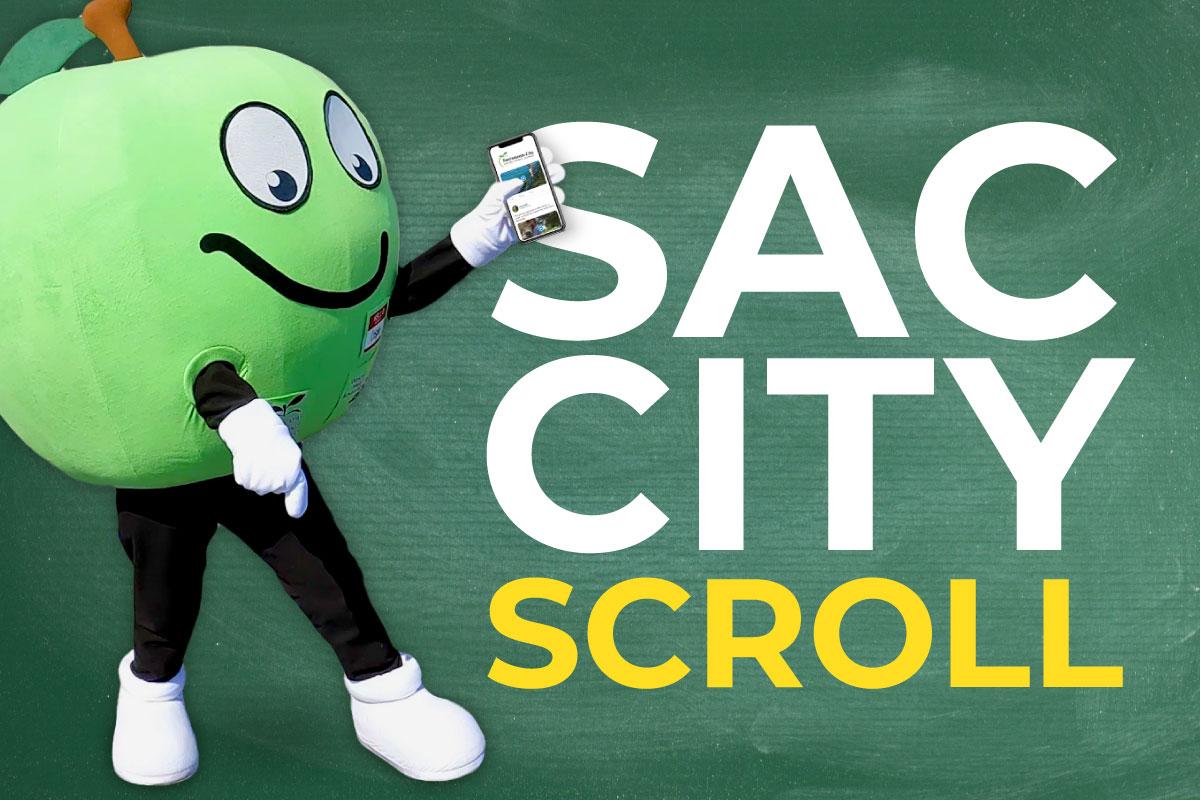 Dear Sac City Unified Families,
Community Fair at John Cabrillo Elementary This Saturday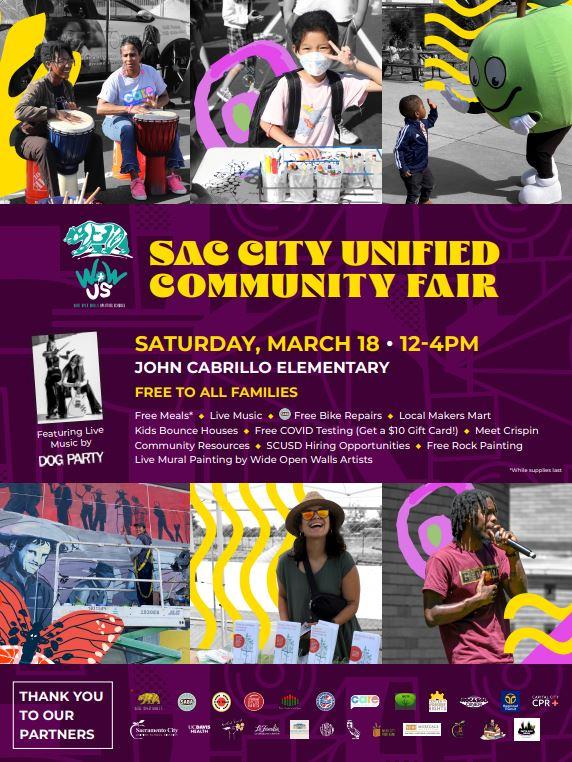 Join us on Saturday March 18 from 12-4pm for another exciting day of community, art, food and music! We're hosting a Community Fair in partnership at John Cabrillo Elementary located at 1141 Seamas Ave. The Central Kitchen will be serving free meals while supplies last; plus, check out Wide Open Walls artists painting murals live all over campus, get your bike fixed for free by Sacramento Area Bicycle Advocates, get free brake light repairs from NorCal Resist, and enjoy live entertainment by Cal Middle and Washington Elementary theater students and local rock band Dog Party! Learn more here. If you're a student, staff member or community member who is cleared to volunteer for the district, sign up to lend a hand at this event here. Special thanks to the City of Sacramento and SMUD for sponsoring this event.
Connect with Our Recruiters at Three Events This Weekend!
Are you interested in learning about job opportunities working with Sac City Unified? We're hiring for a wide variety of position types, including teachers, administrators, bus drivers, nutrition services staff and more! Catch our recruiters this weekend at three community events and job fairs and learn how to apply on Edjoin.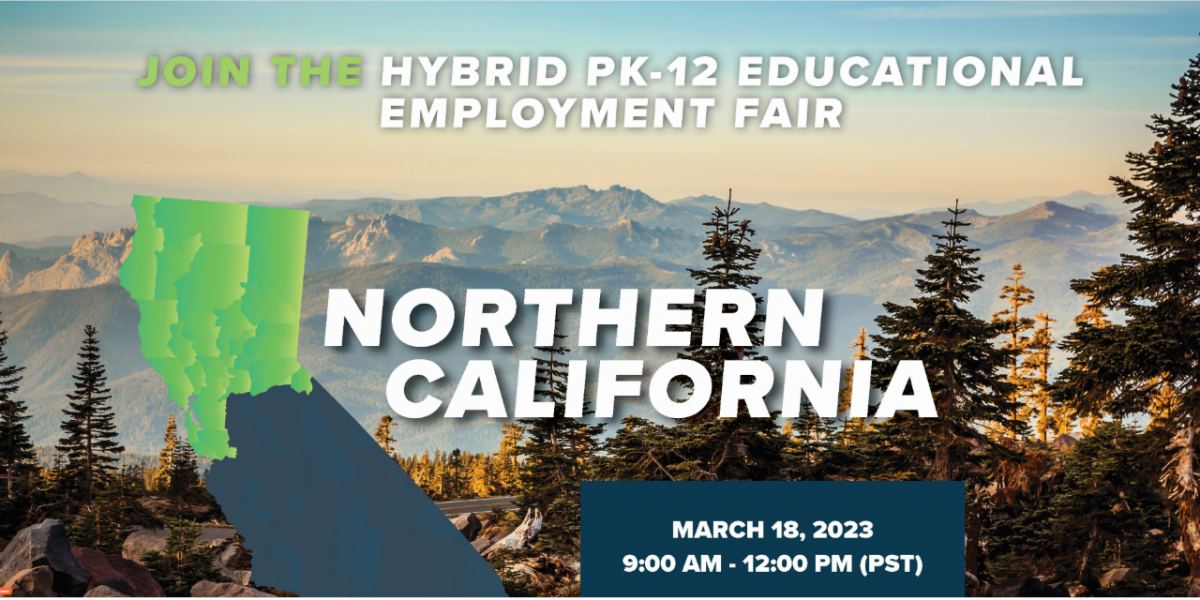 Sacramento County Office of Education Employment Fair
10474 Mather Blvd.
Saturday, March 18
9am-12pm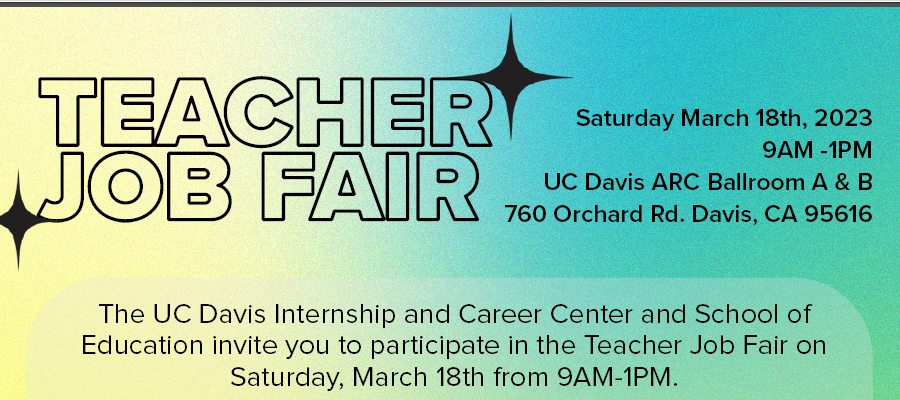 UC Davis Teacher Job Fair
760 Orchard Rd. Davis
Saturday, March 18
9am-1pm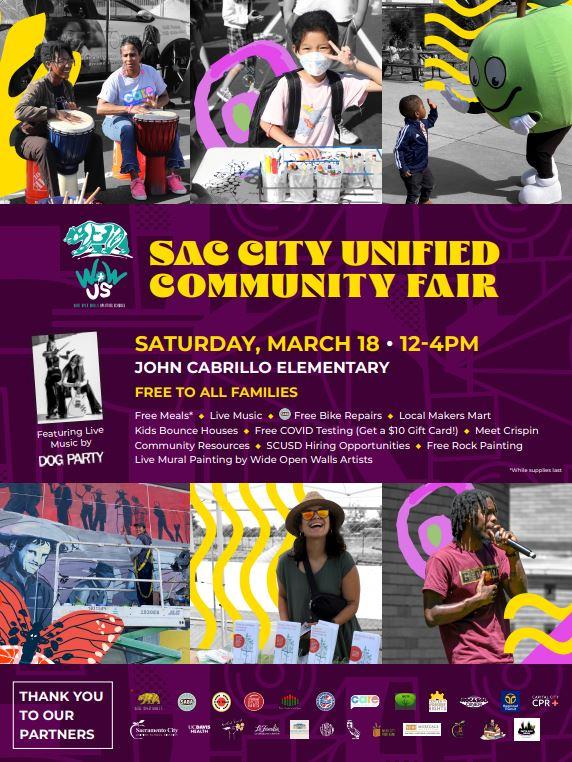 Sac City Unified Community Fair
1141 Seamas Ave.
Saturday, March 18
12-4pm
Union Trade Awareness Career Fair This Friday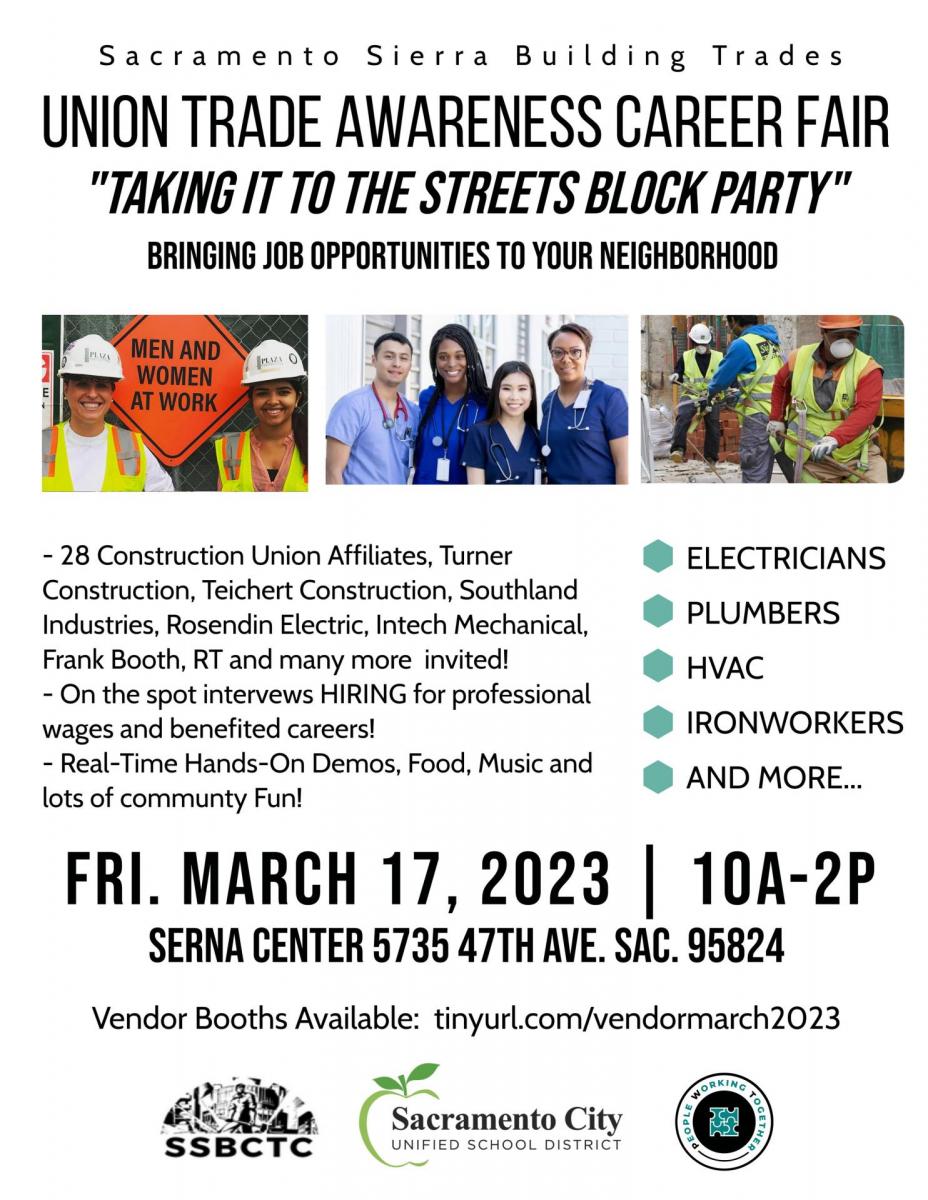 Our College and Career Readiness team invites you and your 11th or 12th grade student to the SCUSD, Sacramento Sierra Building Trades and People Working Together Union Trade Awareness Career Fair. The block party event will be held at Serna Center on Friday, March 17th, from 10am to 2pm. Students and community members can connect with unions in the construction, plumbing, electrician, HVAC, healthcare and other industry sectors with the potential for on-the-spot interviews and hiring. Organizations supporting the large-scale Aggie Square project will also be in attendance. Plus, there will be free food, raffles and entertainment!
Hiram Johnson Stadium Ribbon Cutting Ceremony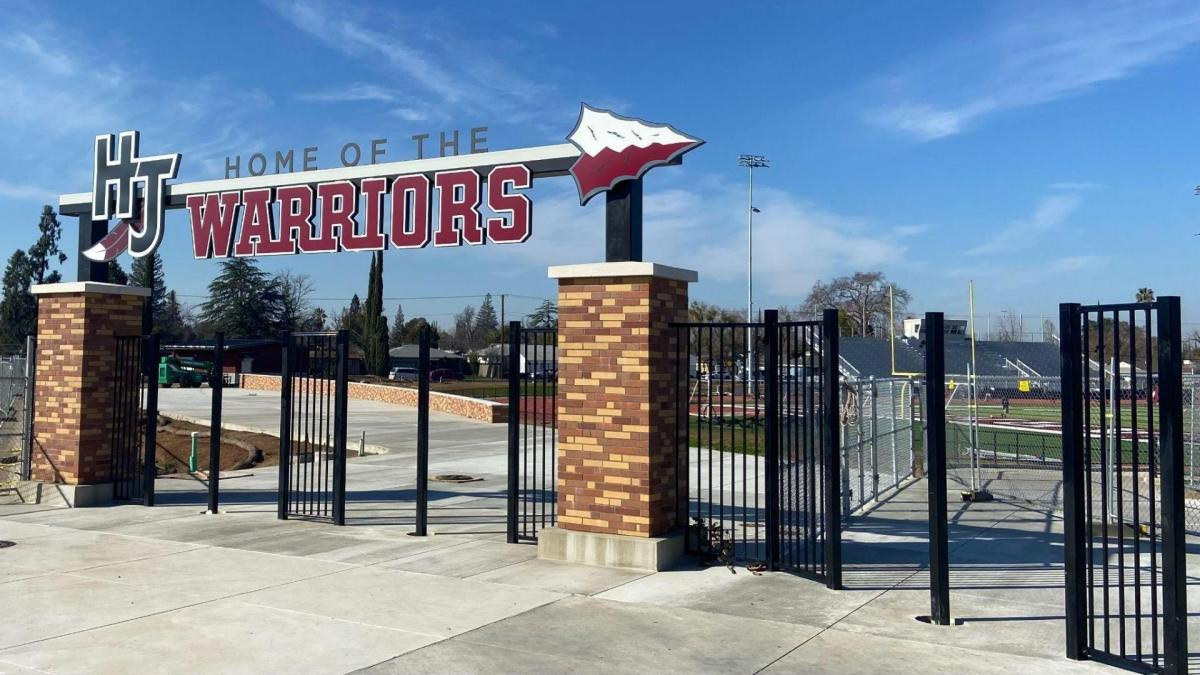 Join us on Friday, March 17 at 12pm at Hiram Johnson High for a ribbon cutting ceremony to dedicate the newly completed stadium! HJHS cheerleaders, drumline and band will perform before the ribbon is cut. We'd love to see some alumni come out and witness this event.
Go Rosemont Robotics Team!
Congratulations to Mr. Stafford and the Rosemont robotics team for an amazing performance at the Ventura County Regional Robotics competition last weekend. The 12 students, assisted by three mentors and one alumni coach, were invited to join the #2 Alliance Team and took 2nd place in the Finals. That means that they have qualified for the 2023 FIRST® Championship presented by BAE Systems in Houston, Texas! This will be Rosemont's second time attending the world championships, where our students will compete against teams from around the world!
City Grant Opportunity
Applications are open now through April 14 for a Sacramento Guaranteed Income Program. 200 recipients living in City of Sacramento District 1 and 2 will be awarded $500/month for a year. Learn about eligibility requirements and apply here.
Sacramento Urban Debate League Fundraiser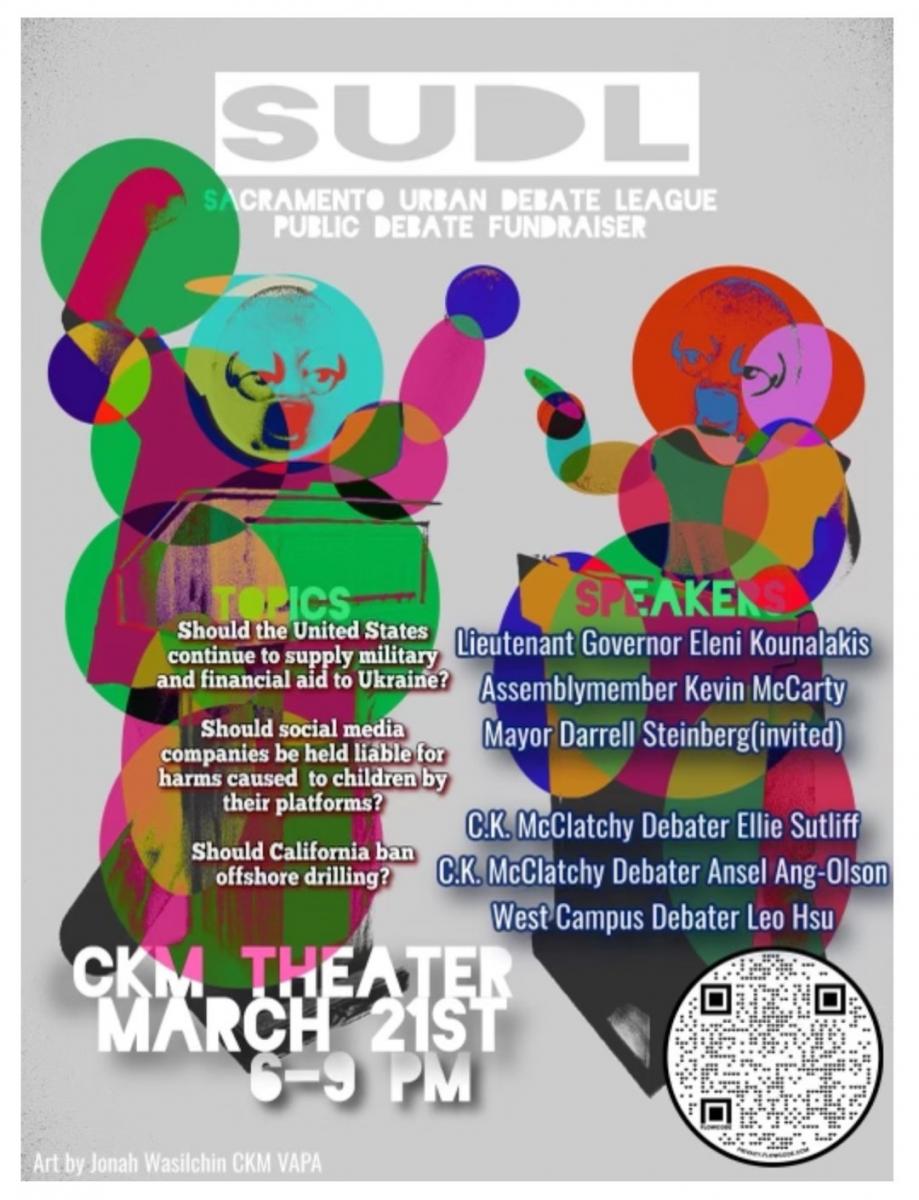 Help SCUSD students compete in a national policy debate! The Sacramento Urban Debate League is composed of several public schools including students from C.K. McClatchy, West Campus, and John F. Kennedy High School. Debating on a national level costs a lot of money, so C.K. McClatchy High School is hosting a fundraising event in the theater on March 21 from 6-9pm to raise money for the program. During the fundraiser, three public officials (subject to change) will debate three SUDL students and Asm. Kevin McCarty will be presenting a check to support local debate contenders.
Parent Community Meeting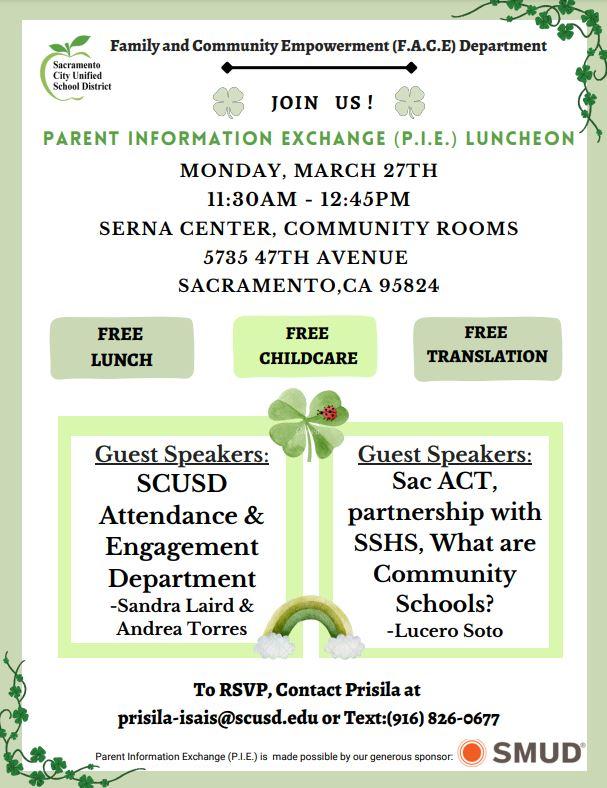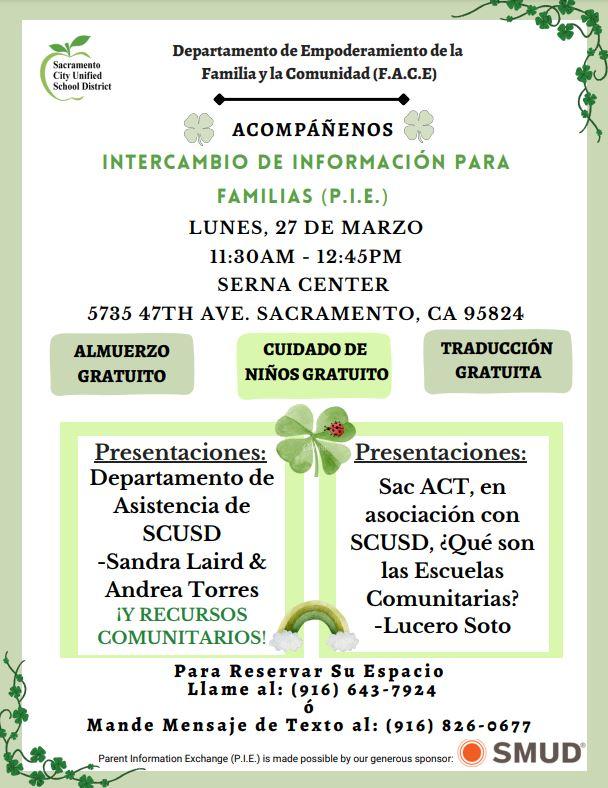 Our Family and Community Empowerment team is hosting its next Parent Information Exchange Luncheon on Monday, March 27 from 11:30am-12:45pm at Serna Center's Community Rooms. Free childcare, lunch and translations will be provided. To RSVP, contact Prisila Isais at prisila-isais@scusd.edu or call (916) 643-7897.
Navy Sea Chanters Free Concert
The U.S. Navy's top vocal ensemble, The Navy Sea Chanters, is performing a FREE concert in McClatchy High School's auditorium on Friday, March 17 at 7pm. The energetic family-friendly concert is free, but tickets are required for admission. Get your free tickets here.
Enroll Now for Parent Participation Preschool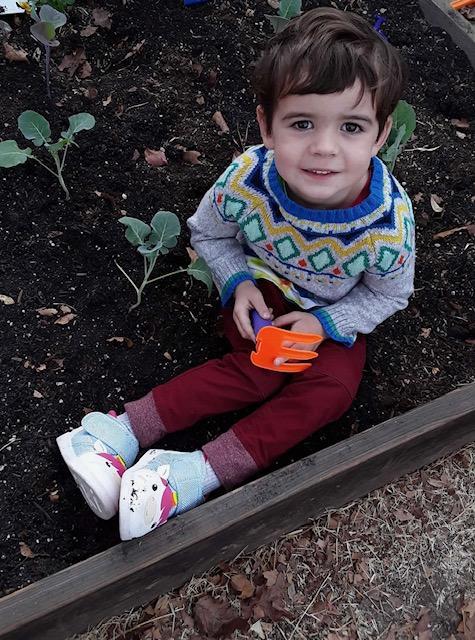 Our Parent Participation Preschool and Toddler program, located at Edward Kelley, Thomas Jefferson and Tahoe Elementary, is now enrolling for Fall 2023. Preschool children must be fully potty trained and between the ages of 3 and 5 years old to attend. Hours vary depending on which site you're interested in; visit our Parent Participation Preschool Program web page for more info. The monthly costs are: 4-day ($197), 5-day ($241) and Friday Toddler Class ($86). If you're interested, contact alfarom@scusd.edu or call (916) 395-5780 to learn more or enroll.
College Scholarships Available
If your senior is planning on post-secondary education next fall, money is available to help with their tuition and school-related expenses. Explore district and community scholarships and apply by April 14, 2023 at scusd.edu/scholarships.
Medi-Cal Renewal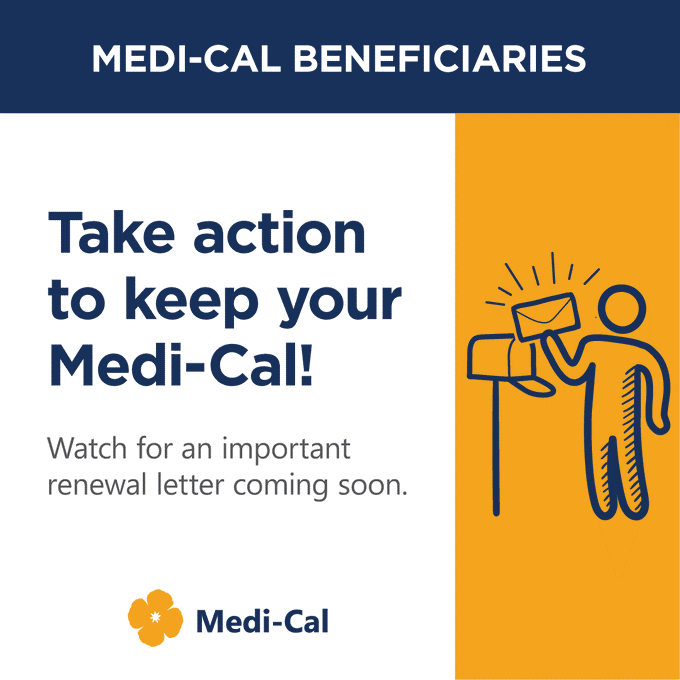 It's almost time to renew your Medi-Cal coverage. If you receive a renewal form in the mail, your county needs more information. Fill it out and return it to keep yourself and your family covered. Visit KeepMediCalCoverage.org to sign up for email and text message alerts.
Central Kitchen Mobile Food Truck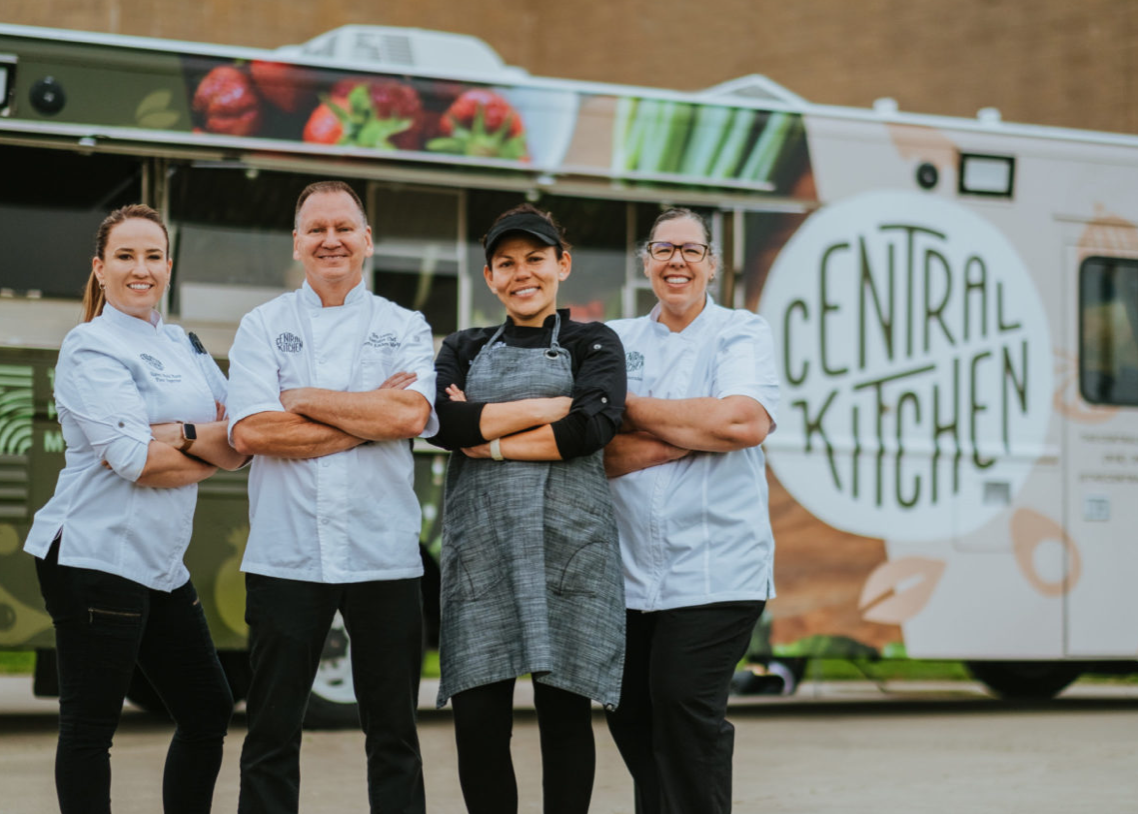 Our Central Kitchen food truck is going on tour to our middle schools for breakfast service! The mobile food truck was funded by No Kid Hungry with the goals of improving access to the school breakfast program and summer food service program. The Central Kitchen Food Truck is intended to offer freshly prepared meals that entice our students to participate in a healthy breakfast so they perform better in the classroom. Studies show a balanced breakfast improves student memory, alertness and concentration and decreases behavioral and psychological problems with lower rates of absenteeism and tardiness. Check out the mobile food truck schedule here.
Online Public Comments
You can now send public comments for our Board members via email if you are unable to attend our Board of Education meetings in person. Click here to access the public comment submission form, or email the Board directly at publiccomment@scusd.edu.
Stay in the Loop
Don't forget to follow us on Facebook and Instagram for updates each day on happenings throughout our school community.