Preparing for Return to School
Resources for Students and Families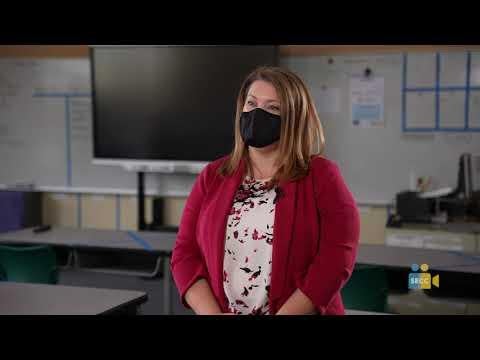 The COVID-19 pandemic has immensely changed our lives in so many ways. We know that there are measures we can take to lower the risk in our community.
See how SCUSD is preparing to Reopen Schools
You can read more about what our district is doing to go above and beyond local, state, and federal recommendations and requirements here: https://reopeningdashboard.scusd.edu/
Learn More about the Return Together plans, including the Return to Health plan our Health Services team created to ensure our community understands and implements all the required health and safety measures.
The SCUSD school nurses and staff are planning for your return to school. These resources will help you prepare your student. If you have students with health conditions that require support at school please contact your school nurse. Please see below for things all students can prepare for and expect to do at school to reduce the risk of Covid-19
Physical Distancing
Covid-19 spreads among people in close contact. Physical distancing, also called "social distancing," means keeping a safe space between yourself and other people who are not from your household. To practice social or physical distancing, stay at least 6 feet (about 2 arm lengths) from other people in both indoor and outdoor spaces.
Avoiding close contact by practicing physical distancing is key to helping us reduce the spread of COVID-19.
Sac City USD Return to Health Videos – Physical Distancing / Sac City USD Volver Juntos – Requisitos de Distanciamiento Físico – see what physical distancing looks like on an SCUSD campus.
What is Social Distancing – A Social Story / ¿Qué es el distanciamiento social?- A short story to help younger children adjust to changes due to Covid-19
Poster – Practice Physical Distancing
Wearing a Face Covering / Mask
Cloth face coverings prevent the person wearing the mask from spreading respiratory droplets when talking, sneezing, or coughing. Since people can spread the virus even without symptoms, it is important to wear a face covering whenever we are in public so we can reduce infection in our community. Face coverings should not be placed on young children under age 2.
Students and staff will be wearing masks / face coverings at school. If your child is not already used to wearing masks on a regular basis, it's a good idea to start practicing before they come to school. Children over age 2 have successfully met the challenge with patience and encouragement.
Sac City USD Return to Health Videos – Face Coverings Sac City USD Volver juntos videos– Cubiertas faciales – These videos show what wearing face coverings will look like on SCUSD campuses
Wear a Face Covering to Protect You and Your Friends - Graphic showing the correct way to put on and take off your mask / face covering.
Mask Etiquette – A story for young children. Provides simple instructions on how to properly wear their masks / face cove
Wearing a Mask to School – Story Time / Usando una Máscara en la Escuela – A Social Story preparing young children for wearing masks / face coverings
Face Coverings/Masks Help Everyone Around You – Youth share the reasons why they wear masks
Hand Washing
Washing hands is the best way to prevent getting sick. Hand washing and sanitizing stations will be located throughout our campuses so that students and staff can wash often and avoid illness.
Sac City USD Return to Health Video – Hygiene Procedures / Sac City USD Volver Juntos Videos – Procedimientos de Higiene para el regreso a clases – See how students will be able to practice good hand hygiene on SCUSD campuses.
Wash Your Hands Video – A simple video appropriate for younger children
What you Need to Know About Handwashing / Lo Que Necesitas Saber Acerca del Lavado de Manos – A video with more detailed information for older students and adults
How do Germs Get Inside our Body? – This video has describes how germs get into our body to cause sickness
Be a Germ Buster – Wash Your Hands / Elimine los Gérmenes… LAVESE LAS MANOS / 消滅病菌…… 請洗手!/ Russian / Vietnamese – Poster with step-by-step instructions and pictures for proper hand washing.
Self Care / Stress Reduction
Taking steps to prevent sickness for ourselves and others is important, and it can also be stressful. It is important to take time to relax – small breaks can make a big difference!
Care for Yourself – Ways you can care for yourself one small way each day
Visit our SCUSD Virtual Calming Room for many additional ways to relieve the stress of the day! There are resources for a variety of ages and interests.