Virtual Town Hall Meeting on Distance Learning and Return Together Plan
Zoom Webinar
5:30 p.m. Open Session
Agenda
1.0 OPEN SESSION / CALL TO ORDER / ROLL CAL
2.0 VIRTUAL TOWN HALL MEETING ON DISTANCE LEARNING AND RETURN TOGETHER PLAN
NOTICE OF PUBLIC ATTENDANCE BY LIVESTREAM
Members of the public who wish to attend the meeting may do so by livestream at: https://www.scusd.edu/distance-learning-virtual-town-hall. No physical location of the meeting will be provided to the public.
NOTICE OF PUBLIC COMMENT AND DEADLINE FOR SUBMISSION:
Public comment will only be submitted in writing, identifying the name of the public member through https://tinyurl.com/SCUSDCommentAugust11 or e-mailed to publiccomment@scusd.edu. The public comment deadline for submission shall be no later than noon, August 11. Individual written public comment shall be no more than two minutes in length. The Board President may increase or decrease the length of time allowed for public comment, depending on the number of written public comments.
3.0 ADJOURNMENT
NOTE: The Sacramento City Unified School District encourages those with disabilities to participate fully in the public meeting process. If you need a disability-related modification or accommodation, including auxiliary aids or services, to participate in the public portion of the special Board meeting, please contact the Board of Education Office at (916) 643-9314 at least 8 hours before the scheduled Board of Education special meeting so that we may make every reasonable effort to accommodate you. [Government Code § 54954.2; Americans with Disabilities Act of 1990, § 202 (42 U.S.C. §12132)]
Watch the Webinar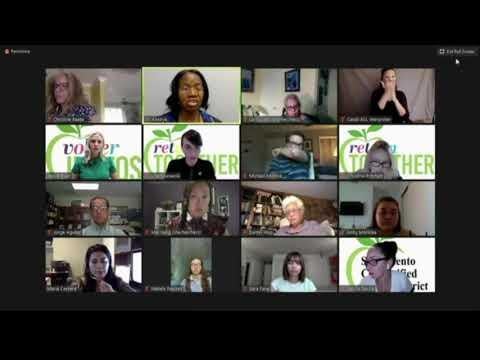 As of June 16, 2020, Vimeo Livestream will no longer support playback on Internet Explorer 11 (IE11). Viewers who are currently using IE11 will be asked to switch to
one of these modern browsers
for playback.