Board of Education Meeting
Serna Center Community Rooms
4:30 p.m. Closed Session
6:30 p.m. Open Session
Agenda
1.0 OPEN SESSION / CALL TO ORDER / ROLL CALL
2.0 ANNOUNCEMENT AND PUBLIC COMMENT REGARDING ITEMS TO BE DISCUSSED IN CLOSED SESSION
3.0 CLOSED SESSION
While the Brown Act creates broad public access rights to the meetings of the Board of Education, it also recognizes the legitimate need to conduct some of its meetings outside of the public eye. Closed session meetings are specifically defined and limited in scope. They primarily involve personnel issues, pending litigation, labor negotiations, and real property matters.
3.1 Government Code 54956.9 – Conference with Legal Counsel:
a) Significant exposure to litigation pursuant to subdivision (d)(2) of Government Code section 54956.9 (Two Potential Cases)
b) Existing litigation pursuant to subdivision (d)(1) of Government Code section 54956.9 (Sacramento County Superior Court Case No. 34-2020-00282457)
3.2 Government Code 54957.6 (a) and (b) Negotiations/Collective Bargaining SCTA SEIU, TCS, Teamsters, UPE, Non-Represented/Confidential Management (District Representative Pam Manwiller)
3.3 Government Code 54957 – Public Employee Discipline/Dismissal/Release/Reassignment
3.4 Education Code 35146- The Board will hear staff recommendation on the following student expulsion: Expulsion # 11 2022/2023
4.0 CALL BACK TO ORDER/PLEDGE OF ALLEGIANCE
4.1 The Pledge of Allegiance
4.2 Broadcast Statement
4.3 Stellar Student introduced by Board Member Tara Jeane
5.0 ANNOUNCEMENT OF ACTION TAKEN IN CLOSED SESSION
6.0 AGENDA ADOPTION
7.0 PUBLIC COMMENT
Members of the public may address the Board on non-agenda items that are within the subject matter jurisdiction of the Board. Public comment may be (1) emailed to publiccomment@scusd.edu; (2) submitted in writing through the district's website at https://www.scusd.edu/submit-public-comment; or (3) provided in-person at the meeting. The submission deadline for written public comments shall be no later than noon on the day of the meeting. If you intend to address the Board in-person, please fill out a yellow card available at the entrance. Speakers may be called in the order that requests are received or grouped by subject area. We ask that comments are limited to two (2) minutes with no more than 15 minutes per single topic so that as many people as possible may be heard. By law, the Board is allowed to take action only on items on the agenda. The Board may, at its discretion, refer a matter to district staff or calendar the issue for future discussion.
8.0 COMMUNICATIONS
8.1 Employee Organization Reports:
SCTA
SEIU
TCS
Teamsters
UPE
8.2 District Advisory Committees:
Community Advisory Committee
District English Learner Advisory Committee
Local Control Accountability Plan/Parent Advisory Committee
Student Advisory Council
Black/African American Advisory Board
8.3 Student Member Report (Liam McGurk)
9.0 SPECIAL PRESENTATION
9.1 Update on Direct Technical Assistance Update through the California Collaborative for Educational Excellence (CCEE) (Yvonne Wright)
10.0 PUBLIC HEARING
10.1 History/Social Science K-12 Instructional Materials Adoption: Program Recommendations (Erin Hanson, Assistant Superintendent Curriculum and Instruction Shannon Pella, Director Professional Learning Literacy, ELA, Humanities Kari Lofing, Coordinator GATE and AP Programs Erinn Leone, Teacher and History/Social Science Department Chair, Luther Burbank High School)
11.0 BOARD WORKSHOP/STRATEGIC PLAN AND OTHER INITIATIVES
11.1 Revision of Board Policy 6170.1 Transitional Kindergarten- First Reading (Yvonne Wright)
11.2 Review and Approve Amendment No. 1 to Agreement for Consultant Services- SA23-00118 (Jorge A. Aguilar)
12.0 COMMUNICATIONS
12.1 Superintendent's Report (Jorge A. Aguilar)
12.2 President's Report (Chinua Rhodes)
12.3 Information Sharing by Board Members
13.0 CONSENT AGENDA
Generally routine items are approved by one motion without discussion. The Superintendent or a Board member may request an item be pulled from the consent agenda and voted upon separately.
13.1a Approve Grants, Entitlements and Other Income Agreements, Ratification of Other Agreements, Approval of Bid Awards, Approval of Declared Surplus Materials and Equipment, Change Notices and Notices of Completion (Rose Ramos)
13.1b Approve Personnel Transactions (Cancy McArn)
13.1c Approve Minutes for the February 16, 2023, Regular Board of Education Meeting (Jorge A. Aguilar)
13.1d Approve Minutes for the October 13, 2022, Regular Board of Education Meeting (Jorge A. Aguilar)
13.1e Approve Resolution No. 3310: Resolution Regarding Board Stipends (Jorge A. Aguilar)
13.1f Approve Staff Recommendations for Expulsion, #11 2022/2023 (Lisa Allen and Stephan Brown)
14.0 BUISNESS AND FINANCIAL INFORMATION/ REPORTS
14.1 Business and Financial Information: Enrollment Report- Month 4 (Rose Ramos)
15.0 FUTURE BOARD MEETING DATES / LOCATIONS
March 16, 2023, 4:30 p.m. Closed Session, 6:30 p.m. Open Session, Serna Center, 5735 47th Avenue, Community Room, Regular Workshop Meeting
April 13, 2023, 4:30 p.m. Closed Session, 6:30 p.m. Open Session, Serna Center, 5735 47th Avenue, Community Room, Regular Workshop Meeting
16.0 ADJOURNMENT
NOTE: The Sacramento City Unified School District encourages those with disabilities to participate fully in the public meeting process. If you need a disability-related modification or accommodation, including auxiliary aids or services, to participate in the public meeting, please contact the Board of Education Office at (916) 643-9314 at least 48 hours before the scheduled Board of Education meeting so that we may make every reasonable effort to accommodate you. [Government Code § 54953.2; Americans with Disabilities Act of 1990, § 202 (42 U.S.C. §12132)] Any public records distributed to the Board of Education less than 72 hours in advance of the meeting and relating to an open session item will be available on the district's website at www.scusd.edu
Watch the Meeting
Cable Viewing
This meeting of the Sacramento City School Board is being videotaped in its entirety and will be cablecast without interruption on Metro Cable 14, the government affairs channel on the Comcast and SureWest Cable Systems.
Video Archive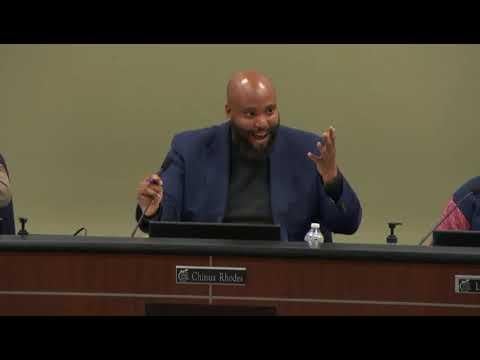 The video archive of the board meeting is posted the Tuesday after the meeting.