September is Suicide Prevention Month!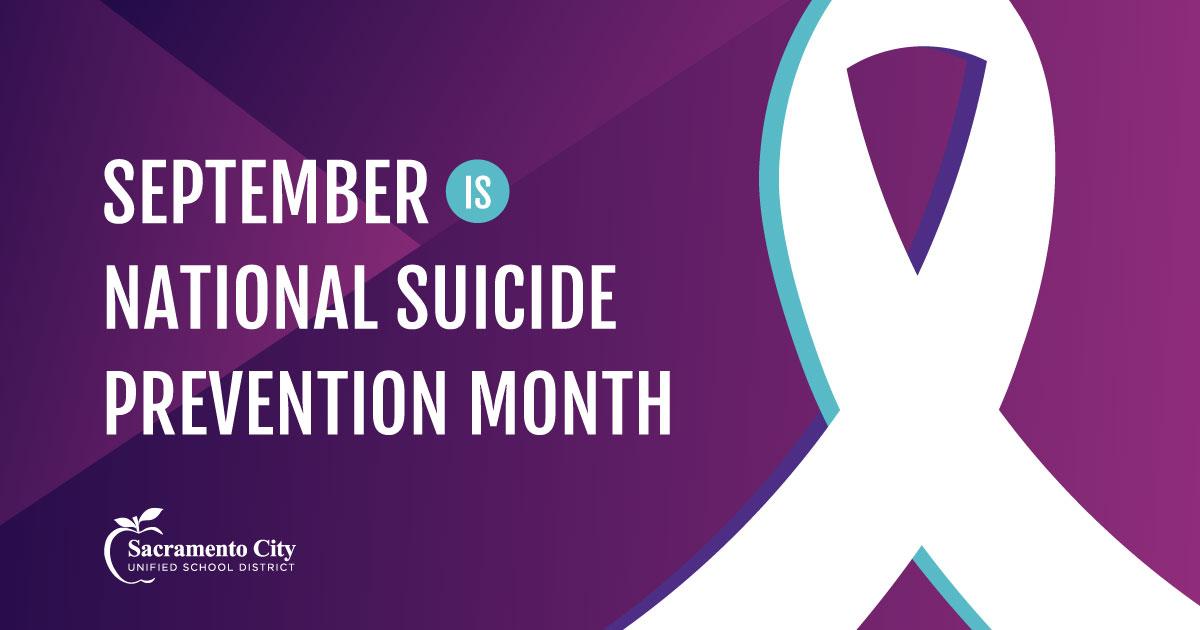 September is National Suicide Prevention Month, a time for us all to pause and reflect on how we can each #BeThe1To prevent death by suicide and save lives.
Know the Facts
Unlike other leading causes of death, suicide is completely preventable. Unfortunately, many still do not know how pervasive deaths by suicide are in the United States:
Know the Signs
80% of people considering suicide show signs of their intentions – knowing those signs is critical to prevention.
Risk Factors:
Mental disorders, particularly mood disorders, schizophrenia, anxiety disorders, and certain personality disorders

Alcohol and other substance use disorders

Hopelessness

Impulsive and/or aggressive tendencies

History of trauma or abuse

Major physical illnesses

Previous suicide attempt(s)

Family history of suicide

Recent loss

Easy access to lethal means

Local clusters of suicide

Lack of social support and sense of isolation

Stigma associated with asking for help

Lack of healthcare, especially mental health and substance abuse treatment

Cultural and religious beliefs, such as the belief that suicide is a noble resolution of a personal dilemma

Exposure to others who have died by suicide (in real life or via the media and Internet)
Warning Signs:
Talking about wanting to die or to kill themselves

Looking for a way to kill themselves, like searching online or buying a gun

Talking about feeling hopeless or having no reason to live

Talking about feeling trapped or in unbearable pain

Talking about being a burden to others

Increasing the use of alcohol or drugs

Acting anxious or agitated; behaving recklessly

Sleeping too little or too much

Withdrawing or isolating themselves

Showing rage or talking about seeking revenge

Extreme mood swings
If you observe one or more of these warning signs, especially if the behavior is new, has increased, or seems related to a painful event, loss, or change, step in or speak up:
Say something: many of us are uncomfortable talking about suicide, and may even fear that by saying something we could make it worse. Research shows that asking someone if they are having thoughts of killing themselves is actually more likely to save a life.

Have a list of crisis resources on hand. Practice what you will say. Plan the conversation for a time when you won't be in a hurry and can spend time with the person

Mention the signs that prompted you to ask about suicide. This makes it clear that you are not asking "out of the blue," and makes it more difficult for the person to deny that something is bothering them

Ask directly about suicide. Talking about suicide does NOT put the idea in someone's head and usually they are relieved. Asking directly and using the word "suicide" establishes that you and the person at risk are talking about the same thing and lets the person know that you are willing to talk about suicide

DO NOT ask in a way that indicates you want "No" for an answer

DO NOT tell the person to do it. You may want to shout in frustration or anger, but this is the most dangerous thing you can say
​
DO NOT promise secrecy. The person may say that they don't want you to tell anyone that they are suicidal.
Say this instead: "I care about you too much to keep a secret like this. You need help and I am here to help you get it."
You may be concerned that they will be upset with you, but when someone's life is at risk, it is more important to ensure their safety

Listen: do not try to solve the person's problem or tell them you know how you feel. Let them talk and really hear what they are saying. Reassure them that you are there for them, that you care about them, and that they are not alone.

Listen to the reasons the person has for both living and dying. Validate that they are considering both options and underscore that living is an option for them

Let the person know you care. Letting them know that you take their situation seriously, and you are genuinely concerned about them, will go a long way in your effort to support them
​

Focus on safety: once you have opened the conversation and heard them, it is time to plan for their safety.

Ask the person if they have access to any lethal means (weapons, medications, etc) and help remove them from the vicinity. (Another friend, family member or law enforcement agent may be needed to assist with this.) Do not put yourself in danger; if you are concerned about your own safety, call 911

Create a safety plan together. Ask the person what will help keep them safe until they meet with a professional

Get help: know the limits of your own expertise and be help the person see the value in reaching out for professional assistance.

Provide the person with the resources you have come prepared with. Call the National Suicide Prevention Lifeline anytime at 1-800-273-8255.

If you feel the situation is critical, take the person to a nearby Emergency Room or walk-in psychiatric crisis clinic or call 9-1-1

For additional resources, see below!
Know the Resources
Crisis Resources
These resources are all available 24 hours a day, 7 days a week:
Educational Resources
National Suicide Prevention Month: more information on the campaign and additional resources from the National Suicide Prevention Hotline.

Know the Signs: California's suicide prevention campaign. Scripts for talking about suicide, resources by county, and more.

National Alliance on Mental Illness (NAMI): learn about mental illness, National Suicide Prevention Month, and resources for:

Individuals living with mental illness,
Caregivers, family members and loved ones of those living with mental illness,
Help for specific populations including Youth, Veterans, and more,
Understanding signs and symptoms of mental illness,
and more!

Educator resources at Learning For Justice
For more information about SCUSD's suicide prevention and intervention efforts, contact
Jacqueline Rodriguez, LCSW
(916) 752-3353