It's Sac City Scroll time!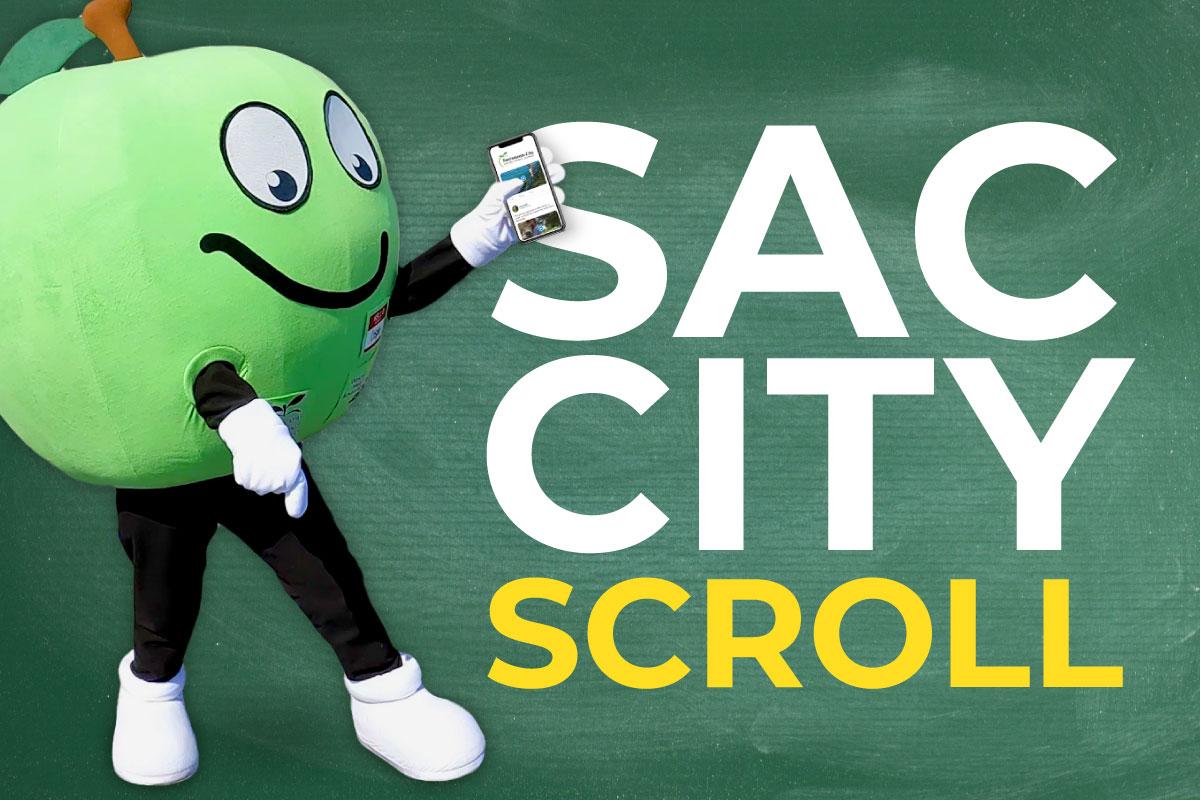 Dear Sac City Unified Families,
We have many appreciation days and weeks coming up for school staff! Yesterday, we celebrated School Bus Driver Appreciation Day. Our dedicated bus drivers were treated to a feast and games between their morning and afternoon routes. Today is School Administrative Professionals Day, honoring all of the hardworking office staff who keep our schools running smoothly. Next week, May 1-5, is both School Lunch Hero Week and Teacher Appreciation Week! Plus, it's School Principal's Day on May 1 and School Nurse Day on May 10. So, if you have a chance when dropping off or picking up your student at school, thank a staff member for all they do for these amazing kids.
Free Summer Programs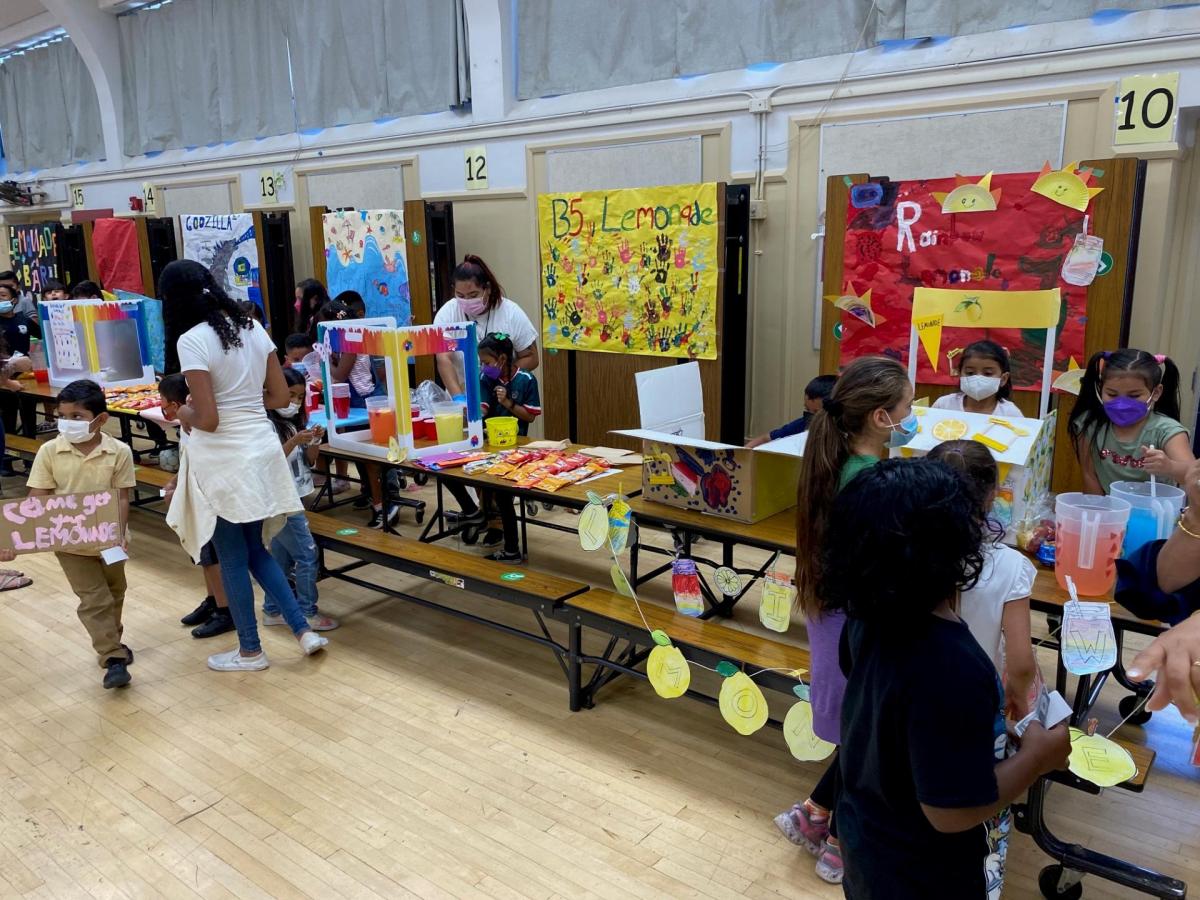 Give your child the opportunity to participate in a meaningful and engaging summer learning experience. Students in our summer programs will learn skills to transition and succeed in the 2023-2024 school year through collaboration, relationship building and social emotional learning. They will also enjoy enrichment activities that include music, dance, visual arts, theater arts, field trips, physical play and exercise.
All students will be provided with a daily breakfast and lunch. Our Summer Matters@SCUSD sites will serve as community schools, allowing all district students to enroll at any site. Summer Matters applications must be submitted by Monday, May 15, 2023. Parents will be notified of enrollment between May 30 and June 9. Learn more and apply today!
Inter- and Intra-District Permit Applications Open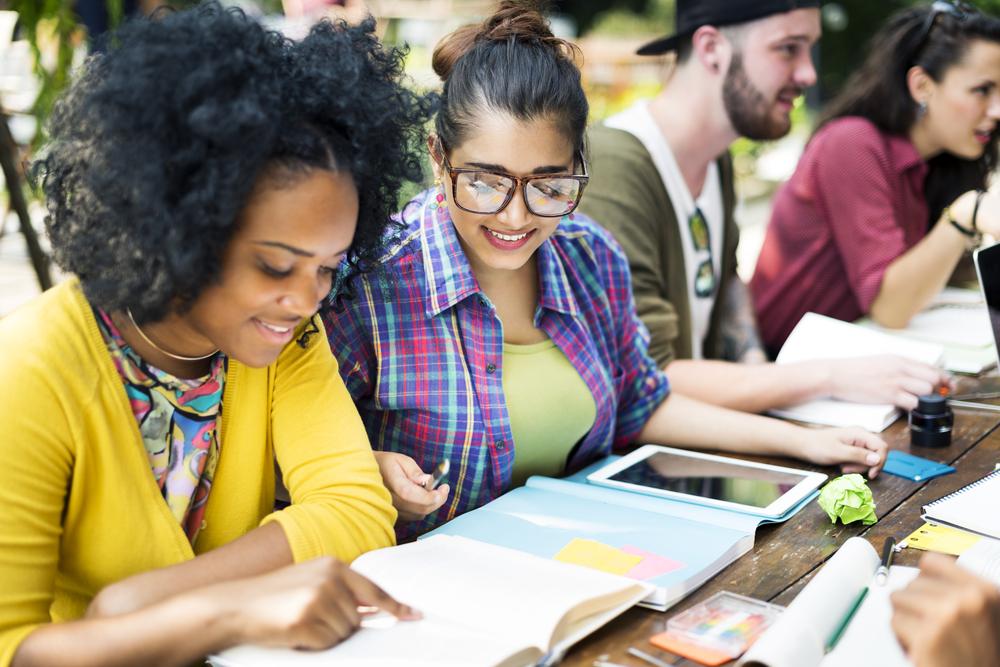 Between April 1 and May 1, families have the opportunity to transfer from another district into SCUSD schools AND SCUSD students may also apply to switch to a different school other than their neighborhood school. The first step is to create a SchoolMint account, add a student and indicate whether your student is currently enrolled in SCUSD schools. Instructions for creating this account and how to apply for an inter- or intra-district permit transfer can be found here. Permits are approved based on space availability at the school of your choice, and grades, attendance and discipline reports will also be considered.
American Indian Education Program Meeting
SCUSD's American Indian Education Program will hold its annual public hearing and parent committee meeting on Wednesday, April 26 from 6:30-8pm at the Serna Center in the Indiana room. The purpose of this meeting is to gather recommendations for the 2023-2024 Title VI Indian Education Formula grant application. If you have any questions, please contact us at IndianEducation@scusd.edu
IEP Trainings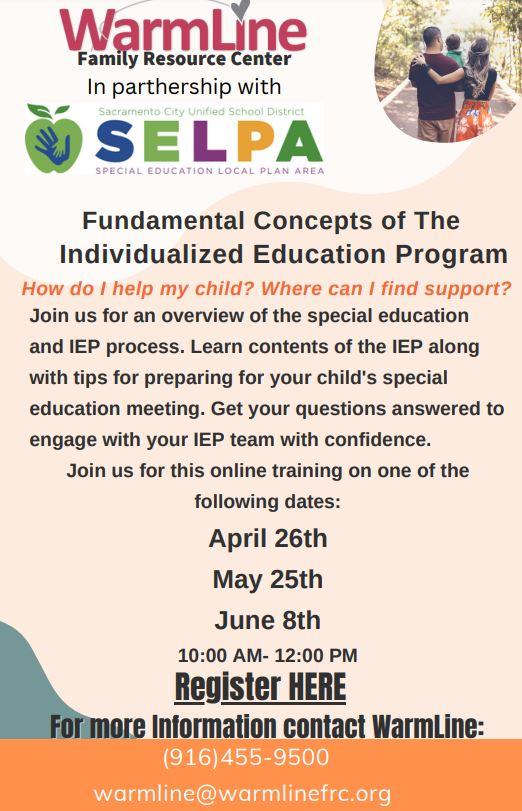 If you're interested in learning more about special education and the IEP process, join us for our upcoming online training dates. The next meeting takes place on April 26.
CalKids Financial Literacy Month
From April 17-30th, 2023, the State of California will deposit an extra $50 in CalKIDS accounts of participants who link their CalKIDS account with a new or existing ScholarShare 529 account. CalKIDS and ScholarShare 529 can make saving for the future easier than ever. Link both accounts to view your college savings in one place, and don't miss this opportunity to receive more free money for college! Visit CalKIDS.org/Link50 to learn more about eligibility and to register.
Cesar Chavez Youth Leadership Conference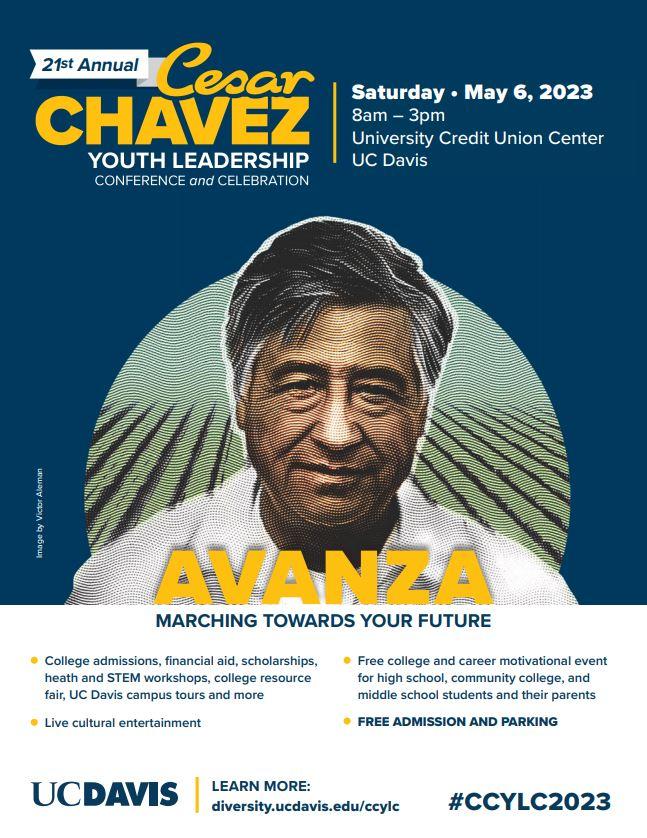 UC Davis is hosting its 21st Annual Cesar Chavez Youth Leadership Conference and Celebration at the University Credit Union Center on Saturday, May 6 from 8 a.m. to 3 p.m. Learn about college admissions, financial aid, scholarships and more while enjoying live cultural entertainment, free parking and free admission. Learn more.
College Make it Happen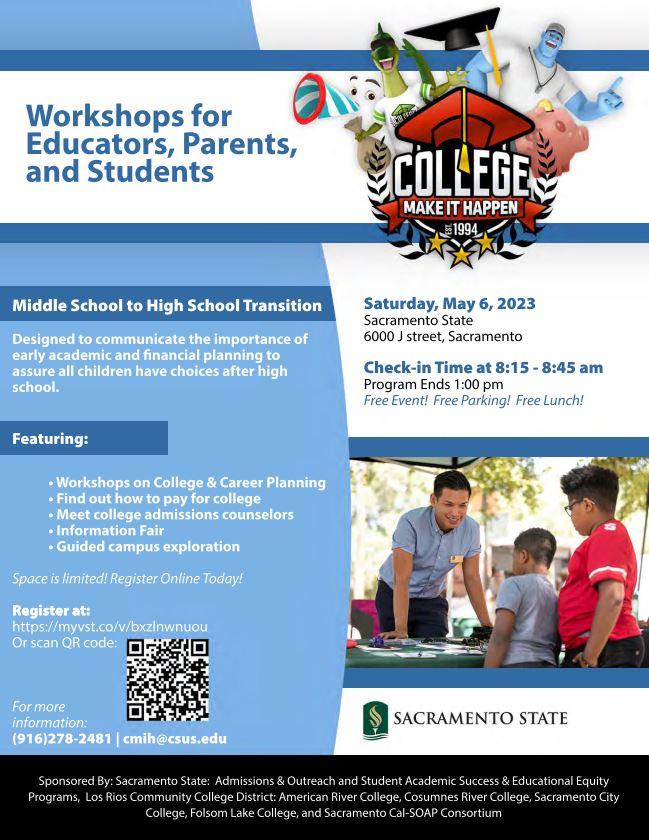 College Make it Happen is a workshop for educators, parents and students to learn about early academic and financial planning for postsecondary education. This event takes place at Sac State (6000 J St.) on Saturday, May 6 from 8:15 a.m. to 1 p.m. Register here and for more information, email cmih@csus.edu.
West Campus Student is a Finalist for National Geographic Challenge
Congratulations to West Campus High School student Jade Melendres who is a Finalist in this year's National Geographic Society Slingshot Challenge! Her video, "Paint-O Beans Paint" was entered into the contest that challenges students to create a one-minute video that showcases a solution to a current environmental problem. "Paint-O Beans Paint" shows how to combat climate change by turning spent coffee grounds into paint. Melendres is in the top 15 out of more than 1,800 entries from 80 countries! There is still time to vote for the People's Choice Award!
Rosemont Robotics & Stock Market Game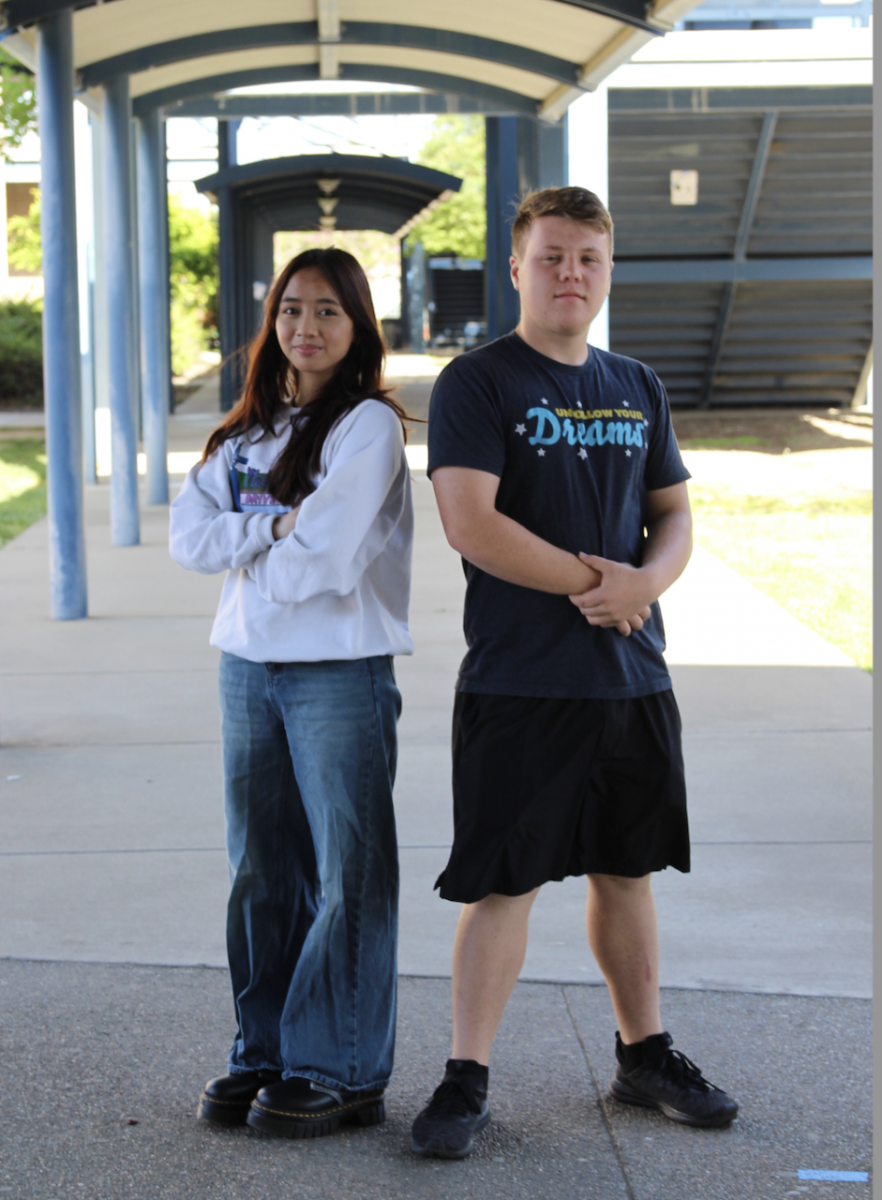 Two seniors in Ms. Stolinski's economics class at Rosemont High have snagged 1st and 2nd place in the Stock Market Game! Carter Gadsden won first place with his portfolio beating the S&P 500 growth rate by 10.52%, and Djuliene Mercado took second place with her portfolio beating the S&P 500 growth rate by 10.27%!! They were competing with more than 500 other teams throughout the Sacramento Region, from Redding, down to Fresno and to the Nevada border.

Congrats to Rosemont Robotics for placing 81st out of 271 teams in California, 672nd out of 2687 in the US and 769th out of 3294 in the world at the international FIRST Championship in Houston!
Discover Your New Favorite Job! SCUSD Recruiting Events
Our Human Resource team will be out (or virtual) at several community events coming up soon! We are hiring for a wide variety of positions, from entry level to certificated, such as bus drivers, nutrition services, custodians, office staff, teachers, administrators and more!
Thursday, April 27 from 11 a.m.- 3 p.m.
Lions Gate Hotel, McClellan Park
Consumnes River College Job Fair
Tuesday, May 2, session 1 at 10 a.m. and session 2 at 11 a.m.
Consumnes River College Job Fair
Thursday, May 4 from 10 a.m. to 12 p.m.
Consumnes River College, College Center 154
Healthy Kids Day at the Y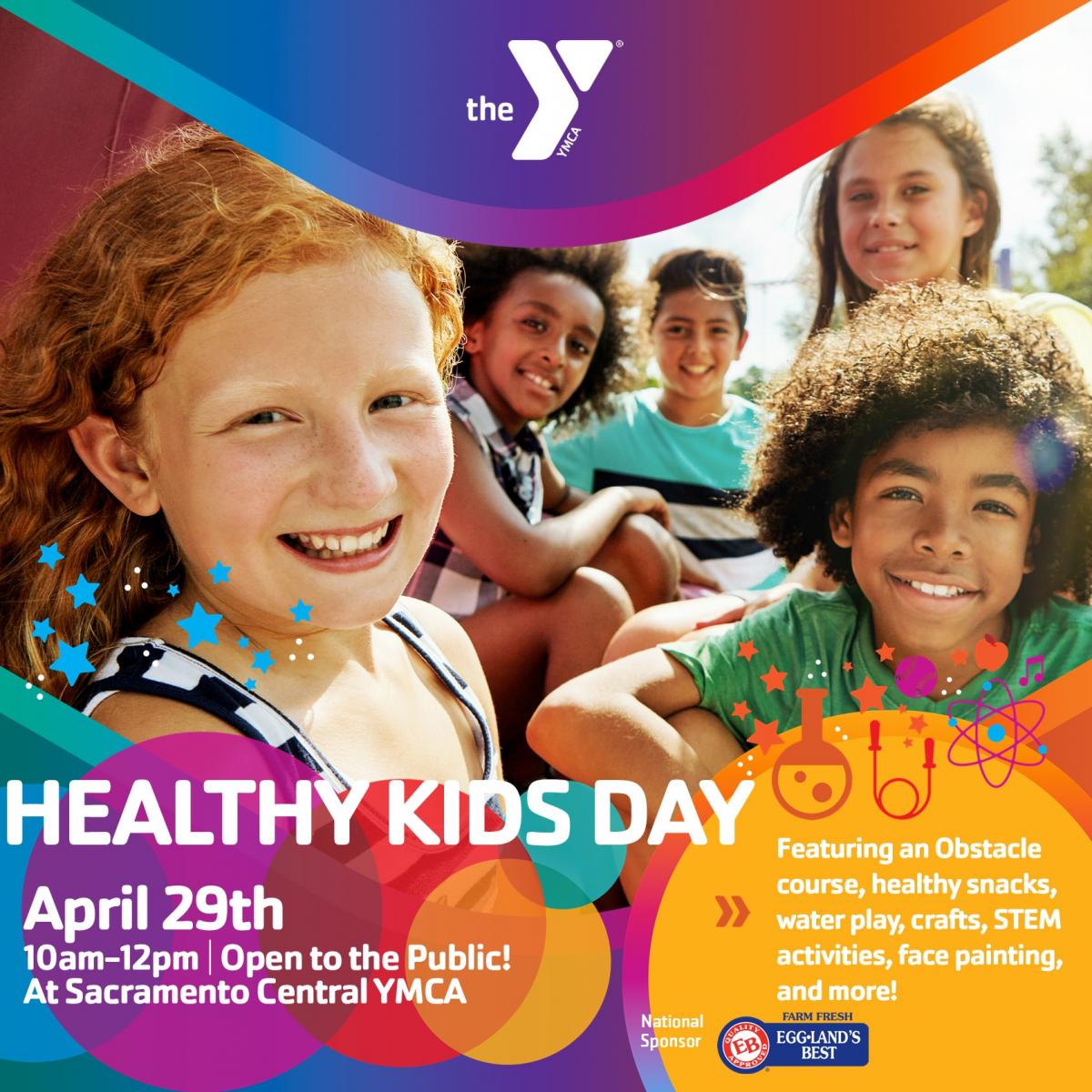 Don't miss Healthy Kids Day, this Saturday at Sacramento Central YMCA! With tons of fun activities like an obstacle course, water play, face painting, and information about upcoming events, programs, and summer camps, this is an event you won't want to miss! 2021 W Street, Sacramento. 10 a.m. to 12 p.m.
Sac Clean Air Celebration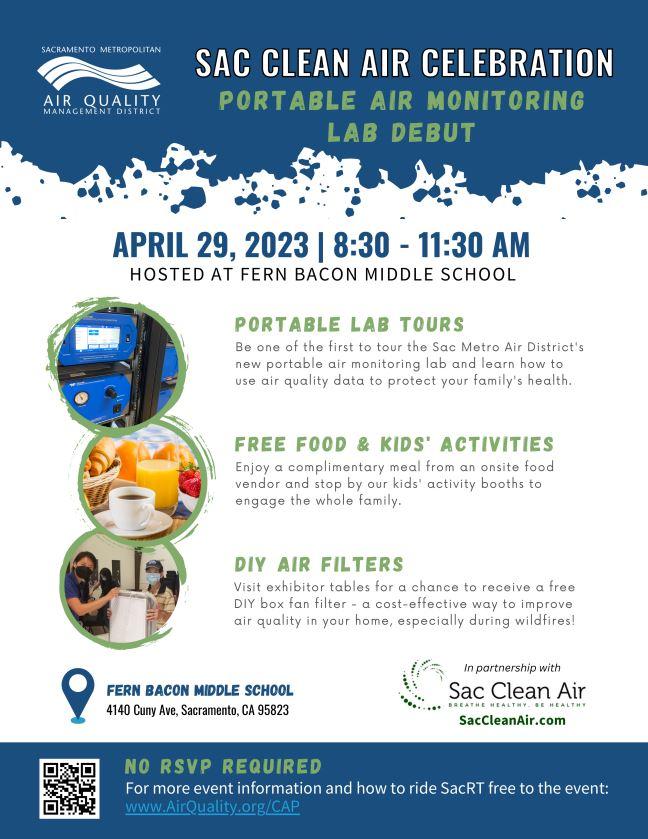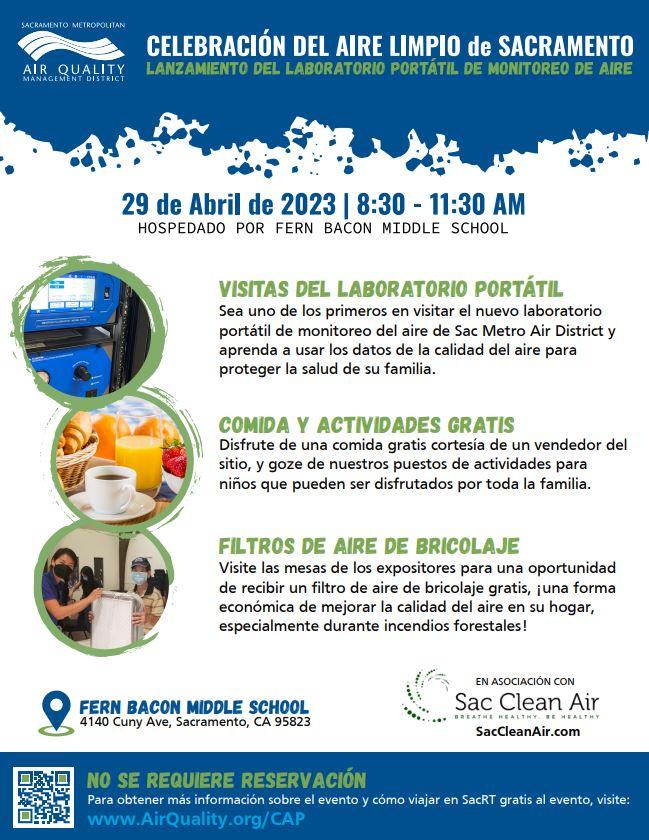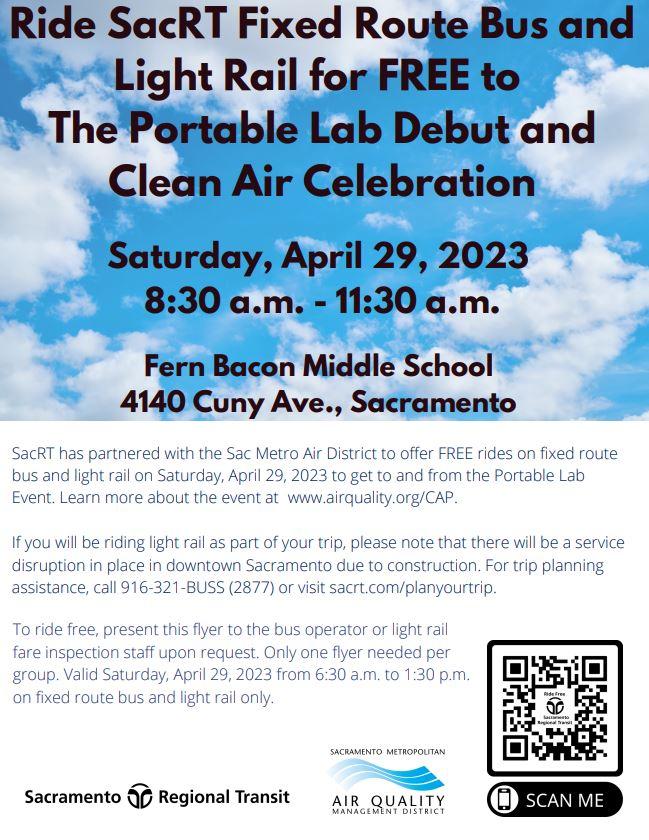 Don't miss out on this fun and educational event, in partnership with Sac Clean Air and Sacramento Metropolitan Air Quality Management District! Enjoy a free meal and let the kids play at activity booths while also learning about how to make DIY air filters. Plus, you can be one of the first to tour the Sac Metro Air District's new portable air monitoring lab. This event is being hosted at Fern Bacon Middle School and free transportation is being provided by Sac RT for anyone who wants to attend! Learn more.
Online Public Comments
You can now send public comments for our Board members via email if you are unable to attend our Board of Education meetings in person. Click here to access the public comment submission form, or email the Board directly at publiccomment@scusd.edu.
We're Hiring!
Come grow with us… discover a wide range of opportunities, from entry-level to certificated positions at edjoin.org/scusd.