It's Sac City Scroll time!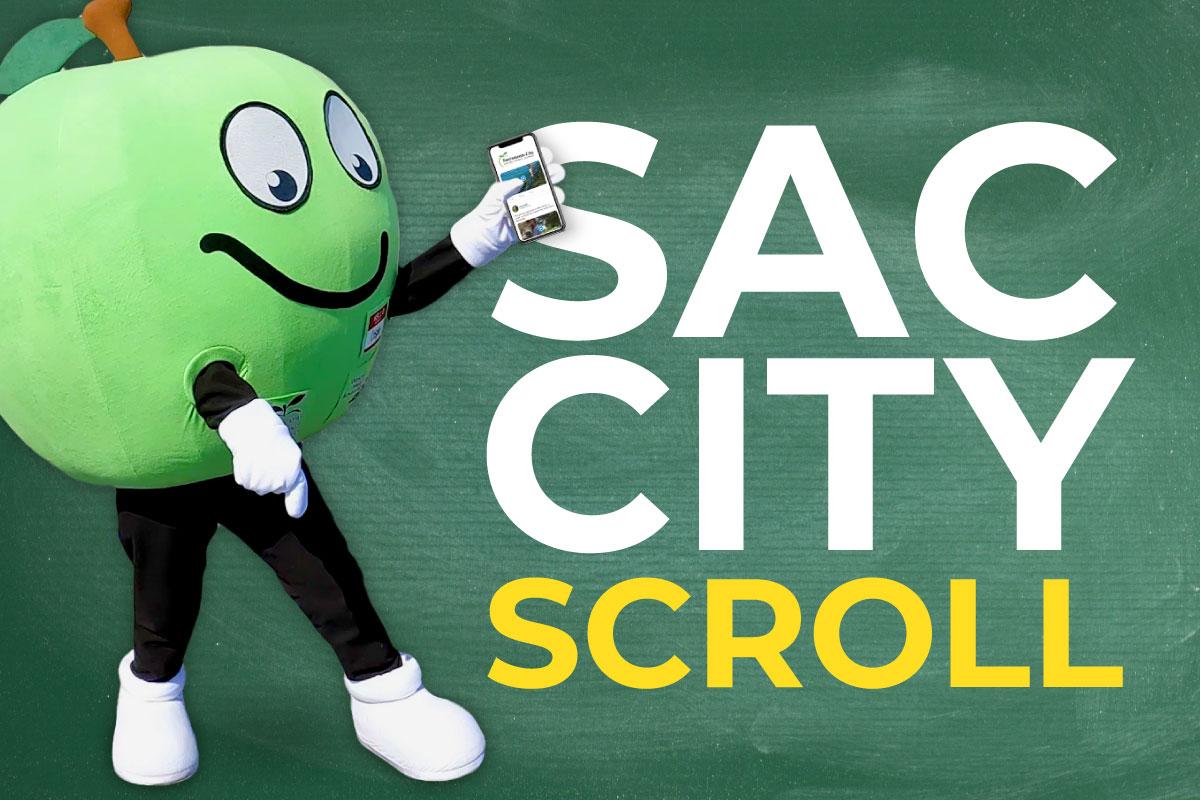 Dear Sac City Unified Families,
We hope everyone had a wonderful Spring Break and is recharged for the rest of the school year! April is Autism Awareness Month, Arab American Heritage Month, School Library Month, Poetry Month and Volunteer Month. We also celebrate Earth Day on April 22 and Arbor Day on April 28. Be sure to check our Facebook and Instagram throughout the month to learn more!
There are many fun events and important meetings taking place this month. See below for some key highlights!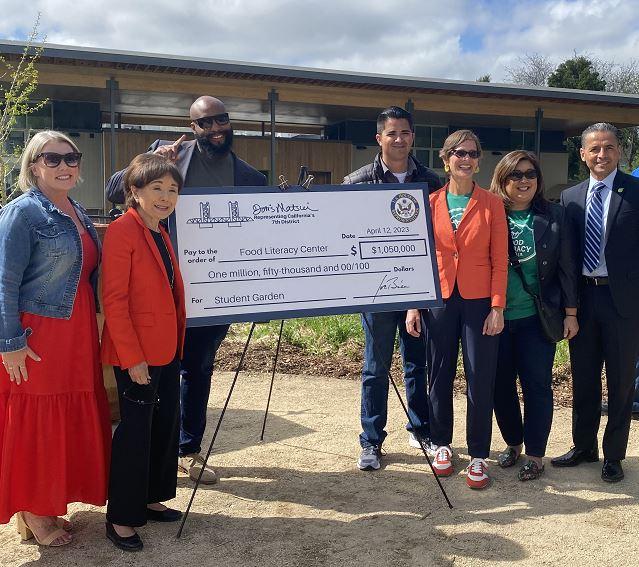 Thank you to Doris Matsui for bringing $1,050,000 back from Capitol Hill to Sacramento's Food Literacy Center! The funding will help Food Literacy Center to sustain and expand programming as well as develop the one-acre farm that will serve Leataata Floyd students who will take part in a 10-week garden science program once the farm is completed.
Swinerton Construction Careers Virtual Open House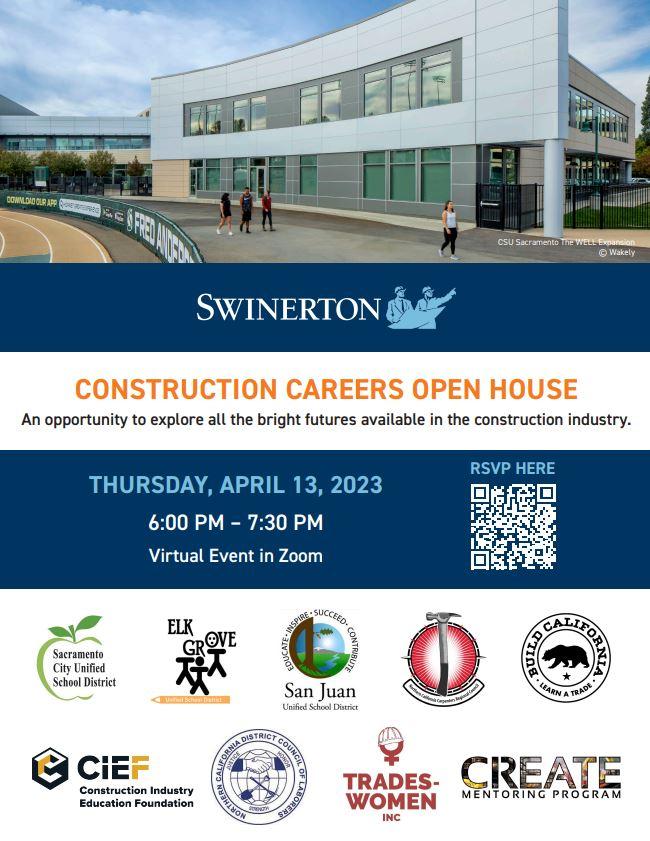 Join us Thursday, April 13th at 6pm for a Virtual Parents and Guardians Construction Careers Open House! This is a great opportunity to learn about the $118 billion construction industry that will produce 139,000 jobs in the next 5 years. Industry leaders have been invited to speak about the various career paths available to the up-and-coming job market. This event is hosted in partnership with Swinerton, CREATE, Construction Industry Education Foundation, Sacramento City USD, Build California, NorCal Carpenters, San Juan USD, and Elk Grove USD. We will detail how you can prepare for and stay connected to each opportunity and introduce critical programs and organizations. RSVP here.
THIS SATURDAY! Community Fair with Wide Open Walls at Abraham Lincoln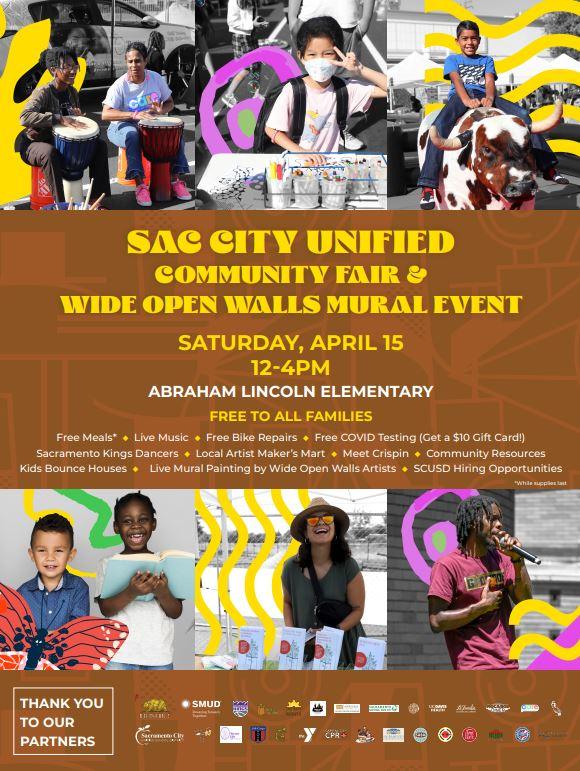 We've got another fun FREE community fair this Saturday, April 15 at Abraham Lincoln Elementary with free meals, live entertainment, live mural painting by Wide Open Walls artists and more! There will be an awesome Makers Market as part of this event where you can shop one-of-a-kind arts and crafts from local creatives! Also, don't forget to bring your bike in for a free repair by Sacramento Area Bicycle Advocates or get a free brake light repair for your car by NorCal Resist! Thank you, SMUD, for sponsoring this event!
Learn more about the Sac City Unified Community Fair or sign up to volunteer.
Earth Day City of Sacramento Cleanup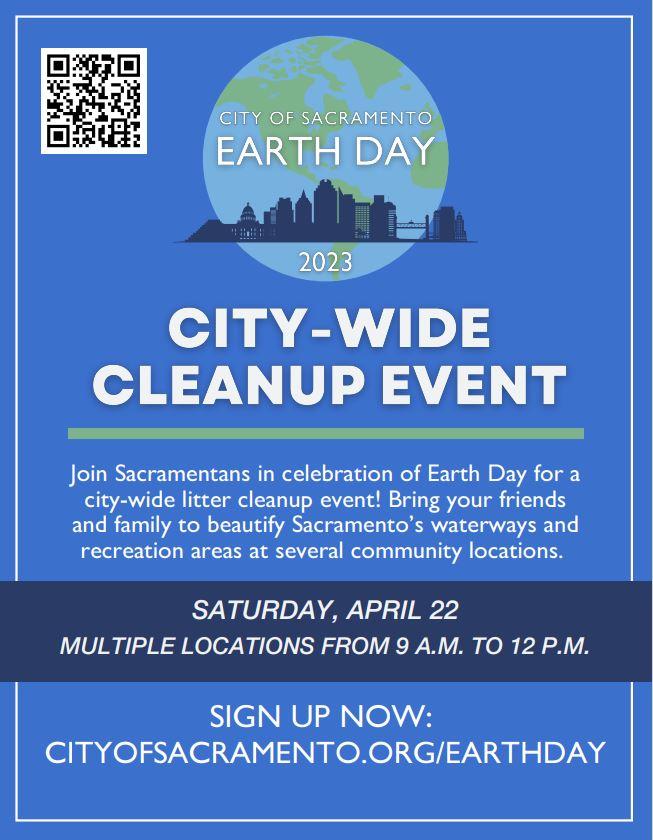 Show your 916 pride and love for our planet by participating in this City of Sacramento Earth Day litter cleanup event taking place at multiple locations throughout Sacramento on Saturday, April 22. You can learn more and register ahead at cityofsacramento.org/earthday but registration is not required.
Parent Information Exchange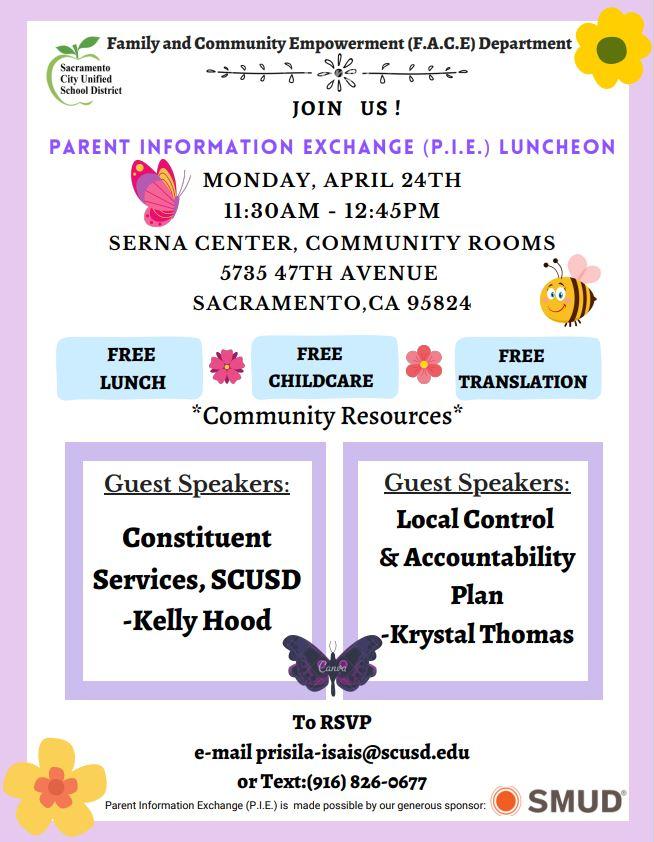 Join us for our next Parent Information Exchange Luncheon on Monday, April 24 from 11:30am-12:45pm at Serna Center. Free child care and translations will be provided in addition to lunch while you learn about our Local Control and Accountability Plan and Constituent Services. For more information, please contact Prisila at Prisila-isais@scusd.edu or call 916-643-7897.
American Indian Education Program Meeting
SCUSD's American Indian Education Program will hold its annual public hearing and parent committee meeting on Wednesday, April 26 from 6:30-8pm at the Serna Center in the Indiana room. The purpose of this meeting is to gather recommendations for the 2023-2024 Title VI Indian Education Formula grant application. If you have any questions, please contact us at IndianEducation@scusd.edu
Sac Clean Air Celebration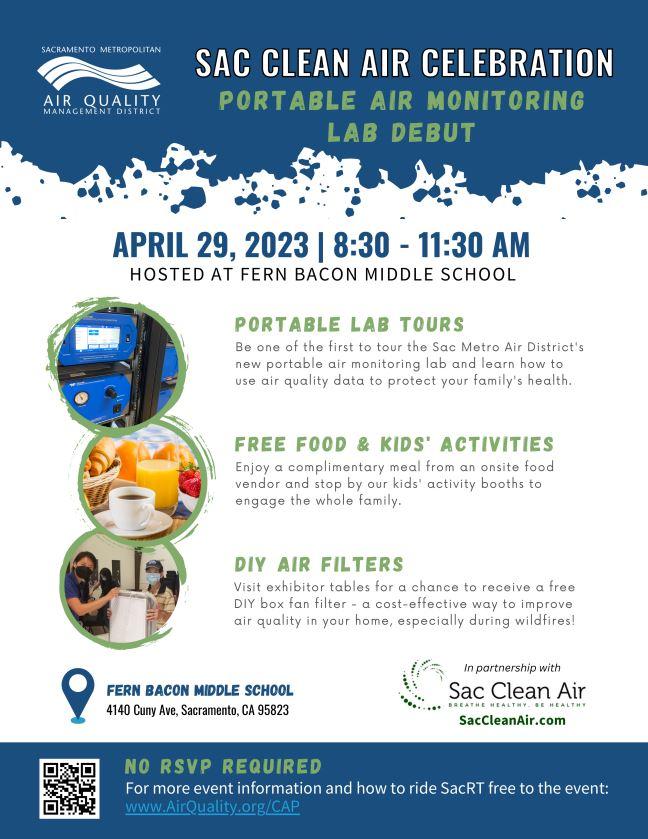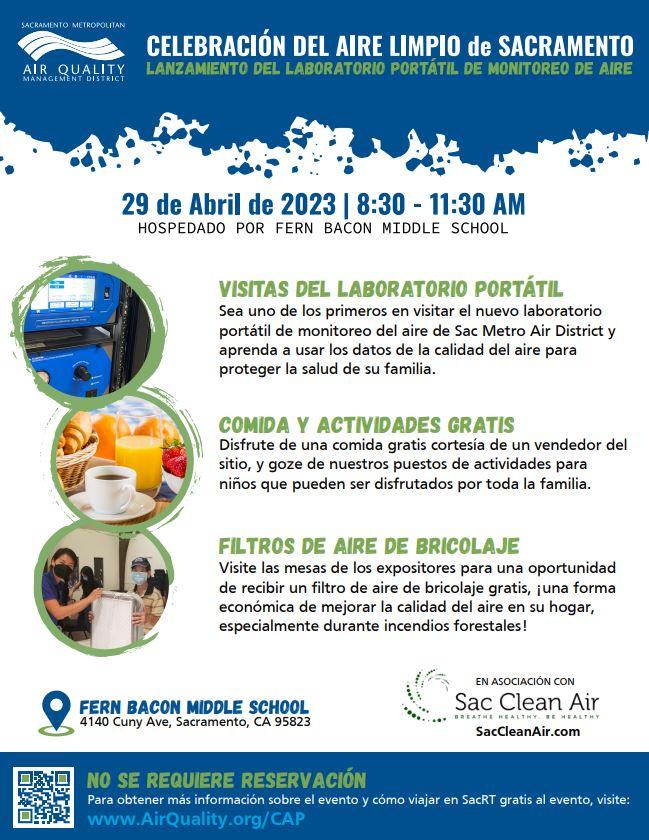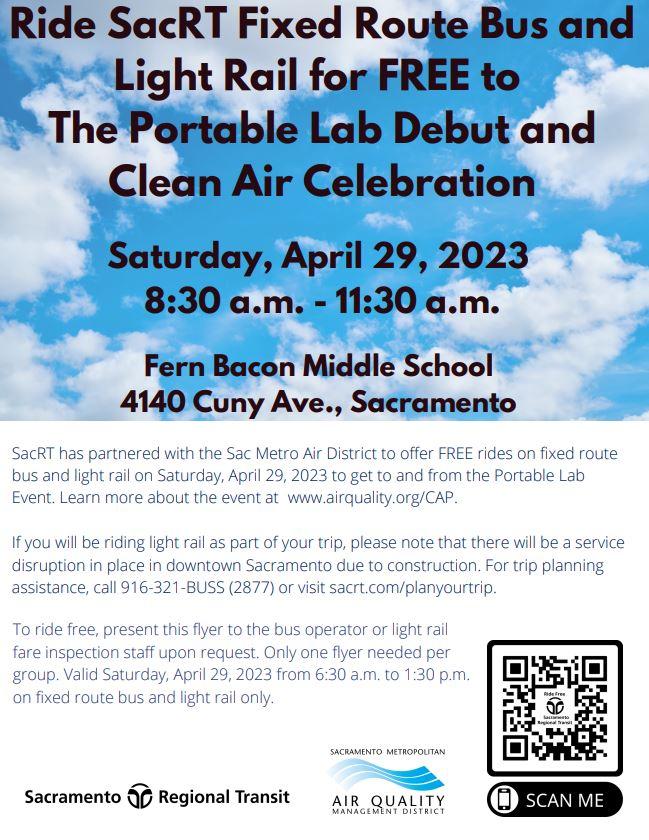 Don't miss out on this fun and educational event, in partnership with Sac Clean Air and Sacramento Metropolitan Air Quality Management District! Enjoy a free meal and let the kids play at activity booths while also learning about how to make DIY air filters. Plus, you can be one of the first to tour the Sac Metro Air District's new portable air monitoring lab. This event is being hosted at Fern Bacon Middle School and free transportation is being provided by Sac RT for anyone who wants to attend! Learn more.
Applications NOW OPEN for the 23-24 Student Advisory Council!
Is your student an incoming Sophomore, Junior, or Senior interested in working to take action against problems faced by students in SCUSD? They can apply to serve as part of the Student Advisory Council for the 2023-2024 school year! The SAC is a year-round program that provides an opportunity for students to critically research and analyze the problems currently facing SCUSD youth, and organize to take action against those problems. The SAC strives to promote student voice within the district, recognizing youth as key leaders and changemakers.
We are currently looking to fill 13 Representative positions and 1 Student Board Member position. To apply, please click here. Applications are due by April 28th. If there are any questions, contact SAC Adult Advisor, Vanessa Reyes, at Vanessa-Reyes@scusd.edu or (916) 643-9287.
Inter- and Intra-District Permit Applications Open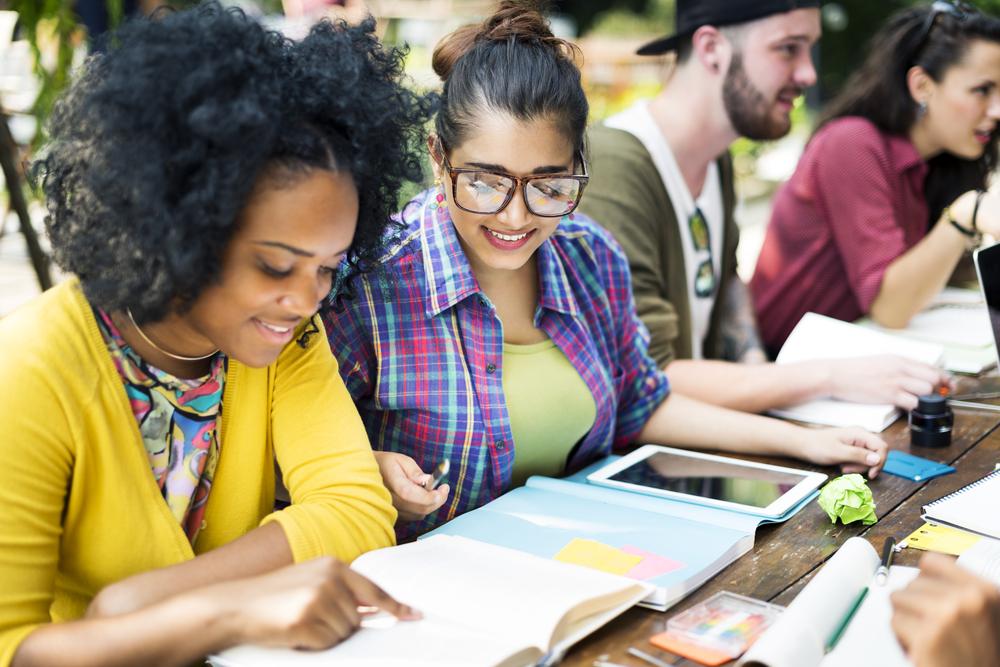 Between April 1 and May 1, families have the opportunity to transfer from another district into SCUSD schools AND SCUSD students may also apply to switch to a different school other than their neighborhood school. The first step is to create a SchoolMint account, add a student and indicate whether your student is currently enrolled in SCUSD schools. Instructions for creating this account and how to apply for an inter- or intra-district permit transfer can be found here. Permits are approved based on space availability at the school of your choice, and grades, attendance and discipline reports will also be considered.
College Scholarships Available
If your senior is planning on post-secondary education next fall, money is available to help with their tuition and school-related expenses. Explore district and community scholarships and apply by April 14, 2023 at scusd.edu/scholarships.
Urgent Medi-Cal Renewal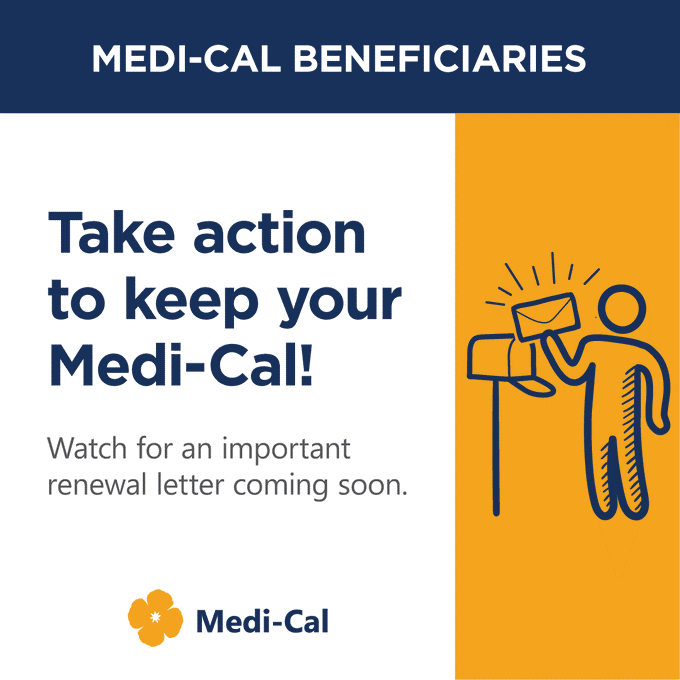 It's almost time to renew your Medi-Cal coverage. If you receive a renewal form in the mail, your county needs more information. Fill it out and return it to keep yourself and your family covered. Visit KeepMediCalCoverage.org to sign up for email and text message alerts.
Online Public Comments
You can now send public comments for our Board members via email if you are unable to attend our Board of Education meetings in person. Click here to access the public comment submission form, or email the Board directly at publiccomment@scusd.edu.
We're Hiring!
Come grow with us… discover a wide range of opportunities, from entry-level to certificated positions at edjoin.org/scusd.