It's Sac City Scroll time!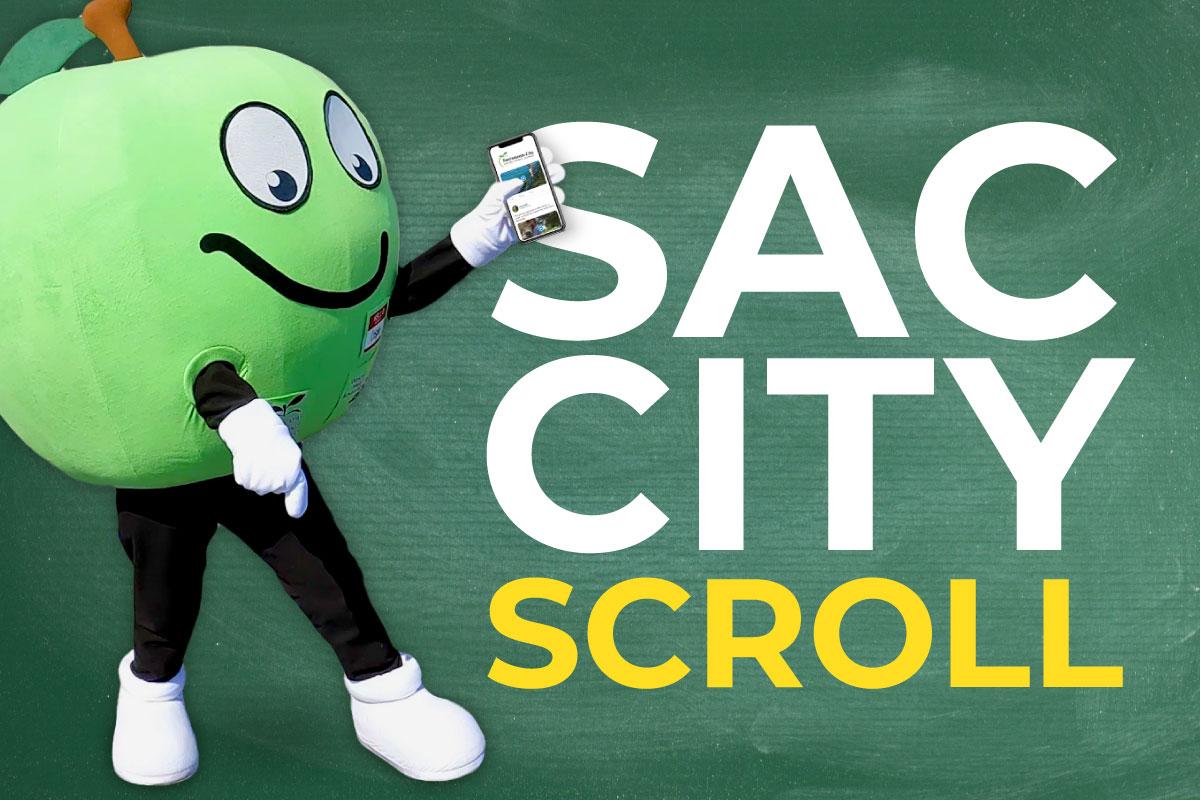 Dear Sac City Unified Families,
There is no school on Monday, February 20 in observance of President's Day. We hope your student enjoys the long weekend!
Disaster CalFresh
Were you affected by the power outages and storms in late December and most of January by one or more of the issues below?
Loss of income due to not being to go to work
Damage to home or self-employment property
Loss of food
Disaster-related expenses that will not be reimbursed
Not able to access bank accounts
If any of the above applies, you MAY qualify for one month's worth of Disaster CalFresh benefits. Applications are available online at mybenefitscalwin.org, by phone at 916-876-4357 or by walking into any Department of Human Assistance office between 8am-4pm.
Central Kitchen Mobile Food Truck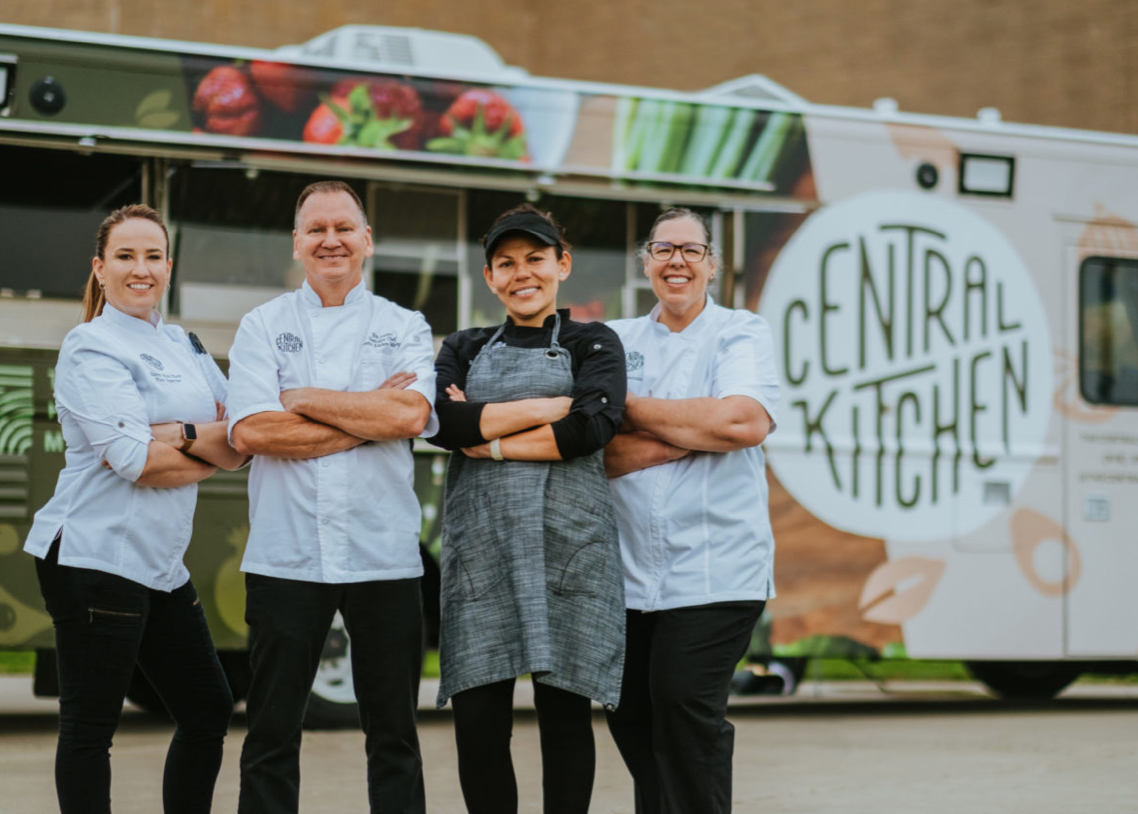 We're excited to announce that our Central Kitchen food truck will be showing up at eight of our middle schools for breakfast service during the weeks of March 6 and March 13. The mobile food truck was funded by No Kid Hungry with the goals of improving access to the school breakfast program and summer food service program. The Central Kitchen Food Truck is intended to offer freshly prepared meals that entice our students to participate in a healthy breakfast so they perform better in the classroom. Studies show a balanced breakfast improves student memory, alertness and concentration and decreases behavioral and psychological problems with lower rates of absenteeism and tardiness.
This Saturday, Join Us at Hiram Johnson High!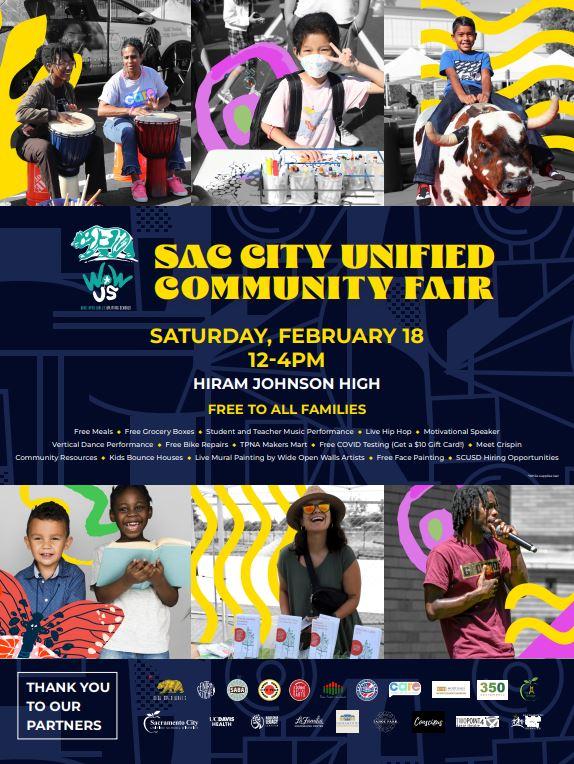 Join us on Saturday, February 21 from 12-4pm at Hiram Johnson High School (6879 14th Ave) for WOW US: Wide Open Walls Uplifting Schools, an SCUSD Community Fair! Enjoy mural painting, live music and dance performances, free meals by The Central Kitchen*, free grocery boxes from Sacramento Food Bank and Family Services*, free bike repairs by Sacramento Area Bicycle Advocates, community resources tables, a bounce house and games, and more! This event is free to everyone in our community and great for all ages! Learn more.
*while supplies last
Sports Updates
CIF Winter Playoffs have started for Basketball, Soccer, and Wrestling!
In CIF Sac-Joaquin Girls Basketball Playoffs, C.K. McClatchy Lions and West Campus Warriors are moving on to the Quarter Finals on Thursday night, and congratulations to the Kennedy Cougars Girls Basketball Team for a great season and making the First Round of the CIFSJS Tournament!
CIF Sac-Joaquin Soccer Playoffs started this week. Congratulations to the Rosemont Wolverines for making the playoffs this season. C.K. McClatchy Lions won their First Round Game and advanced to the Quarter Finals on Thursday.
In Girls Soccer, congratulations to the Rosemont Wolverines and West Campus Warriors for making playoffs this season! The C.K. McClatchy Lions play today in the Quarter Finals!
The CIF Sac-Joaquin Section Wrestling Masters Championship begins on Friday, February 17 at Stockton Arena, congratulations to our Wrestlers who qualified:
Lily Munoz, Hiram Johnson
Maylan Bevens, C.K. McClatchy
Skye Morton, West Campus
Brianna Hernandez, C.K. McClatchy
Ahmad Shabir Shoaib, C.K. McClatchy
Dustin Wong, West Campus
Ray Hernandez, Hiram Johnson
Giovanni Silva, John F. Kennedy
Austin Aten, C.K. McClatchy
Covid At-Home Test Kits
We're seeing a slight uptick in COVID cases in Sacramento County, so please use the provided at-home test kit you received last week. Also, check your student's backpack this Thursday and Friday for another round of at-home test kits that will be distributed before the long weekend. Don't forget to report your test results at primary.health! This has proven to be an effective strategy for keeping Covid cases out of our schools.
Today is the Last Day for K-8 Open Enrollment!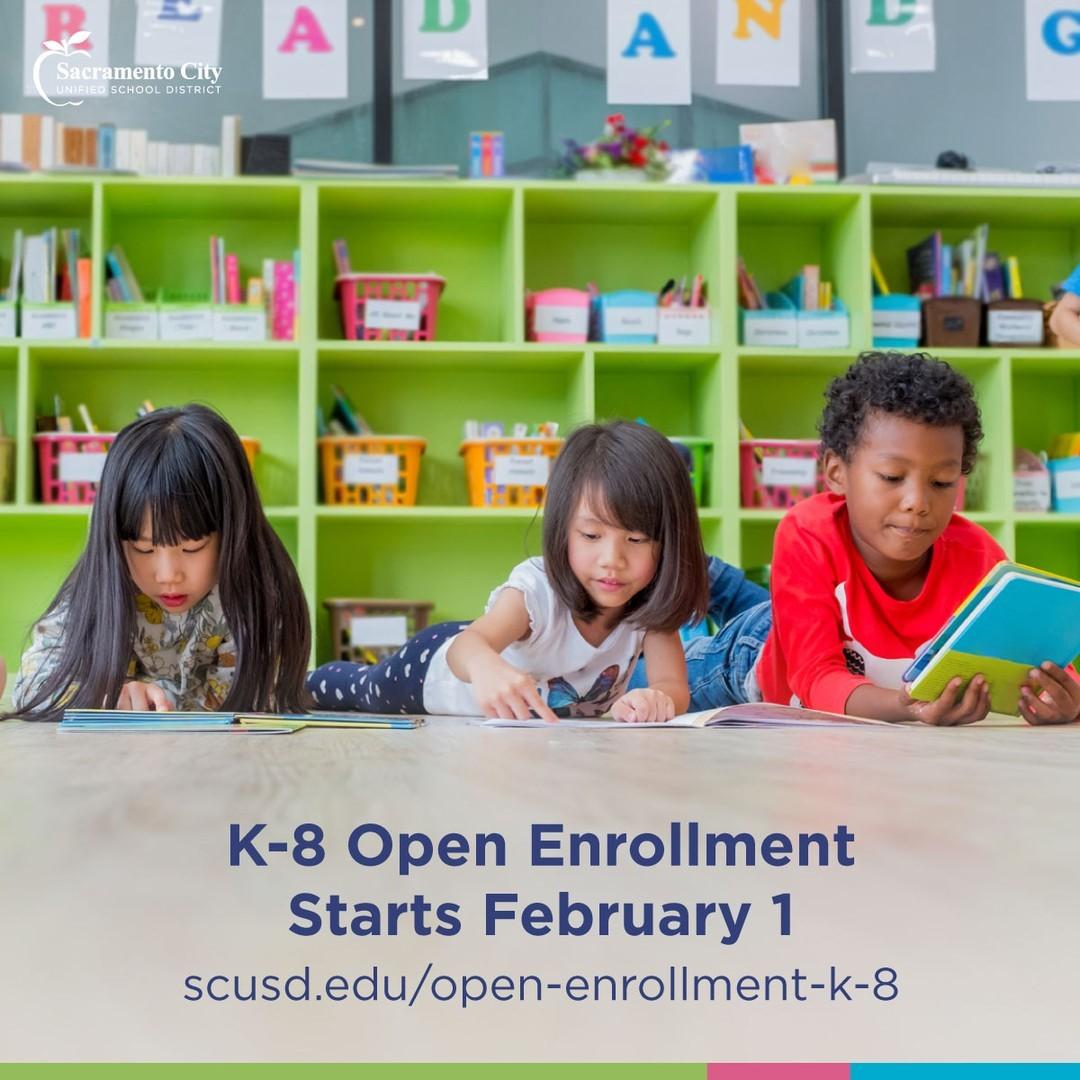 K-8 open enrollment for the 2023-2024 school year closes TODAY, February 15 for students residing within Sac City Unified boundaries. Check out participating schools here. Visit SCUSD's School Finder to explore all of our school options and find the perfect fit based on your student's needs. Learn about our school tours here. To be eligible to register for kindergarten for Fall 2023, children must be five years old on or before September 1, 2023.
Black Parent Involvement Day
We welcome all parents to participate in this annual parent engagement day! Black Parent Involvement Day is organized by the Black Parallel School Board and takes place on Tuesday, February 21 this year. Register for their parent involvement training session on Thursday, February 16 at 6pm at bit.ly/BPID2023 to learn how to show up for your young scholar.
Parent Information Exchange Luncheon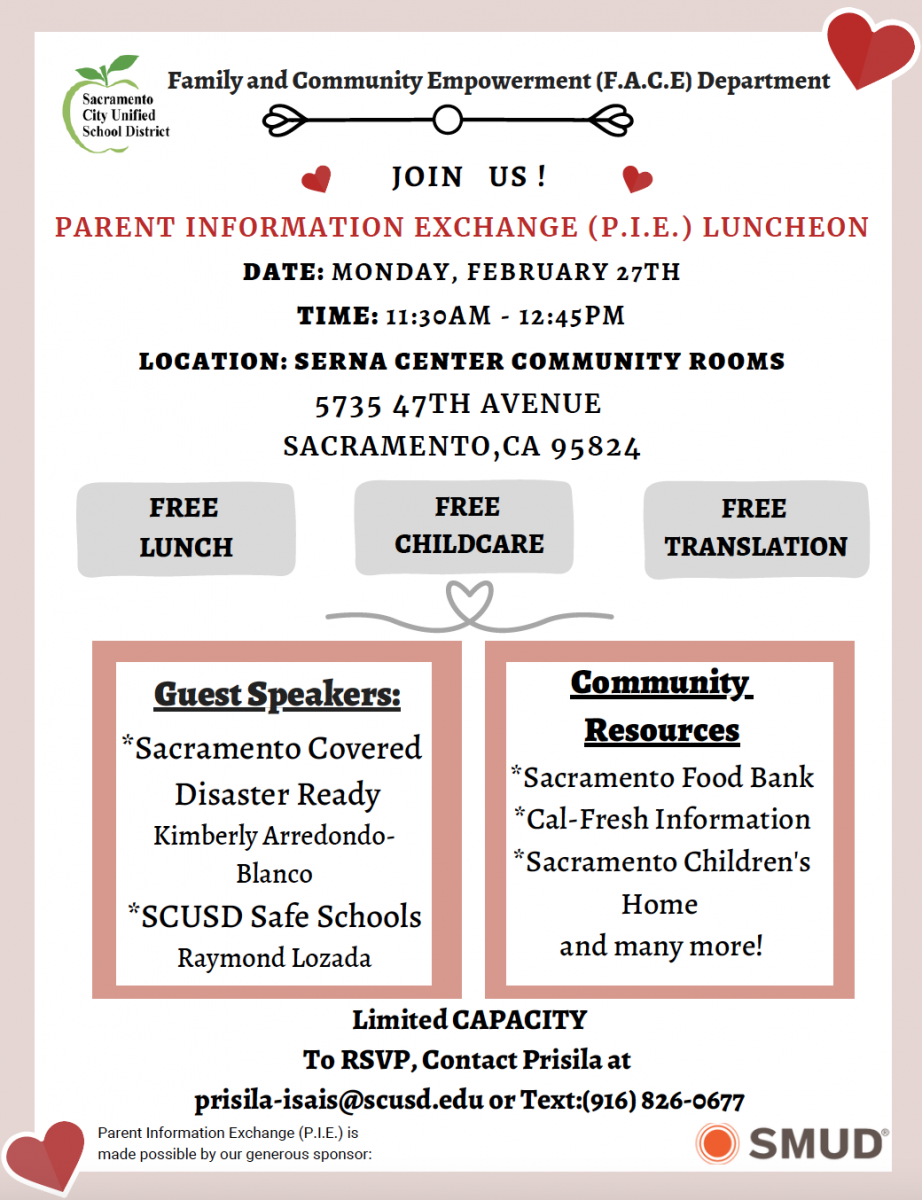 Join us on Monday, February 27 from 11:30am-12:45pm for community resources and speakers. Free lunch, childcare and translation will be provided. To register, email prisilla-isais@scusd.edu or text 916-826-0677.
Nominate Your Favorite Educator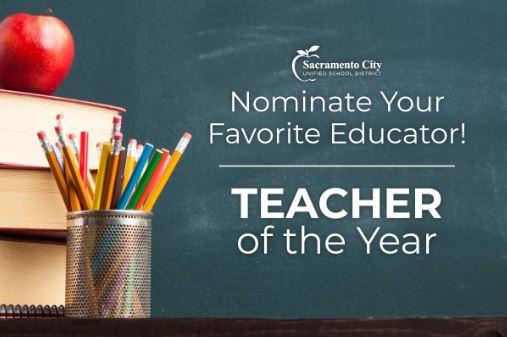 Do you know an educator who goes above and beyond to engage students that you'd like to see celebrated? Now through March 9, you can let us know who you think should be named a Sac City Unified Teacher of the Year! Tell us who your favorite SCUSD teacher is here.
You can also nominate your favorite Classified Champion! SCUSD classified employees are all of our staff excluding managers and credentialed staff like teachers, and include our custodians, office staff, bus drivers, instructional aides and nutrition staff.
Apply to Join Our Measure H Bond Oversight Committee
We're recruiting members to join our Measure H Bond Oversight Committee. This committee of volunteers reviews the spending of the $750 million bond fund that was approved by voters in 2020 and our Facilities Master Plan, which outlines planned capital projects for improving the safety, sustainability, functionality and aesthetics of our schools. Learn more about the committee and apply here.
Online Public Comments
You can now send public comments for our Board members via email if you are unable to attend our Board of Education meetings in person. Click here to access the public comment submission form, or email the Board directly at publiccomment@scusd.edu.
Social Science Instructional Material Review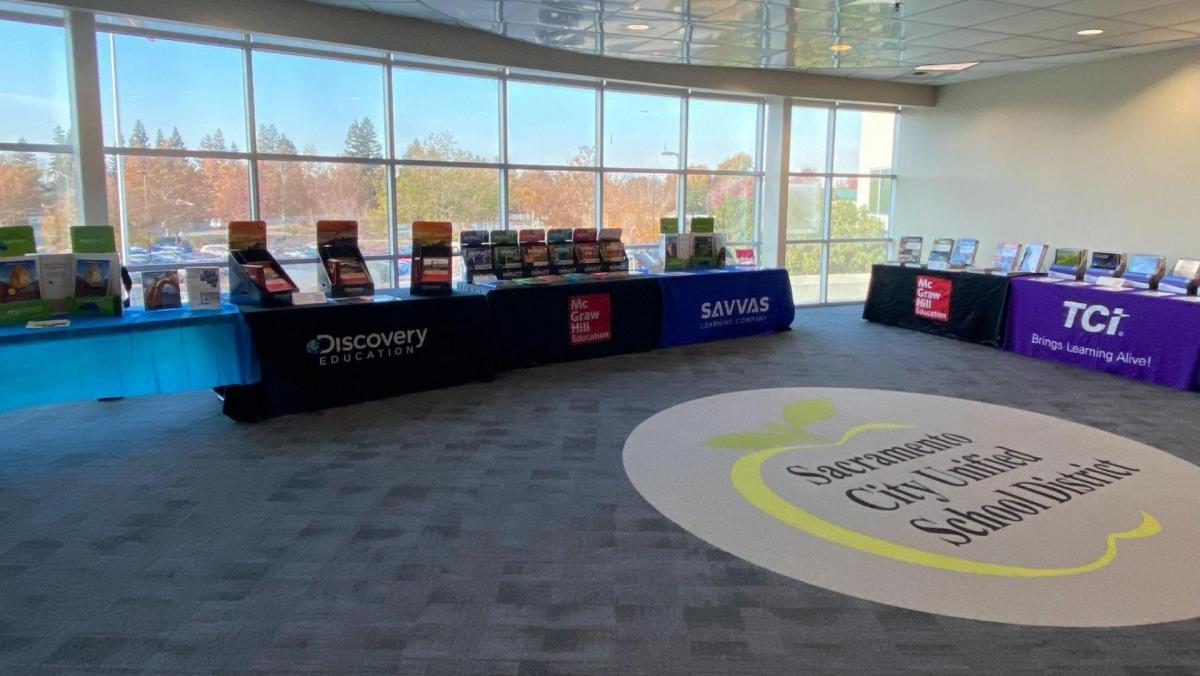 Sacramento City Unified is in the process of adopting new instructional materials for History and Social Sciences, starting with the 2023-24 academic year. Teachers, students, parents/guardians and community members have the opportunity to review and provide input about the instructional materials being considered for adoption, and we want your feedback. Learn the differences between instructional material options here or visit Serna Center's second floor to review materials in-person.
Sac City Unified is Hiring!
Discover opportunities and apply today.
Stay in the Loop
Don't forget to follow us on Facebook and Instagram for updates each day on happenings throughout our school community. Have a great rest of your week!