SCUSD Response from Superintendent Jorge A. Aguilar on Racist Incident at West Campus High School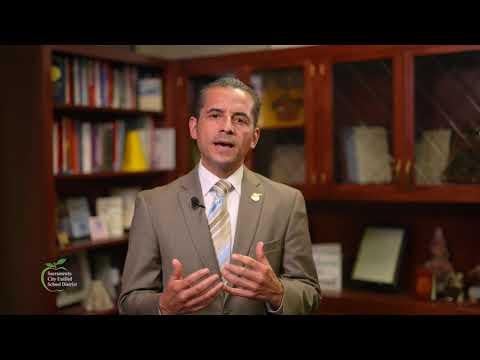 Hello Sac City Unified Students and Families, I'm Superintendent Jorge Aguilar.
I'm speaking to you today about the recent incident of racism that took place at West Campus, and what is being done about the racist language that was discovered on the gym wall and used on social media.
The racist language found at West Campus that targeted Dr. Elysse Versher meets the threshold of a hate crime and is being investigated by the Sacramento Police Department as such. While we await the results of this investigation by the Sacramento Police Department, the wellbeing and safety of Dr. Versher is foremost in our thoughts and actions at this time.
Racism and hatred have no place in our school communities and we will take appropriate actions once their investigation is completed.
In addition to the criminal investigation being led by our City's police department, our district is extending all of our resources and investigating all claims in an effort to bring accountability to anyone involved.
This situation is another reminder that we need to have a reckoning on race at all levels in Sac City Unified and beyond; to address how we deal with racial prejudice so we can strive to become more united, more inclusive, and more educated in our understanding of the pain and suffering that racism has caused to many in our community.
To make all of our schools pro-social learning environments that stand against racism and hatred, our efforts must impact every aspect of our organization and flow from our Boardroom to our classrooms.
I've heard loud and clear from many in our community that anti-racism professional development cannot be optional.
As part of our professional development to start the school year, we negotiated a day of anti-racism mandatory training for all teachers. Our leadership team at Sac City has also started the same professional development as have our school site leaders. Our Board will start their training in January.
I'm the first to acknowledge that professional development alone is not going to solve our challenges. Racial prejudice isn't going to go away solely with professional development. We need multifaceted approaches to addressing racism, and it needs to be ongoing, which is what we plan to do.
I also know that the community at West Campus is hurting. It's been a topic of discussion with my own children at the kitchen table and during drives to and from West Campus. We are taking steps to support healing at West Campus that started on Friday and continued today with trained staff working with students to provide mental health support and opportunities for them to express themselves in order for us to intervene with appropriate social and emotional supports.
These are all important steps to support all of the students and staff who have been traumatized by these anguishing events.
We are deeply upset about what has transpired within our district family and we are committed to staying focused on taking swift, targeted, and appropriate actions and growing from this.
To those who may have information on what transpired at West Campus, I implore you to come forward with what you know. The uncertainty of who is responsible for this act casts a cloud over the reputation and values of those who will be graduating into the world from one of our high schools. Come forward and help us create a culture of community, respect, and tolerance from this week forward.
Know that we are committed to communicating with our community and will do so as we deem information appropriate to share balanced with the fact that there are ongoing investigations taking place.
Thank you.