Sacramento City Unified's Luther Burbank High School Unveils New Baseball Field
Ribbon cutting celebrated athletics, and contributions of community members and staff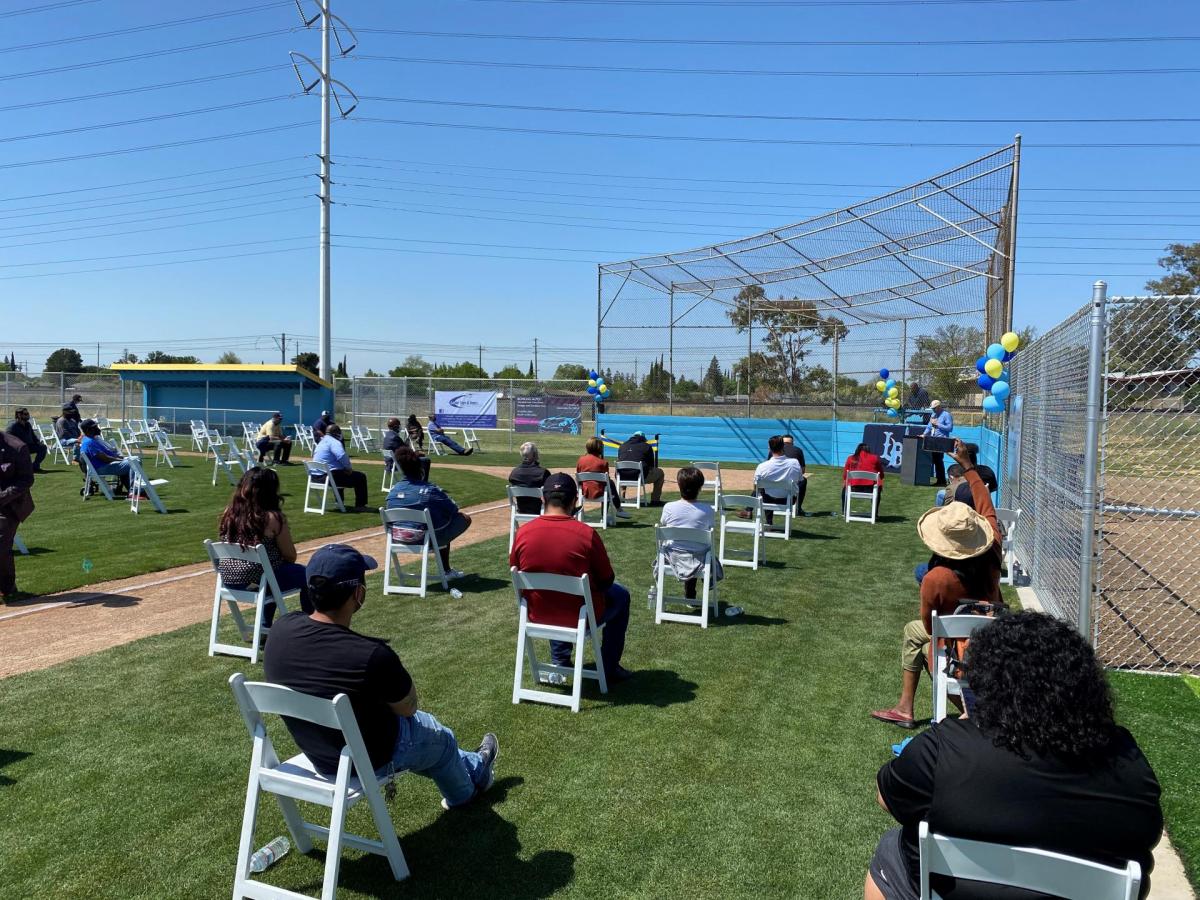 SACRAMENTO - Luther Burbank High School today hosted a ribbon-cutting event to celebrate the new baseball and upcoming softball fields. Community and school leaders attended the event to celebrate the group effort made by community members, elected officials and school staff to provide the new field for use by student athletes. The field replaces the former Burbank field that was notoriously uneven, spurring the phrase "the Burbank hop" in reference to the way the ball hopped around as it rolled across the field. The new field includes high-quality materials, and uses the same grass and clay materials found in major league baseball stadiums.
"As they say in baseball, build it and they will come," said Baseball Coach Gary Byrdsong. "This field is for our kids, brought to them by their community. I am grateful for how our community leaders and district staff have come together to make this field a reality for our kids in South Sacramento. This was truly a team effort."
Coach Gary Byrdsong was instrumental in planning and bringing elected leaders, community members, and district staff together, working with Assemblymember Jim Cooper to secure $135,000 for the Burbank program through a state grant. At the event, the assembly member also announced a future donation of $2,500 each for the Burbank baseball and softball teams.
"The COVID-19 pandemic has shown us that we can no longer move in silos," said SCUSD Board of Education Member Chinua Rhodes. "This field is a perfect example of what can happen when we work together for the good of the entire community. Southside pride!"
"Thank you to Coach Byrdsong, Assemblymember Cooper and the many public and private entities who have stepped up to help our students," said Superintendent Jorge Aguilar. "Our vision of equity, access and social justice takes our entire community to help push us forward."
Local businesses, including EquipmentShare and Roseville contractor Nick Susac, donated time and resources to keep the costs to the school as low as possible. Students and stuff worked alongside these community partners in constructing the fields.
"These new fields are the second large infrastructural upgrade for the Burbank athletic program, which also debuted a new football stadium in 2011," said Burbank High School Principal Jim Peterson. "These community investments help positively impact SCUSD students in South Sacramento by leveling the playing field. Instructional and athletic spaces that are high-quality and well-maintained contribute to youth feeling valued and respected, and can improve attendance and academic performance as well as social and emotional benefits for students."
The district and community would also like to thank the following partners and staff who have helped with this project:
Vendors
Bowling Green Auto
Acme tops & Tunes
Autobahn performance
Rabbi David Azen of Fresher Sacramento
Community Leaders
Jackie Rose
Anne Marie
Jim Cooper
Larry Carr
District staff
Paul Banks
Zoey Walton
Johnathan Berber
Luis Vaca
Scott Hilton
Community Volunteers, Donors
Dwain Adams
Reggie Mosley
Steve Jones
Greg Aguilar
Joe Potulny
Coaching staff
Alex Dupaty
Hugh Parker
Roy McDaniels
Tom Mcelheney