Sacramento City Unified to Offer Testing at Every School Site Upon Reopening
District provides daily testing at Serna Center, other events ahead of September 2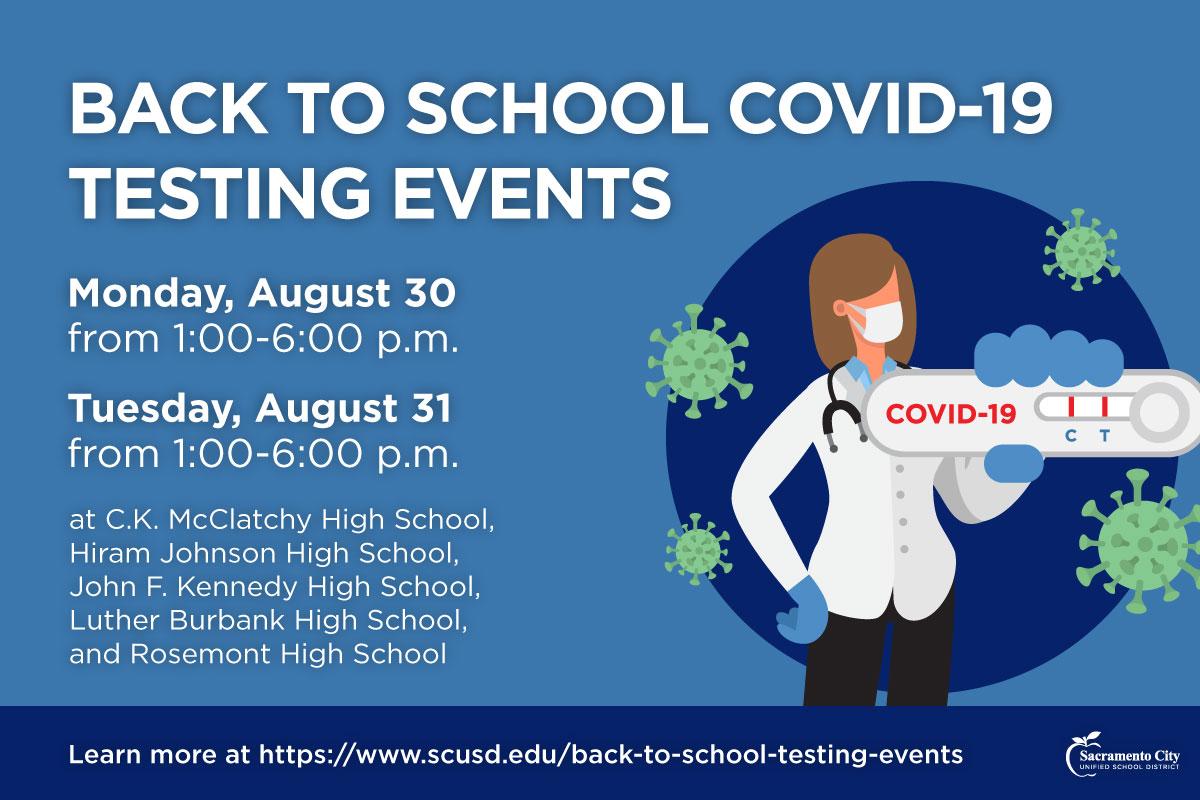 Sacramento, CA – Sacramento City Unified School District's first day of full reopening is September 2, 2021. As part of its strong health and safety protocols in place, the district is providing its roughly 41,000 students and 4,700 staff with testing at every one of its 75 school sites upon opening. The district also provides testing for students and staff each day at the Serna Center at 5735 47th Ave., Sacramento, CA 95824.
Additionally, ahead of reopening, the district will host Back-to-School testing events Monday, August 30 and Tuesday, August 31 from 1:00 – 6:00 p.m. at C.K. McClatchy, Hiram Johnson, John F. Kennedy, Luther Burbank and Rosemont High Schools for all Sac City Unified students and staff.
"Our district is proud to offer this easy access to testing for our students and staff," said Superintendent Jorge A. Aguilar. "Along with the strong and layered health and safety measures at each school, getting tested regularly is a key component in keeping our community safe. I encourage all of our students and staff to take advantage of these extensive testing services at SCUSD."
Students or staff may register for testing using the links below, which can also be found at www.scusd.edu/covid-19-testing.
Students or staff only need to register one time and should use their enrolled school as the location for general enrollment. When arriving at the test site, staff will confirm registration through the Primary application. Parent/guardian consent is required for students under 13 years old.
Along with testing, the district is requiring all to wear masks, both inside and outside when at school campuses. All staff are required to be vaccinated or undergo weekly testing. More information about the district's Health and Safety plan may be found at returntogether.scusd.edu.
Established in 1854, the Sacramento City Unified School District is one of the oldest in the western United States and is the 13th largest public K-12 district in California. Sacramento City Unified serves approximately 41,000 students on 76 campuses. Its students reflect the rich diversity that is the hallmark of Sacramento's central city. The student population is 40 percent Hispanic or Latino; 18 percent Asian; 13 percent African American; and 17 percent white. Residents within SCUSD speak more than 51 languages. Over 70 percent of Sac City Unified students are classified as low income, English Learners, foster youth or are experiencing homelessness.