Sac City Unified Honored for Environmental Excellence by California Department of Education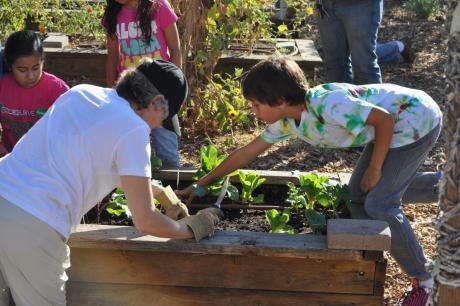 SACRAMENTO, CA – Sacramento Unified School District has announced it earned the California Department of Education's 2020 California Green Ribbon Award. Sac City Unified was among eight districts and 25 schools state-wide to receive the award.
"The effects of climate change, pollution, and poor air quality will have devastating effects on our lives – but more so for our most vulnerable students," said Sac City Unified Jorge Aguilar. "In order to meet our students' needs, we must also protect the world they live in. We are proud to say our district leads by example and are grateful to the California Department of Education for recognizing our efforts."
"We have a responsibility to pass on sustainable practices, especially since it is our children who will bear the brunt of any inaction when it comes to protecting our environment," said Sac City Unified Board President Jessie Ryan. "We must do everything we can to protect our children and future generations, and that includes empowering them with the educational tools they need to advocate for and preserve their world."
"Congratulations to this year's honorees," said State Superintendent of Public Instruction Tony Thurmond. "California Green Ribbon Schools expertly use local approaches to tackle global issues such as sustainability and environmental literacy. Students are not only learning and practicing environmental stewardship, but also sharing those sustainable practices with their families and in their communities."
Sac City Unified has long prioritized sustainability to protect the environment as well as achieve long-term cost savings. Since 2011, Sac City Unified has implemented a variety of sustainable initiatives. Recent initiatives include :
Energy Reduction through energy efficiency improvement projects at district facilities
Alternative Transportation including the adoption of electric buses into its yellow fleet, electric vehicle charging stations for employees, and promotion of international Walk to School Day during Sac City Unified's Green Week celebration
Health and Wellness programs such as elementary athletic programs to help keep students strong and healthy and a comprehensive District Wellness program promoting health and well-being for district students
Environmental Education through Sac City Unified Sustainable Schools program offering free environmental curriculum and professional development to all SCUSD educators through our partnership with EcoRise.
About Sac City Unified
Sacramento City Unified School District is one of the oldest K-12 districts in the western United States (established in 1854). SCUSD serves 42,671 students on 75 campuses spanning 70 square miles. SCUSD's students reflect the rich diversity that is the hallmark of Sacramento's central city. Our student population is 40 percent Hispanic or Latino; 17 percent Asian; 14 percent African American; and 18 percent white. About 7 percent of students are of two or more races or ethnicities. Residents within SCUSD speak more than 51 languages.