Sac City Unified Developing Plan for Safe Reopening of Schools after COVID-19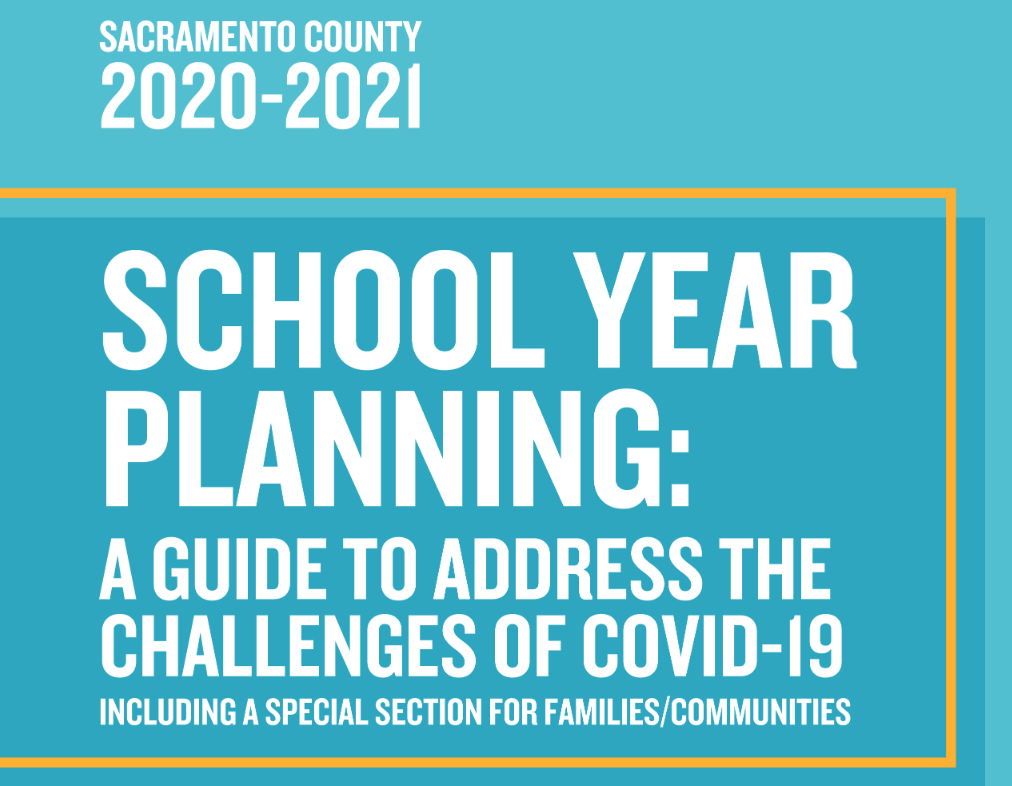 SACRAMENTO – Sacramento City Unified School District and 13 other local school districts, as part of an effort coordinated by the Sacramento County Office of Education (SCOE), today shared SCOE's document of guiding principles and planning considerations regarding reopening schools for the 2020-21 school year. The document — School Year Planning: A Guide to Address the Challenges of COVID-19 — provides guidelines and considerations as each district creates their own reopening plan.
"We thank SCOE for providing our district with this valuable guidance in preparing our reopening plans," said Sac City Unified Superintendent Jorge Aguilar. "While details and information continues to change, what remains constant is that our schools will need additional resources and support from the state and federal government. We've been asked to stretch our resources in ways that we could have never imagined. Our schools have met this moment, and we will continue to do all we can to meet our students' needs, but we need additional help as we move to reopen in these challenging circumstances."
"There are many unknowns during this time of crisis but what we do know is that this next school year will look different than years past," said Sac City Unified Board President Jessie Ryan. "We ask for our community's patience as, together, we adjust to this new normal. We must focus our collective energy on creating a physically and emotionally safe space for all students and staff while also maintaining a relentless focus on closing troubling opportunity gaps that exist for our most vulnerable students. We should be partners in ensuring student success and navigating these uncharted territories."
As the COVID-19 situation evolves, and the district receives additional information from the state and Sacramento County Public Health guidance, Sac City Unified will adjust its plans as needed to best protect the safety, as well as the academic, social and emotional needs, of students. Flexibility is key in trying to contain the spread of COVID-19.
Sac City Unified's Planning Process
Sac City Unified is developing a plan for the district based on the SCOE document and in consideration of its own district needs. The plan will consider the following areas:
Academics – Meeting academic needs in a modified space
Attendance and Engagement – Increasing connectedness and engagement with distance learning and school services
Culture and Climate – Fostering social and emotional learning
Nutrition Services – Meeting nutritional needs
Public Health Mitigation Measures and Operations – Health and safety protocols that must be followed to keep students, families and school staff safe and healthy.
Surveys and Outreach
Sac City Unified will involve a variety of stakeholders in the process of reopening, through surveys and outreach to families, staff and community members. The district knows that this is a collective process that benefits from a variety of viewpoints.
What Families Can Expect
SCOE's guiding document provides information on what families can expect when schools reopen and explains in plain terms how schools may be different when campuses reopen. This document is based heavily on recommended health and safety guidance from Sacramento County Public Health based on current protocols and restrictions.
Additional Funding Needed
It is also important to note that opening schools successfully will depend on adequate funding to support needed safety and scheduling. Various state waivers will also be needed to afford flexibility from traditional compliance requirements.

Sac City Unified has taken a leadership role in advocating for additional funding for schools districts planning to reopen with limited funding after the COVID-19 crisis. In April, Sac City Unified sent a letter, as part of a coalition of urban school districts, to Governor Newsom requesting additional funding for COVID-related expenses. In May, the same coalition sent a letter to the Assembly expressing deep concern about state budget cuts and expectations around reopening of schools. On May 15, Sac City Unified, as part of a coalition led by SCOE, sent letters to state and federal leaders commenting on the challenges that districts regarding funding. Also in May, our district sent written comments to the Assembly Subcommittee on Education on the importance of additional funding for Nutrition Services.