In Response to State Superintendent of Public Instruction, SCUSD Reaffirms Commitment to Resume Negotiations and Reiterates Request that SCTA Provide Counterproposal
Sacramento, CA – The Sacramento City Unified School District today reaffirmed its willingness to continue negotiations with SCTA and encouraged SCTA to provide a counter proposal to the offer that the District made on Monday March 21, and enhanced on Tuesday, March 22.
In a response to an offer made by State Superintendent of Public Instruction Tony Thurmond to convene representatives from Sac City Unified, the Sacramento City Teachers Association ("SCTA"), the Service Employees International Union ("SEIU"), bargaining team representatives, the Sacramento County Office of Education ("SCOE"), the Fiscal Crisis and Management Assistance Team ("FCMAT"), and representatives from the Sacramento Board of Supervisors this afternoon, SCUSD Superintendent Jorge A. Aguilar issued the following statement:
"We appreciate State Superintendent Thurmond's concern for our students and our district, and his desire to help our District and SCTA forge a path forward that will benefit our students and community. After three days of our students being out of our schools, the district wants nothing more than to get our students back to school as quickly as possible and end the SCTA/SEIU strike.
"Because this is a local issue, we do not want to circumvent the appropriate process for reaching agreement with our local labor partners. That process calls for the District to meet with SCTA to resolve these issues and bring an end to the strike. We urge SCTA to present a counterproposal to the District's last proposal so that we can give it due consideration and provide a response. Our community is also wanting to understand what it will take to end this strike. With a counterproposal, the district's negotiators are prepared to meet around the clock with SCTA so that we can bring our students on Monday. We reached out to SCTA again earlier today to request a response to the District's last proposal."
"I hope that all community leaders who share our desire to reach a negotiated agreement will encourage SCTA to present a counter to the District's last proposal so that the district can give it due consideration and provide a response through the appropriate collective bargaining process which needs to resume as soon as possible. That is our commitment to our community."
Here is an overview of the district's proposal to SCTA: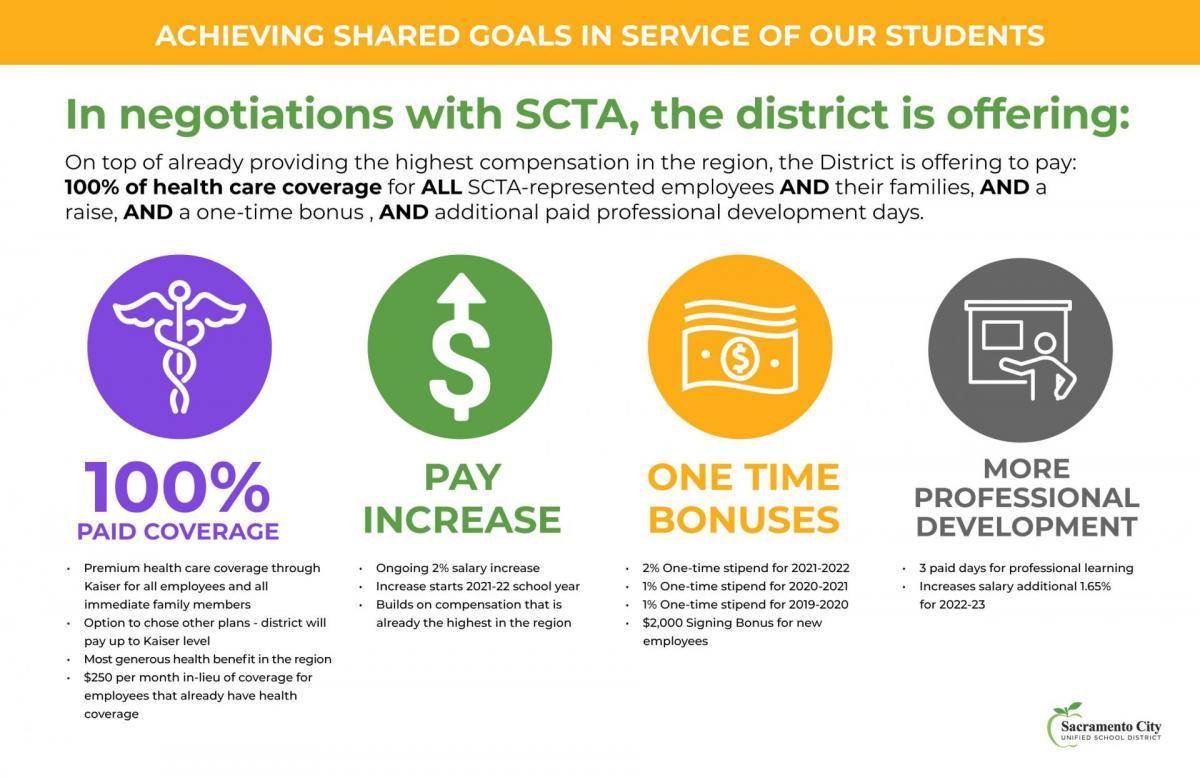 You can read the proposal passed to SCTA on Monday, March 21 here. On Tuesday, March 22, the district presented an enhanced proposal that includes all of the employee compensation increases offered to SCTA described above, plus a proposal to pay for one year 80 percent (80%) of the cost difference between the cost of a Kaiser health plan and the cost of a HealthNet plan for those employees currently enrolled in HealthNet that choose to continue HealthNet coverage. You can read the District's enhanced proposal to SCTA here.
Here is how it would work.
Since the mediated negotiations process ended on the evening of Tuesday, March 22, SCTA has not responded to the district's repeated offers to continue good faith negotiations. See the District's offers to continue negotiations dated March 22 and March 23.
As related to negotiations between the District and SEIU, the District's negotiations team has agreed to meet with SEIU on March 30, a date that SEIU offered. The District also offered to meet sooner, but SEIU has not offered an earlier date. The District is not at impasse with SEIU and intends to continue to work through successor contract negotiations with the SEIU negotiations team and looks forward to resuming those negotiations as soon as possible. The issues that the District is working through with SCTA and SEIU through our respective negotiations processes are distinct and we will not engage in joint bargaining with two bargaining groups.
###