February is CTE Month
Help us celebrate CTE month by attending the Linked Learning Pathways Fair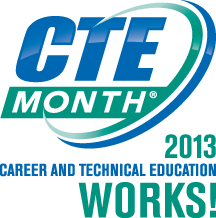 As a kickoff event for CTE month, we will be celebrating our Career Technical Education programs at the annual Linked Learning Pathways Fair, Tuesday, February 5th at 6:30 PM in the community room at the Serna Center (5735 47th Avenue, Sacramento, CA 95824).
This is a wonderful time to find out about the many exciting educational opportunities available to SCUSD students in one convenient location. Come visit and talk with teachers and students and see many of the fascinating projects they are working on. Get answers to your questions about the different CTE programs and Linked Learning Pathways offered throughout the district. Currently our students enjoy CTE classes in culinary arts, robotics, law and social justice, computer graphics, digital media, engineering, television production, and construction, just to name a few.
Choosing an educational program that fits your future career goals makes what you learn in high school more relevant and meaningful. Who knows, maybe this event will mark the time in your life when you set your path to your future career, a time you will look back on and say "that evening changed my life".