2020 Fiscal Recovery Plan – Frequently Asked Questions
Please click on an item below to see the full response to each FAQ.
What is the Fiscal Recovery Plan?
As requested by the Board of Education on October 1 when we adopted our revised budget, on November 19, 2020 the district will present a draft Fiscal Recovery Plan which will include scenarios of potential reductions and changes to the district budget. The Fiscal Recovery Plan will come back to the Board for adoption on December 10.
Is the budget deficit real?
Yes. Sac City Unified's budget deficit has been confirmed by multiple independent entities, including:
These reports all conclude that the District:
Does not have sufficient on-going resources to support on-going expenses;
Should not rely on one-time funds to support on-going expenses;
Must implement significant on-going budget reductions to create a balanced budget, and eliminate deficit spending to avoid fiscal solvency;
Personnel costs are the largest on-going expense and these must be reduced; and
Escalating healthcare costs are a main driving factor that must be reduced.
Why does the projected deficit change?
Just like a household budget, the District's income and expenses fluctuate. For example, you might budget $100 for electricity one month, but the bill comes in higher or lower. The District also has bills, expenses and revenues, that can come in higher or lower than what was projected. However, if a household's expenses exceed its income, these fluctuations will not prevent the household from spending more money that it takes in and running out of money, eventually.
For the District, while the exact date of insolvency may adjust to changing conditions or budget fluctuations, the fact remains that insolvency is inevitable without structural changes to the budget that lead to ongoing improvement of the District's finances.
At this time, when is the District projected to run out of cash?
Our latest cash flow projection shows that the District will experience cash shortfalls in May 2021 that will require the District's urgent action. The District plans to seek a waiver for the cash deferral that is built into the State Budget and obtain short term loans (TRAN) in order to be able to continue operations.

The District ended the 2019-20 year with a surplus – can you use that money to close the structural deficit?
In 2019-20, the District saved money based on one-time savings in the cost of district operations due to the shift to distance learning last spring. This included per diem positions that were not filled, lower utility, fuel and transportation costs, and other cost savings. These are one-time cost savings and nowhere in the amount needed to close our structural deficit.
Why can't you just cut administrator pay? Or administrator positions?
The California State Auditor evaluated the idea suggested by the Sacramento City Teacher Association (SCTA) to reduce pay for administrators making over $120,000 by 20%, and stated that, "Reducing pay by 20 percent for those administrators with annual salaries exceeding $120,000. We estimate that this change, including a 20 percent reduction in the superintendent's salary, could save Sacramento Unified about $3 million annually, including decreased district contributions toward employee pensions…In addition, most of the district administrators with salaries exceeding $120,000 are represented by United Professional Educators, Sacramento Unified's labor union for certificated management staff. The district would need to negotiate any salary reductions for those employees with their labor union. If one removes represented employees from the calculation above, the union's suggestion would only result in about $1 million in annual ongoing savings."
To be clear and, as noted in the 2019 PIVOT and PACE report, SCUSD spent 4.6 percent of its budget on central office administration in 2017-18, which is below the county average of 5.3 percent (see Figure 3 below).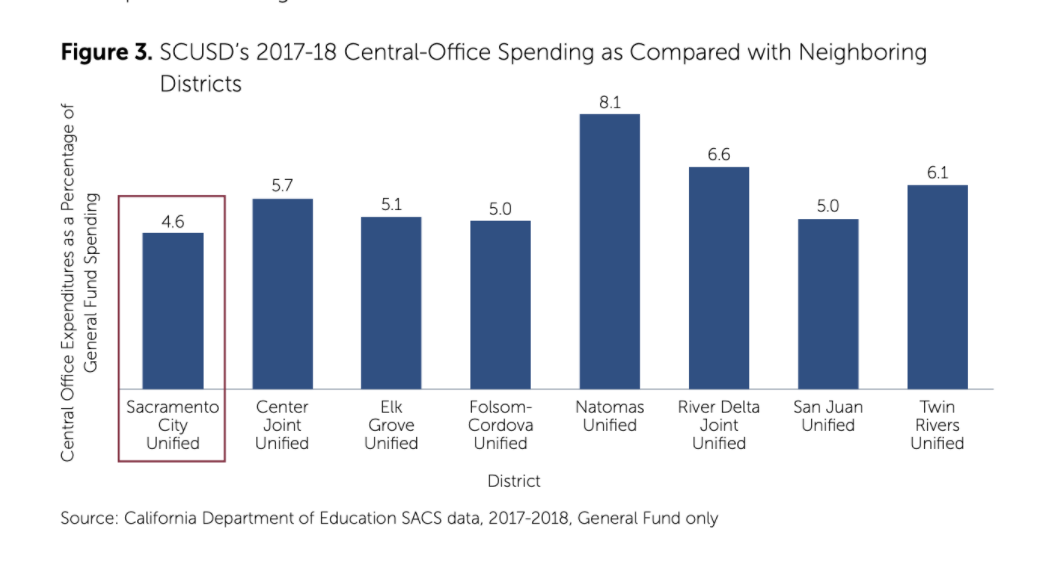 Why does the District have over $100 million budgeted for books and supplies? Is it over-budgeted to hide money?
Of that approximately $101 million budgeted for books and supplies, $13.6 million is part of the unrestricted general fund. The other $87.59 million is restricted general fund monies. This means that these funds can only be used for their allocated purpose and cannot be used to supplement deficits of the general fund.
For example, $46.25 million is budgeted for items using one-time COVID-19 relief funding, including technology and equipment such as Chromebooks. Other funding sources as part of the restricted fund include grants, lottery funding, and restricted maintenance accounts, among others. These resources were provided for specific uses and must be documented as such – it is not $100 million set aside in a line item as a way to hide money.
View a detailed breakdown here.
Why would a "state takeover" be bad for our district?
When a school district becomes insolvent, a state local is obtained to pay the district's bills, which triggers a state takeover. This would mean:
Less money to spend on students – State loans charge an interest rate on borrowed money. Therefore, in addition to making cuts to pay its bills, the District would need to make even more cuts to pay back the state loan with interest. This means less money for students.
An Administrator takes over. Local control is lost – An Administrator would be appointed and the local school board would lose its decision-making authority. Part of the Administrator's responsibilities is to identify cuts to balance the budget and repay the state loan with interest. Valuable student programs, services and schools could be cut out of the budget.
What cuts has Sac City Unified already made?
Over the past two years, the District has made significant budget cuts – approximately $50 million – to stave off insolvency. These cuts have been painful, and leave few flexible choices in the budget outside of the negotiations process, which make up the vast majority of the District's budget. Below is a summary of those budget cuts to date.
Why are the District's healthcare costs so high?
SCUSD's health benefit costs are high because of an employee collective bargaining agreement (CBA) negotiated decades ago. The agreement stipulates that members of the Sacramento City Teachers Association be entitled to specific healthcare providers, including HealthNet. The CBA further stipulates that SCUSD covers 100 percent of the employee and family plan costs. This results in the District currently paying well over $30,000 for each member that selects the family HealthNet plan, making SCUSD's health plan one of the five costliest plans in California. Since 2018, the district has attempted to engage SCTA in negotiation on its successor contract to renegotiate this expensive healthcare plan.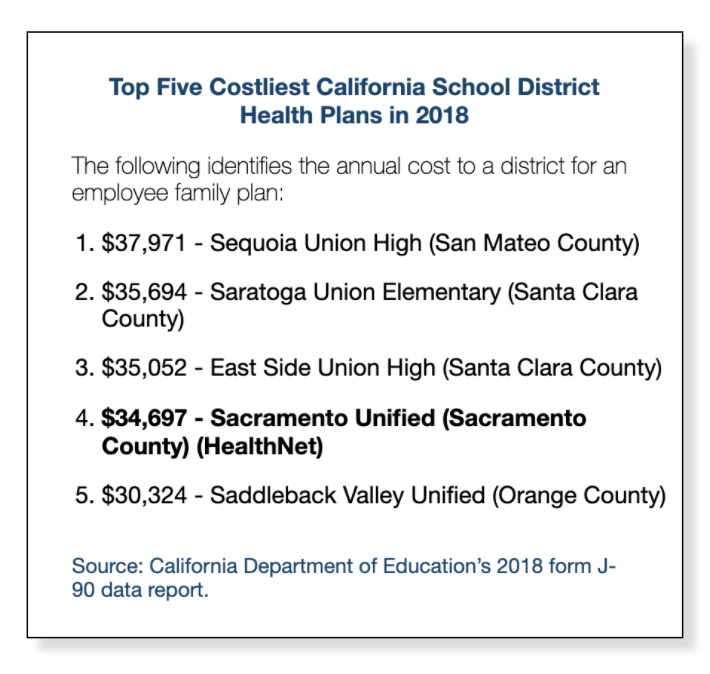 What cuts could the district make that won't impact student programs?
The Fiscal Recovery Plan that will be before the Board for adoption on December 10, 2020 will direct the District to pursue categories of potential budget reductions. This may include areas of savings that require negotiations with our labor partners and that have been proposed in negotiations, were recommended by the State Auditor, and/or have been identified as other areas where potential savings could be achieved.

What other cuts could the District make to avoid insolvency?
Along with negotiated reductions, the Board of Education will consider the following budget reduction options on November 19th and then, on December 10th, take action on the Fiscal Recovery plan and provide direction on the areas of savings the Board has determined to pursue:
$1.749 million reduction to positions, including Assistant Principals, Social Workers, and counselors;
$2.253 million cut to Central Departments, including Professional Development, Staff, and Supplies;
$9.633 million reduction of staff at programs and sites, including the elimination of the IB and AP Testing, College and Career Visits and Non-Special Education Transportation;
Reductions to dual immersion programs;
The district might also cut $4.941 million from programs such as GATE, VAPA or Music programs, Safe Schools, Social and Emotional Learning, New Teacher Induction, Improvement and Accountability, Alternative Education, and After School/Youth Development programs.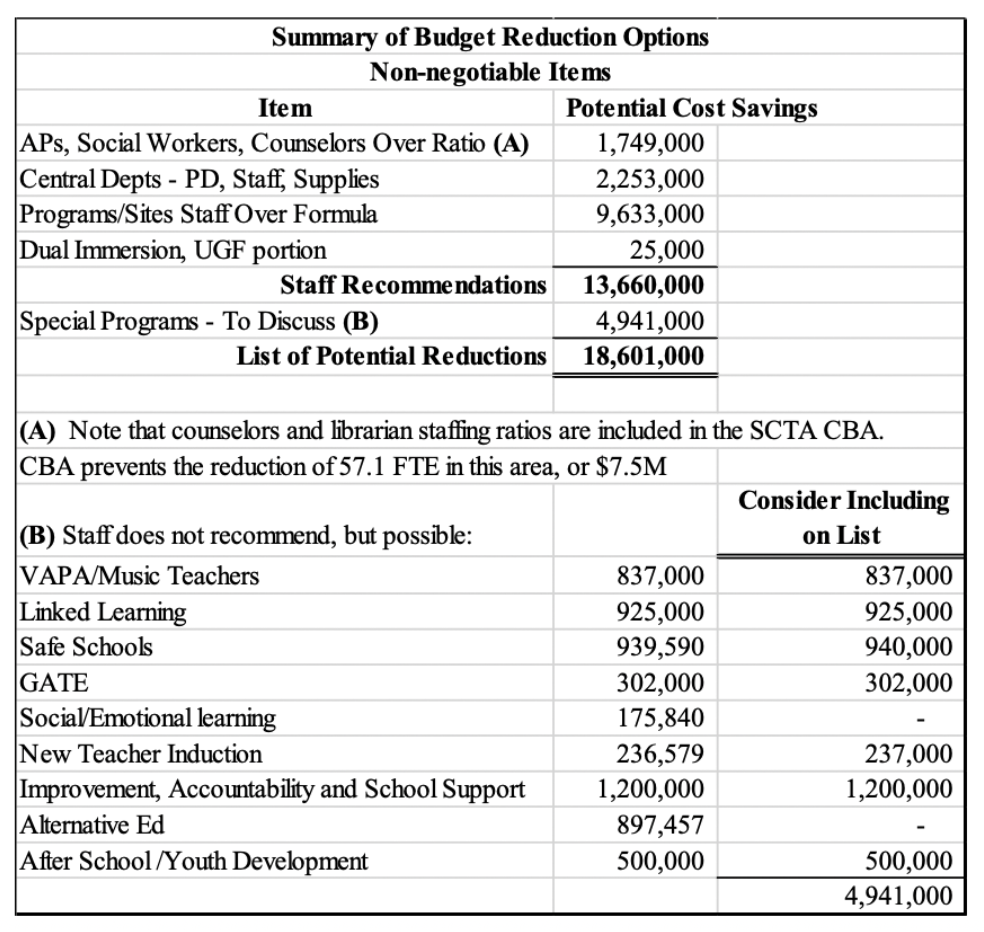 How can I submit a question?
Submit your question by clicking here.