Your Wednesday, May 24, 2023 Sac City Scroll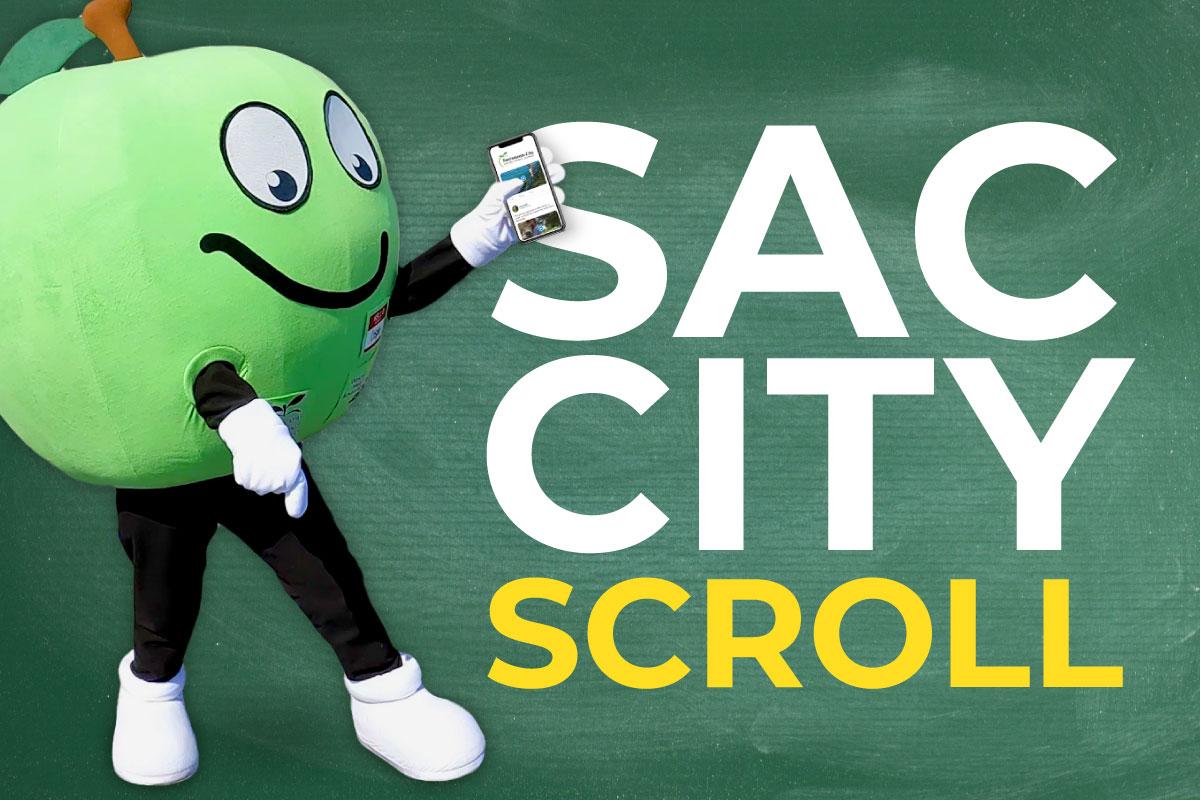 Dear Sac City Unified Families,
It's Classified School Employee Week so be sure to say thank you to office staff, bus drivers, custodians, nutrition services staff and all the non-certificated employees in our district who keep our schools running smoothly! Watch this video to see our Classified Champions of the Year.
Monday, May 29 is Memorial Day and all schools and district offices will be closed in observance. Thank you to all who made the ultimate sacrifice in defense of our nation.
YMCA Water Safety Month Event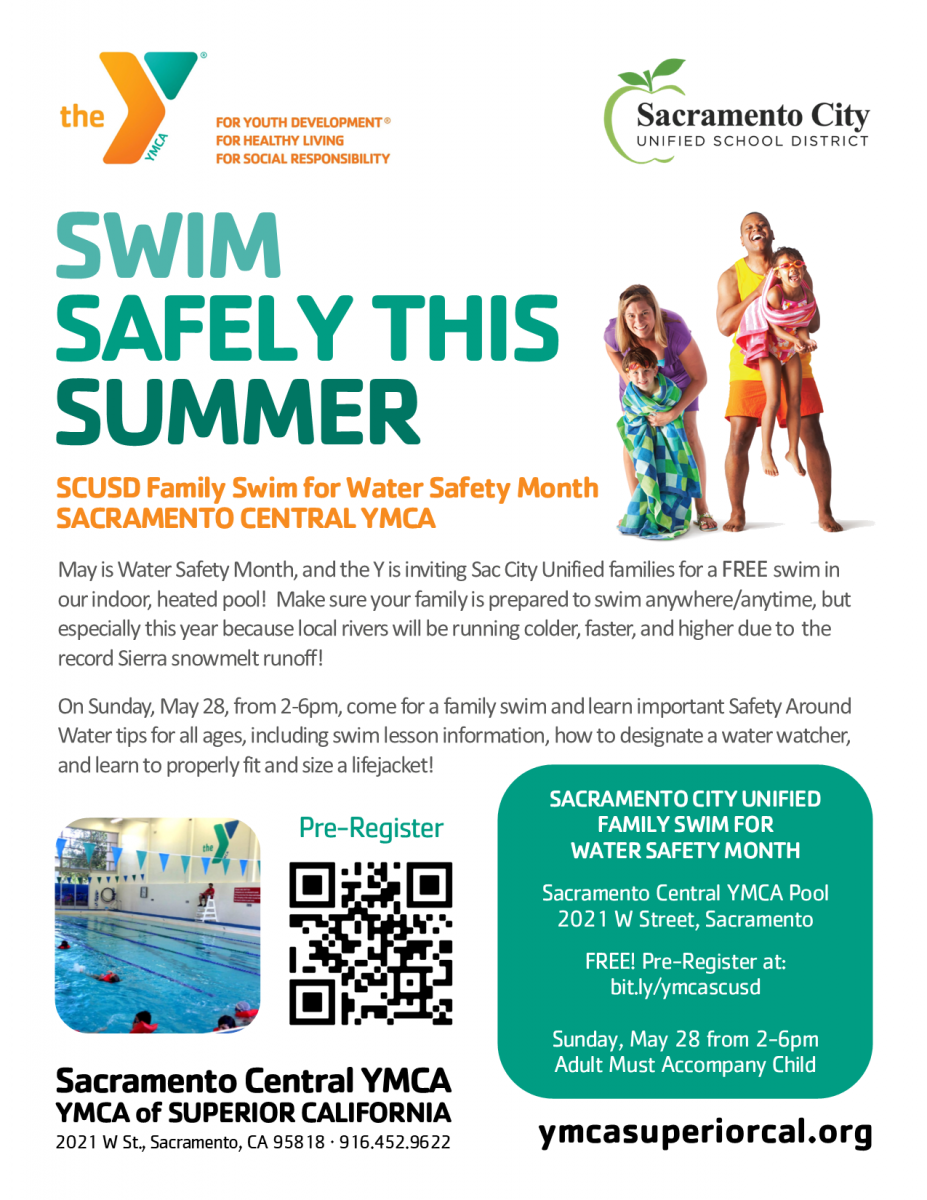 May is Water Safety Month, and the Y is inviting Sac City Unified families for a FREE swim in their indoor, heated pool! Make sure your family is prepared to swim anywhere/anytime, but especially this year because local rivers will be running colder, faster and higher due to the record Sierra snowmelt runoff!
On Sunday, May 28, from 2-6 p.m., come to the Sacramento Central YMCA for a family swim and learn important Safety Around Water tips for all ages, including swim lesson information, how to designate a water watcher and learn to properly fit and size a lifejacket!
FREE! Pre-register at: bit.ly/ymcascusd
Sacramento Central YMCA Pool, 2021 W Street, Sacramento
Sunday, May 28 from 2-6 p.m.
Adult must accompany child
2023-2024 Before and After School Programs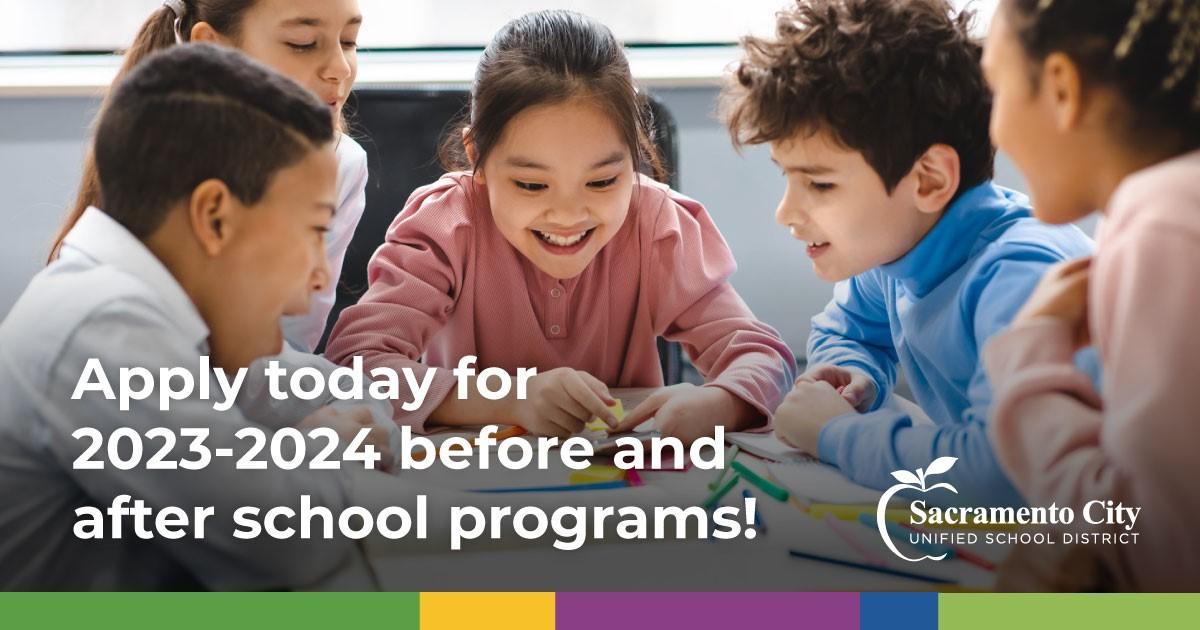 Apply now for a before and/or after school program! All programs are grant funded and FREE to our families. Our Expanded Learning programs are available for SCUSD students entering TK-12th Grade. These programs offer academic enrichment and fun activities in a safe space for your student, and snacks/supper are provided.
Before school programs begin 90 minutes before school begins and are offered at 23 of our school sites. Our after school programs consist of 43 elementary programs (K-6), six K-8 programs, seven middle school programs (7th-8th), and nine high school programs. We have 34 sites offering Transitional Kindergarten (TK) before and after school programs.
Learn more and apply for our Expanded Learning programs here.
To apply for TK Expanded Learning programs, click here.
We Tip

See something, say something. If you have any information regarding school-related crime or misconduct, call WeTip anonymously. There are 3 ways to anonymously report:
Call 844.916.4544
Text to 844.916.4544
Graduation Dates
Congratulations to all of our graduating seniors! We have all graduation dates posted on our website and will be livestreaming all of our high school graduations. Click here to view.
ABC10 May Teacher of the Month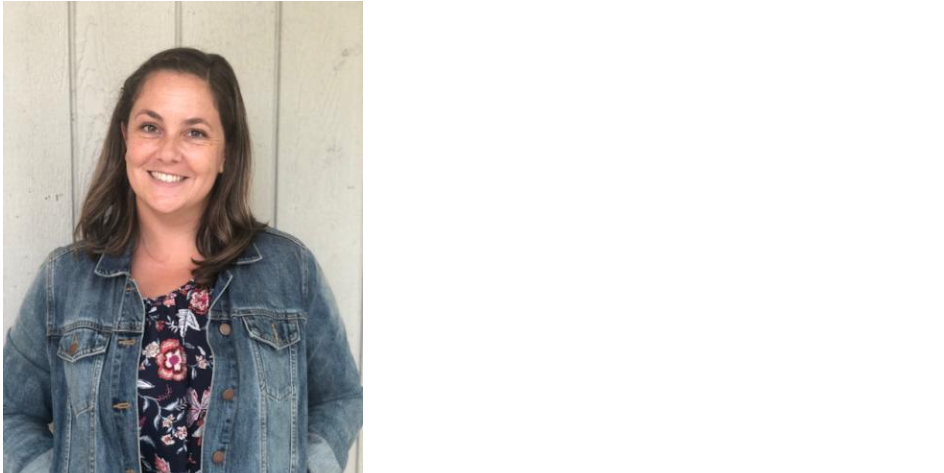 SchoolsFirst Federal Credit Union, in partnership with ABC10 Sacramento and Sacramento State's College of Education, announced that Diana Magaoay of Genevieve F. Didion K-8 School in Sacramento is Teacher of the Month for May 2023. With 12 years of teaching experience, Ms. Magaoay currently teaches 3rd grade but has also previously taught Kindergarten, 1st, 2nd and 5th grade students. She considers being a teacher is its own reward and her classroom instruction skills are considered exceptional by her peers. Watch this video that recognizes her great work and congratulations to Ms. Magaoay!
25th Anniversary of Parent Teacher Home Visits

Parent Teacher Home Visits began in SCUSD in 1997, and the program is now celebrating 25 years of participation for our district as well as on a national and international scale. The Board of Education recognized this achievement during the May 18 Board of Education meeting and acknowledged our role in founding and maintaining the program for the past 25 years.
20th Annual South Sacramento Friends Spelling Bee
The Martin Luther King, Jr. Public Library invites your class to this exciting spelling competition offering trophies and cash prizes! Grades 1, 2 and 3 will compete on July 6 from 4-8 p.m. and grades 4, 5 and 6 will compete on July 7 from 4-8 p.m. at the Valley Hi Library at 4300 Imagination Parkway. Enrollment and photo op forms can be picked up at the MLK, Jr. Library at 7340 24th Street Bypass and must be emailed to pbosw92137@aol.com or turned into the MLK, Jr. Library by June 30. You may also email pbosw92137@aol.com to obtain the spelling list for your student's grade level.
Medi-Cal Coverage
Local Medi-Cal offices are starting to renew Medi-Cal members' eligibility. Everyone's renewal date is different. Take Action! The most important step you can take right now is to update your address, phone number and email. Learn more.
Spring Sports Updates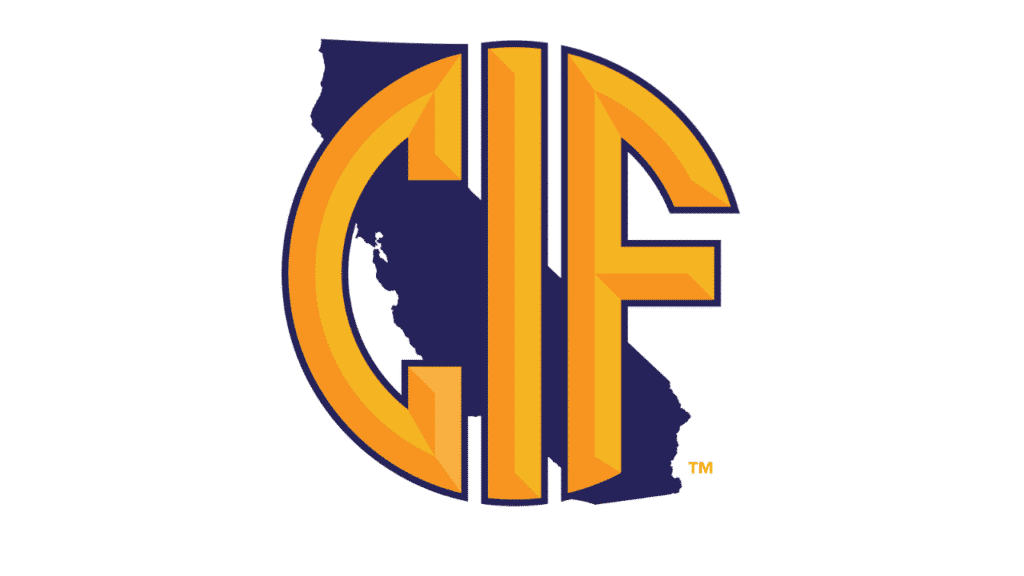 This weekend is the 103rd CIF State Track & Field Championships being held in Clovis, and Sac City Unified is rooting for our qualifiers:
Kennedy's Girls 4×100 Meter Relay team of Jada Henriques, Melinda Pearson, Dejah Dean, and Marlee Cavitt.
Kennedy's Marlee Cavitt will be competing in the Girls 100 Meter Race.
C.K. McClatchy's Anna McNatt will run in the Girls 3200 Meter Race.
Rosemont's Victor Noble will compete in the Long Jump event.
Congratulations to our high school teams who competed in this year's CIF-Sac-Joaquin Section Playoffs!
CIF Sac-Joaquin Boys Volleyball Playoffs: Hiram Johnson
CIF Sac-Joaquin Softball Playoffs: Hiram Johnson, Kennedy, Rosemont, and West Campus
CIF Sac-Joaquin Baseball Playoffs: C.K. McClatchy, and West Campus
CIF Sac-Joaquin Girls Swim Meet: C.K. McClatchy
CIF Sac-Joaquin Boys Swim Meet: C.K. McClatchy, and Kennedy
CIF Sac-Joaquin Boys Tennis Playoffs: C.K. McClatchy
CIF Sac-Joaquin Coed Tennis Playoffs: West Campus
CIF Sac-Joaquin Boys Golf Masters Tournament Individual Qualifiers: Paul Moore of West Campus and Connor MacGillivray of C.K. McClatchy
Burbank High School Hiring Event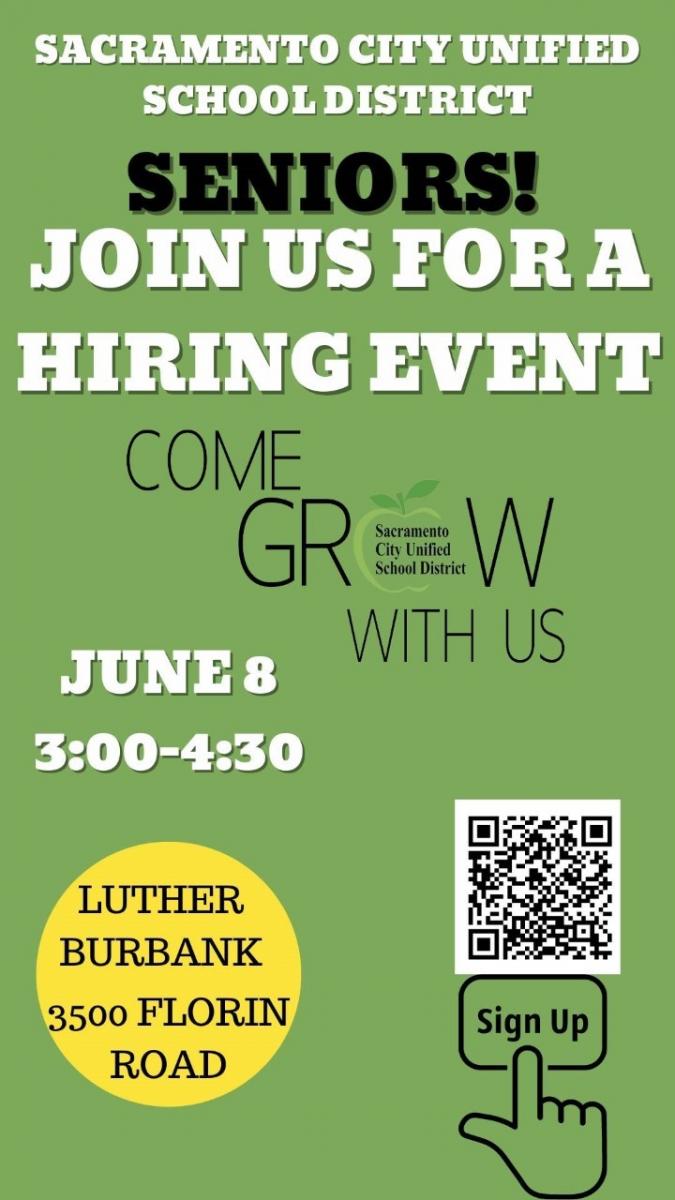 Calling all high school seniors who are interested in entry level positions with SCUSD! We are hosting a hiring event at Luther Burbank High on Thursday, June 8 from 3-4:30 p.m. Come grow with us! Find job opportunities online at edjoin.org/scusd.
Get Free Narcan and Potentially Save a Life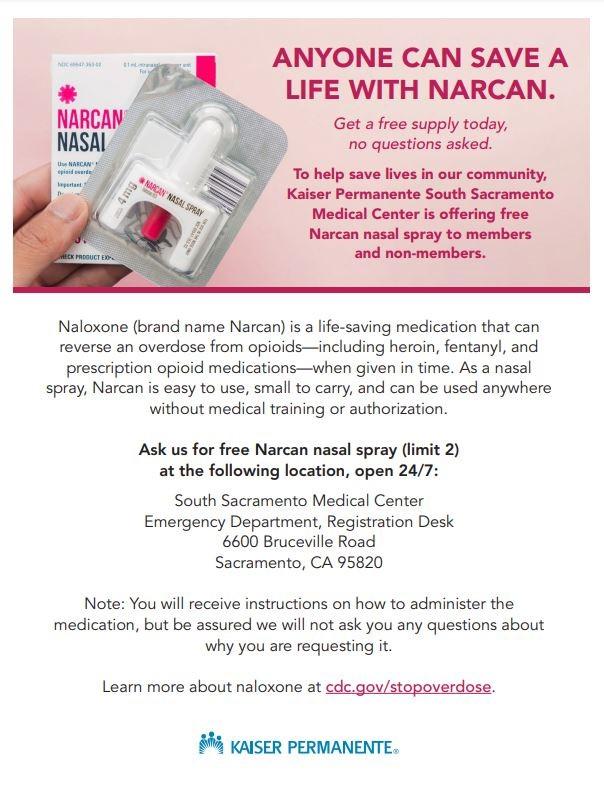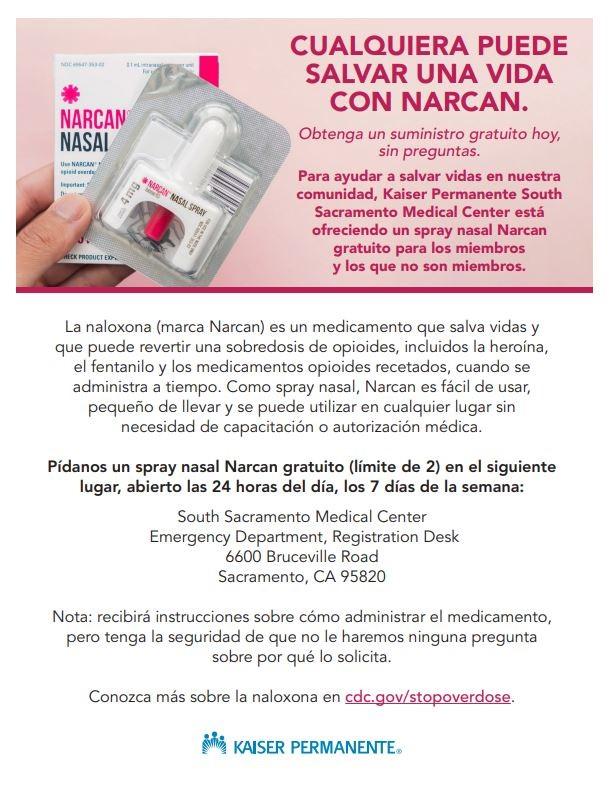 Kaiser Permanente is offering free Narcan nasal spray (limit 2 per person) as well as providing administration instructions at their South Sacramento Medical Center Emergency Department registration desk. This is a life-saving medication that can reverse the effects of opioid overdoses and will be distributed to families with no questions asked.
Online Public Comments
You can now send public comments for our Board members via email if you are unable to attend our Board of Education meetings in person. Click here to access the public comment submission form, or email the Board directly at publiccomment@scusd.edu.
Stay in the Loop
Don't forget to follow us on Facebook and Instagram for updates each day on happenings throughout our school community.