Green Week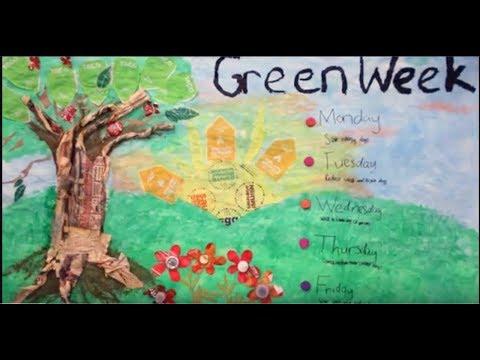 SCUSD celebrates Green Week to empower schools to engage in sustainability-focused lessons, projects, and activities! Join this year's celebration to learn about resource conservation through environmental education.
To celebrate our annual SCUSD Green Week for 2020 we will be going bigger and participating in the People's Ecochallenge! The People's Ecochallenge is a 21-day environmental and social engagement program that takes place from October 7 – October 28, 2020. Each school can sign up as a team where staff and students complete actions in various environmental and social categories that help gain new skills and establish healthy habits. Read more about the challenge and how your school can get involved below.
How it Works
Participants (staff and students) sign up as part of their school team. Participants select or create actions that align with their individual values and make a 21-day commitment to complete those actions, all the while practicing and reinforcing good habits. For every completed action, participants earn points and create impact. Your points contribute to your team's total points, and your impact contributes to our collective impact.
The People's Ecochallenge harmonizes individual and collective action, camaraderie, and friendly competition all for a better-shared future. Over 100 actions within nine Challenge categories encourage you to think about and act on proven solutions, connecting the dots between your values and your action.
Anyone can participate at home with easy to implement actions. See examples below.
Examples of Categories and Actions Waste: Use a reusable water bottle, Transportation: Go by bike, Energy: Adjust the thermostat, Community: Volunteer in my community, Nature: Spend Time Outside, Water: 5-Minutes Showers, Justice for the Whole Community: Learn about local environmental justice concerns
How to Participate
Teachers – Create a school team, only 1 per school (BONUS: Teams earn points for early-bird registration)
Create a login using your District Gmail account or create your own login by filling out the required fields
Once you are logged in, select create your own team
Fill out all required fields including Name (school name), Organization or School (Sacramento City Unified School District)
Select Create Team
You are now your Team Captain
Share team link with students and staff at your school (Bonus: Teams earn points for every invited team member who joins!)
Explore the EcoChallange Dashboard while building your team, start planning and completing your actions, challenge other SCUSD schools by using the competitions tab, use the impact tab to see how all our actions add up
Students – Join your school team
Use the team link provided by your teacher
Create a login using your District Gmail account or create your own login by filling out the required fields
Join your school team
Explore actions and start completing them October 7
Non-School Site Staff/District Admin – Join our SCUSD Admin Team
Click on the team link provided here
Create a login using your District Gmail account or create your own login by filling out the required fields
Join the team
Explore actions and start completing them October 7