Back to School COVID-19 Testing Event
at C.K. McClatchy, Hiram Johnson, John F. Kennedy, Luther Burbank and Rosemont High Schools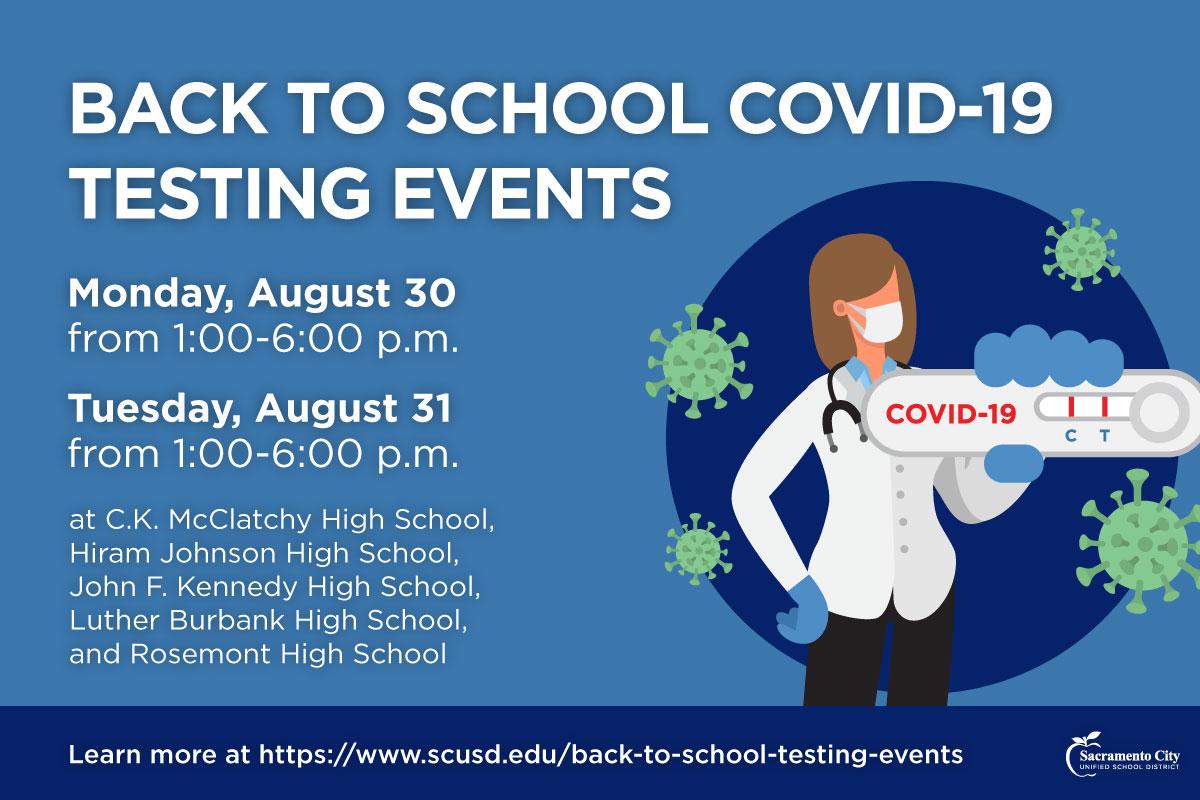 Free COVID-19 Testing will be available Monday, August 30 and Tuesday, August 31 from 1:00-6:00 p.m. at C.K. McClatchy, Hiram Johnson, John F. Kennedy, Luther Burbank and Rosemont High Schools for all Sac City Unified students and staff.
Register for Testing
Staff or students can register for testing using the links below.
You only need to register one time on the Primary application. Please use your school as the location for general enrollment. When you arrive at the test site, staff will confirm registration through the Primary application.
Parent & Minor Consent
Consent for routine COVID-19 testing is provided when you register your student for testing.
Parent/guardian consent is required for students under 13 years old.
Students 13 years and older may register themselves and provide consent for testing.

Cal. Fam. Code § 6920 et seq and Cal. Fam. Code § 6920(a) ("A minor who is 12 years of age or older and who may have come into contact with an infectious, contagious, or communicable disease may consent to medical care related to the diagnosis or treatment of the disease, if the disease or condition is one that is required by law or regulation adopted pursuant to law to be reported to the local health officer, or is a related sexually transmitted disease, as may be determined by the State Public Health Officer.").
CDPH Valencia Branch Laboratory PLAYBOOK to Stand Up School-Based Collection Sites at page 20 (": Children who are 13 and older can provide consent and administer the tests themselves.").
Self-Collection Resources
To collect the specimen, the individual will place a swab, similar to a cotton swab/Q-Tip, inside of the tip of the nose.