Weekly Update
April 29, 2022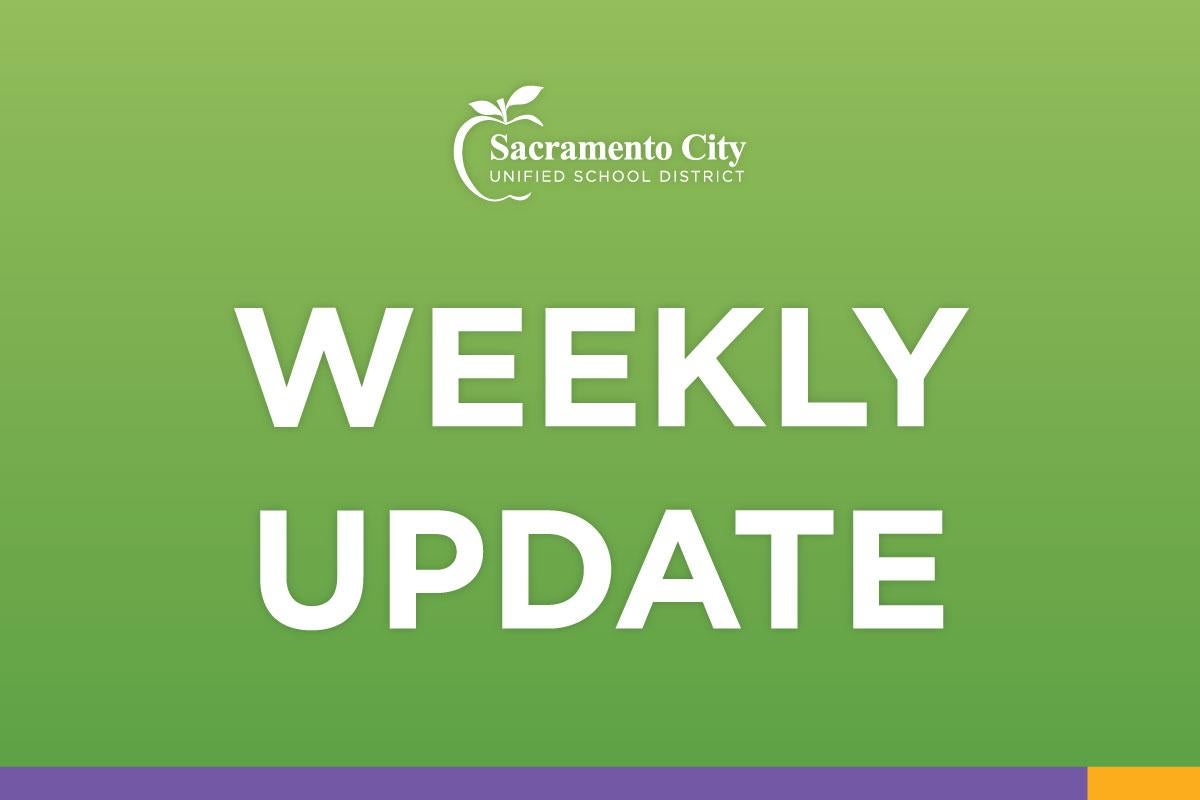 Dear Sac City Unified Families,
We hope you're having a great week! Please see below for some opportunities and events happening throughout our community.
MAKING UP LOST INSTRUCTIONAL TIME
We continue to collaborate with SCTA toward an effective solution for recovering student learning time lost due to the recent strike. Read more about the latest proposals here.
MASKING STRONGLY RECOMMENDED
Throughout California, including Sacramento County and SCUSD, we are experiencing an increase in positive COVID cases. Layered prevention strategies, like staying up-to-date on vaccines and wearing masks, can help prevent severe illness and reduce the potential for strain on our healthcare system. We want to remind our community that face masking is strongly recommended by California Department of Public Health (CDPH) although not currently required in our schools. Free face masks are readily available at all our school sites and district locations.
COVID VACCINATION & TESTING CLINICS
We have free COVID vaccination clinic on Fridays from 4-6pm at Serna Center (5735 47th Ave.). Learn more and register here. Students, staff and household members in our school community may also access free COVID testing at one of three locations. Learn more and register to test here.
MAY IS MENTAL HEALTH AWARENESS MONTH
Throughout May, we'll be sharing resources with our community to support staff, student and family mental health. One new resource that we are offering is Care Solace, which helps individuals navigate the challenging process of finding mental health and substance use providers. This free resource is available in any language, regardless of your insurance status.
SCUSD SCHOLARSHIP DEADLINE
There's still time to apply! The deadline for scholarships available to SCUSD students was extended to Friday, May 6, 2022. Discover all our district scholarship opportunities and learn how to apply here.
STATE SEAL OF CIVIC ENGAGEMENT DEADLINE
We are pleased to announce that the district currently has 57 seniors and juniors across 8 high schools who have qualified for the State Seal of Civic Engagement (SSCE) this year. If your student is a junior or senior who has engaged with decision-makers and advocated for issues/causes they care deeply about, please encourage them to apply by the Monday, May 2, 2022 deadline.
OPERATION RECOGNITION ESSAY CONTEST
High school juniors and seniors have the opportunity to win a $1,000 scholarship by writing an essay on, "How we can thank our veterans for their sacrifices." Operation Recognition Essay Contest is a partnership between Sacramento County Office of Education (SCOE) and SAFE Credit Union. Get details on the contest here. The deadline is Monday, May 2, 2022.
CAREER & TECHNICAL EDUCATION AT WILL C. WOOD
Will C. Wood Middle School is home to one of the largest Career and Technical Education (CTE) labs for public schools in the country. Students throughout the district are able to explore a variety of career pathways to pique their interest. Watch this short video as SCUSD plans to expand CTE offerings to students throughout the district.
EID AL-FITR
Marking the end of Ramadan and month-long fasting, Eid al-Fitr is a Muslim celebration that takes place beginning Monday, May 2 and ending Tuesday, May 3. If you're interested in learning more about Eid al-Fitr (also known as the festival of breaking the fast) and Ramadan, click here.
MAY IS BIKE MONTH
There's still time to sign up for a May is Bike Month team in partnership with Sacramento Area Bicycle Advocates and Love to Ride! Learn more or sign up for a team here.
BLACK AFRICAN AMERICAN ADVISORY BOARD (BAAAB) LISTENING SESSIONS
Our Black and African American families are invited to participate in an upcoming parent and family listening circle with the Black African American Advisory Board. Families from Areas 5 and 6 will gather for the last of three listening circles. If you live in a different trustee area and missed your listening circle event, you are welcome to join the May 9th session. Learn more and register for events here.
EAST SAC GARDEN TOUR
Have plans for Mother's Day weekend? The 23rd annual East Sacramento Garden Tour, created by David Lubin Elementary School is a wonderful family event! This year, the Garden Tour takes place on Saturday, May 7th and Sunday, May 8th from 10am to 4pm. Learn more and purchase tickets at eastsacgardentour.com.
SCOE SUMMER CAMPS
The Sacramento County Office of Education will be hosting two in-person summer camps during the weeks of July 18-28, 2022 for students entering grades 6-8. Using computer science concepts and tools, there is an environmental-focused camp where students can learn how to set up sensors to monitor the health of the environment. There is also a girls camp focused on programming, robotics and building relationships with computer science mentors. Learn more and register here.