Weekly Update
April 15, 2022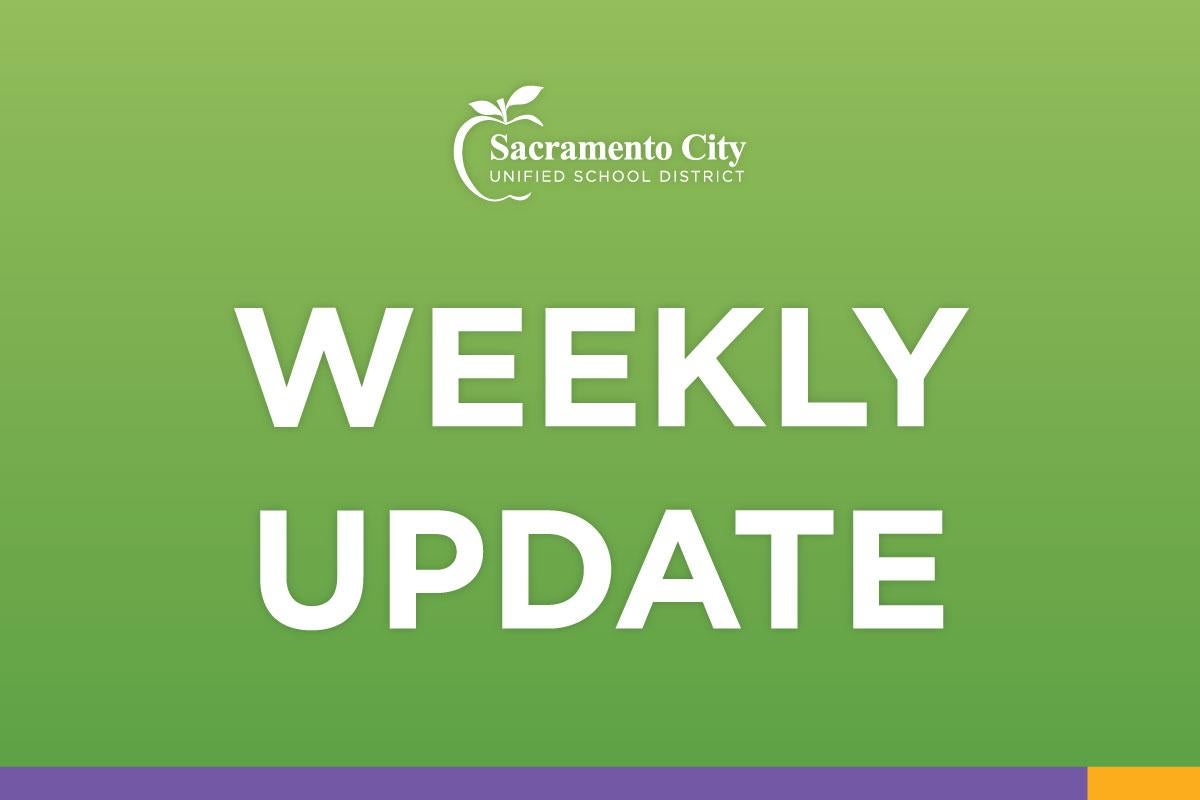 Dear Sac City Unified Families,
We hope you are enjoying Spring Break! We have a few upcoming events and opportunities to share with you this week.
AT-HOME COVID-19 TEST KITS
Please test your student with the kits distributed before Spring Break this Sunday prior to returning to school on Monday, April 18. Learn how to register your kit, report your results and when to test.
MASKS STRONGLY RECOMMENDED
After Spring Break, students and staff will no longer be required to wear a mask at school, although masking is still strongly recommended. We want to emphasize the importance of respecting each other's choices when it comes to masking and fostering a culture of kindness. Read about this important update here.
CALL FOR STUDENT ARTISTS
Wide Open Walls will be sponsoring a live mural jam at Luther Burbank High School for our upcoming Community Fair on Saturday, May 21. Students interested in applying may email nicole-kangas@scusd.edu with their name, SCUSD school, grade level, contact information and an attached image of or link to the student's artwork. The deadline to apply is Friday, April 29. Only a few students will be selected and announced on Friday, May 6.
EAST SAC GARDEN TOUR
Join David Lubin families for the 23rd annual East Sacramento Garden Tour! This year, the Garden Tour takes place on Saturday, May 7th and Sunday, May 8th from 10am to 4pm. Learn more and purchase tickets at eastsacgardentour.com.
GIRLS IN STEM
Sacramento County Office of Education will be hosting an event on Saturday, April 30 at the SMUD Museum of Curiosity and Science from 1-5pm. Open to female students in grades 6-8, this event is designed to celebrate and promote STEM (Science, Tech, Engineering and Math) career opportunities within each field and build awareness and interest in related fields. While this program's focus is on girls, all are welcome to apply regardless of gender identity. It will be an afternoon to participate in STEM-related activities that build a deeper understanding of the opportunities that exist within each area. Space is limited so register ahead at bit.ly/3MkRR5K.
EASTER EGG HUNT
Join us this Saturday, April 16th for an egg-celent community Easter egg hunt at the Meadowview Community Center located at 2450 Meadowview Road. This family-friendly, fun event is part of the Project Activation Meadowview Neighborhood Fair event series that takes place every third Saturday in South Sacramento. Between noon and 2pm this Saturday, be ready for free food, games, community resources, Easter baskets and an Easter egg hunt the whole family may enjoy. Best of all, entry is always free for the Project Activation Meadowview Neighborhood Fair.
SCOE STUDENT JOURNALISTS
Check out this great opportunity to become a paid student journalist intern with Sacramento County Office of Education! This opportunity is available to 9th through 12th grade students.
SOURCE MEDIA AGENCY
Source Media Agency is a youth-led program that teaches students about marketing, branding, creating digital media, and working on campaigns. Interested in learning more? Email gavin-veiga2@scusd.edu or apply here.
HOT SPOT REMIX
Teens aged 13-17 are invited to participate in FREE Hot Spot nights at seven different community center sites. These events include indoor/outdoor sports, swimming, movie nights, food trucks, giveaways and more! Pre-registration is required, click here!
MOTHER'S DAY DONATION DRIVE
Drop off pull-up diapers, baby board books, children's clothing and other items to benefit the families accessing resources at Sacramento Food Bank and Family Services at William Land Elementary School through April 30. Join Assemblymember Kevin McCarty at a donation event at Sacramento Food Bank and Family Services on Friday, May 6 from 11:30am to 1:30pm.
SCOE SUMMER CAMPS
The Sacramento County Office of Education will be hosting two in-person summer camps during the weeks of July 18-28, 2022 for students entering grades 6-8. Using computer science concepts and tools, there is an environmental-focused camp where students can learn how to set up sensors to monitor the health of the environment. There is also a girls camp focused on programming, robotics and building relationships with computer science mentors. Learn more and register here.
MAY IS BIKE MONTH
It's going to be May soon… and that means bike month is almost here! Sacramento Area Bicycle Advocates is forming teams to encourage riders to swap cars for handlebars while getting a chance to win prizes! Learn more or sign up for a team here.
See you all on Monday!