Weekly Update
April 8, 2022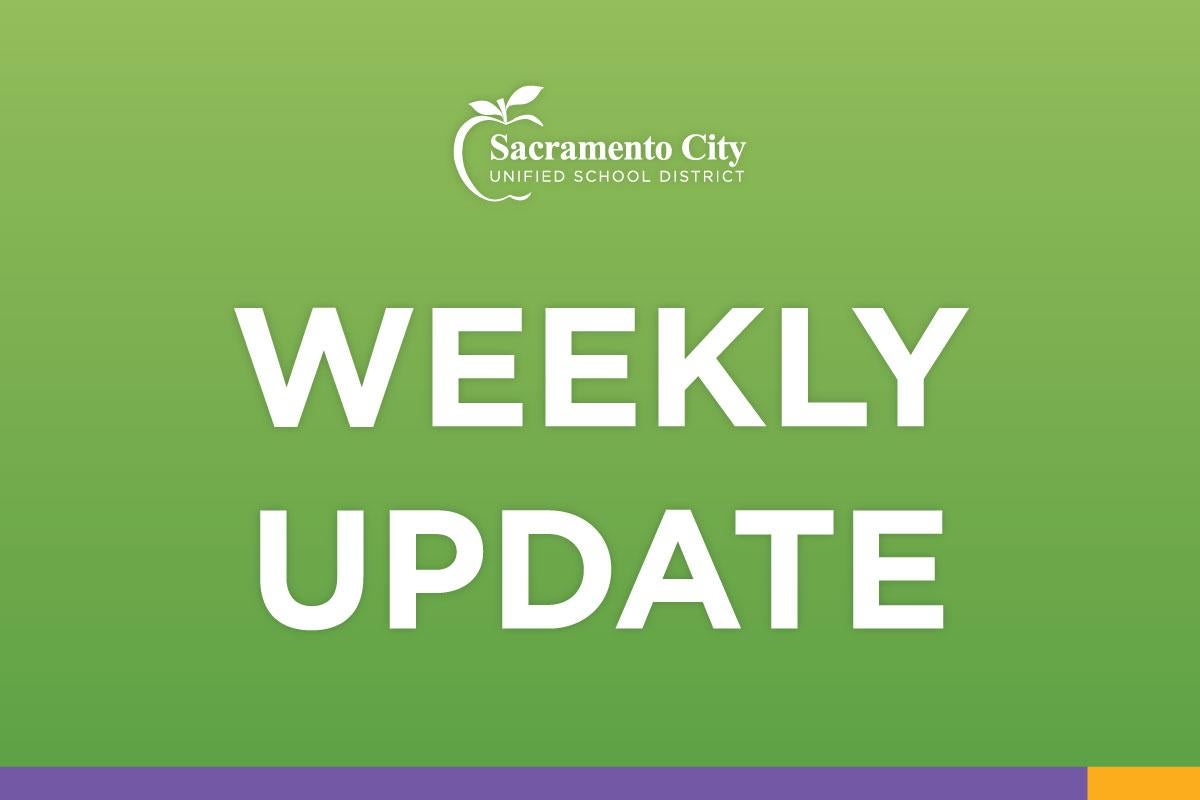 Dear Sac City Unified Families,
Next week, April 11-15, is Spring Break! Our schools will be closed, but our COVID-19 testing sites will be open in service of our community. Our Nutrition Services team will also be hosting a curbside food distribution event at nine locations on Monday, April 11 from 9-10:30am.
Distribution will be held at the following school locations:
Abe Lincoln Elementary School
Bowling Green Elementary School
Edward Kemble Elementary School
Elder Creek Elementary School
John Still Middle School
Pony Express Elementary School
Washington Elementary School
Will C Wood Middle School
Woodbine Elementary School

Special thanks to Central Kitchen, and to Sacramento Food Bank for providing food boxes. Learn more at thecentralkitchen.org/curbside.
Here are some other updates, resources and information for our families this week.
AT-HOME TEST KITS
Check your student's backpack for free at-home COVID-19 test kits that are being distributed to all staff and students yesterday and today. Learn how to register your kit, report your results and when to test.
MASKS STRONGLY RECOMMENDED
After Spring Break, students and staff will no longer be required to wear a mask at school, although masking is still strongly recommended. We want to emphasize the importance of respecting each other's choices when it comes to masking and fostering a culture of kindness. Read about this important update here.
RECOVERING INSTRUCTIONAL TIME
We know that you're anxious to plan for summer and to learn how our district will make up the eight days of lost instructional time due to the labor strike. Our team is collaborating on this matter with our labor partners beginning today to find a responsible solution that will have the least impact on our families.
Our students lost approximately 2400 minutes of learning. California's Education Code requires public schools provide 180 days of instruction and a minimum number of instructional minutes based on grade level. To comply with the law and support the needs of our students, SCUSD must make up that time or face significant financial penalties. If the district does not take action to address the lost learning time, SCUSD estimates that penalties will cost the district $46 million dollars.
We are committed to finding the best possible solution with the least amount of further inconvenience to our families.
DAVID LUBIN 6TH GRADER WINS A GRAMMY
Congratulations to Jayvyn Thwaites of David Lubin Elementary School for winning a GRAMMY award for his album, "A Colorful World," which won Best Children's Album! We're so proud to share this amazing story with our SCUSD community!
EAST SAC GARDEN TOUR
Join David Lubin families for the 23rd annual East Sacramento Garden Tour! This year, the Garden Tour takes place on Saturday, May 7th and Sunday, May 8th from 10am to 4pm. Learn more and purchase tickets at eastsacgardentour.com.
SOURCE MEDIA AGENCY
Source Media Agency is a youth-led program that teaches students about marketing, branding, creating digital media, and working on campaigns. Interested in learning more? Email gavin-veiga2@scusd.edu or apply here.
HOT SPOT REMIX
Teens aged 13-17 are invited to participate in FREE Hot Spot nights at seven different community center sites. These events include indoor/outdoor sports, swimming, movie nights, food trucks, giveaways and more! Pre-registration is required, click here!
STUDENT MENTAL HEALTH AND WELLNESS SURVEY
The Sacramento County Office of Education and Sacramento County Department of Health Services, Behavioral Health Services are working to develop a new plan for student mental health and wellness in Sacramento County. The plan will build on previous and ongoing collaborative efforts, including the previous Student Mental Health and Wellness 10-year plan. The survey consists of 5 questions and should take between 5-10 minutes to complete. Take the survey in English or Spanish.
MOTHER'S DAY DONATION DRIVE
Drop off pull-ups, baby board books, children's clothing and other items to benefit the families accessing resources at Sacramento Food Bank and Family Services at William Land Elementary School through April 30. Join Assemblymember Kevin McCarty at a donation event at Sacramento Food Bank and Family Services on Friday, May 6 from 11:30am to 1:30pm.
SUSAN B. ANTHONY PARK
A new community park was officially opened to the public on Saturday, March 26 in partnership with the City of Sacramento and SCUSD. Learn more about this exciting new resource for the South Sacramento community here.
PROJECT ACTIVATION MEADOWVIEW NEIGHBORHOOD FAIR
Every third Saturday, check out Project Activation Meadowview Neighborhood Fair at Success Academy at 2221 Matson Drive, where you can get free resources, food, bike repairs and more! The next event takes place on Saturday, April 16 from 9am to 1pm.
SCOE SUMMER CAMPS
The Sacramento County Office of Education will be hosting two in-person summer camps during the weeks of July 18-28, 2022 for students entering grades 6-8. Using computer science concepts and tools, there is an environmental-focused camp where students can learn how to set up sensors to monitor the health of the environment and a girls camp focused on programming, robotics and building relationships with computer science mentors. Learn more and register here.
MAY IS BIKE MONTH
It's going to be May soon… and that means bike month is almost here! Sacramento Area Bicycle Advocates is forming teams to encourage riders to swap cars for handlebars while getting a chance to win prizes! Learn more or sign up for a team here.
ROSEMONT HIGH COLOR GUARD
Congratulations to Rosemont High School's Color Guard for being featured on Good Day Sacramento this week! Go Wolverines! Watch the video here.