Weekly Update
January 7, 2022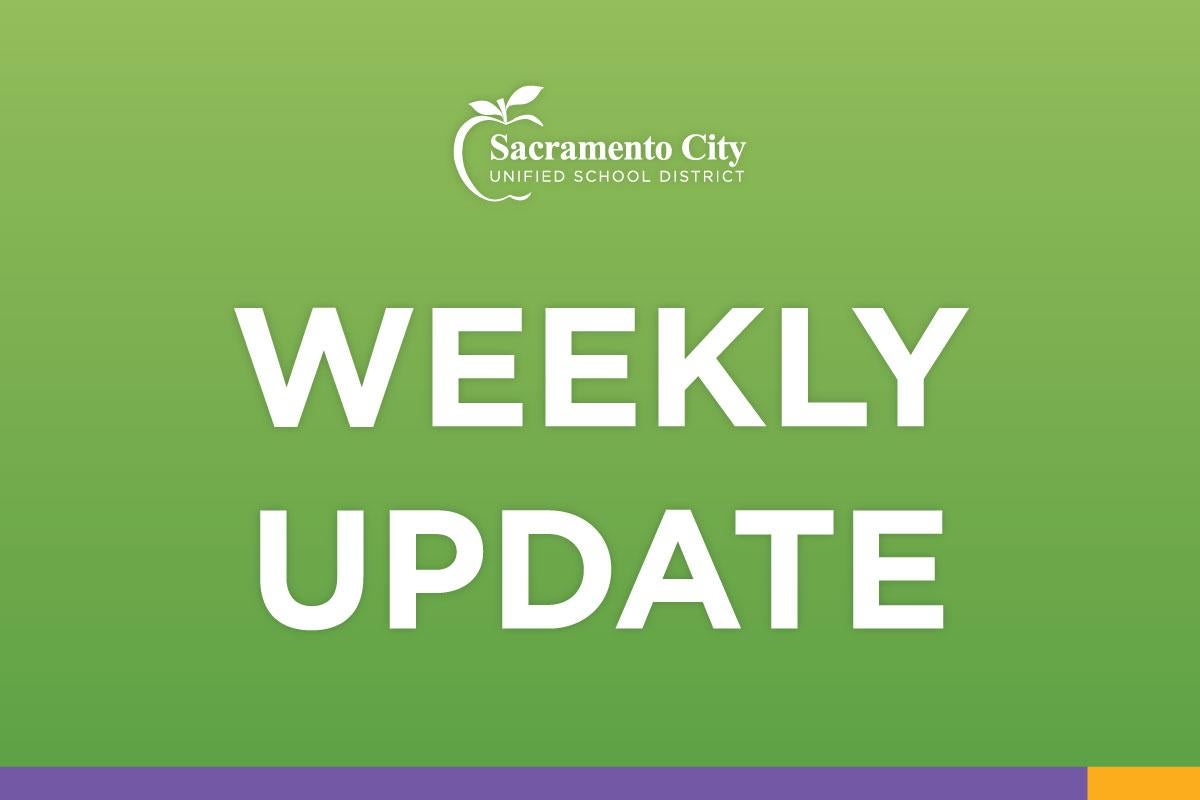 Dear Sacramento City Unified School District Families,
We know that it's been a challenging week to return from Winter Break. Please know that we are doing everything we can to keep our schools open and to keep our staff and students as safe as possible. We continue to follow all health and safety protocols outlined in our Return to Health plan and are providing record numbers of COVID-19 tests to mitigate the spread of Omicron.
We cannot stress enough, if your student has any symptoms associated with COVID-19, please have them stay home to avoid contagion in classrooms.
COVID-19 TESTING
Between January 3 and today at noon, SCUSD has provided over 26,000 COVID-19 tests. Whenever school is in session (Monday through Friday, excluding school holidays), we offer routine COVID surveillance testing at most of our schools, in our school site care rooms and every Monday through Friday at the following locations and times:
Given high demand for testing, be prepared to wait in line if necessary. SCUSD is primarily providing rapid antigen tests, however PCR testing is also available. Both tests are self-administered nasal swabs: the rapid antigen test which is processed onsite and provides results in 15-30 minutes and a PCR test which is processed in a lab and provides results in 24-48 hours. SCUSD is able to provide testing to all Students and Staff already on campus, and can provide testing to any Students, Staff, or household members at our additional testing locations at the Serna Center or Albert Einstein Middle School.
If your student is not yet fully vaccinated or registered to test, register your student for testing today.
COVID-19 VACCINATION CLINICS
As you may have heard, FDA, CDC and Western States have now approved boosters for individuals aged 12-15! These clinics will have COVID vaccines available for ages 5+ and boosters available for ages 12+:
January 7
January 8
January 11
January 12
January 13
January 14
REPORT YOUR VACCINATION STATUS TO SCUSD BY 1/14
If you haven't already done so, please report your student's vaccination status or file an exemption by January 14 to allow the District time for processing records in advance of the January 31 deadline. If your student is not yet fully vaccinated, register your student for testing.

SUPERINTENDENT JORGE AGUILAR ON CAPRADIO INSIGHT
This week, Superintendent Jorge Aguilar was hosted by CapRadio's Insight with Vicki Gonzalez. He provided an update of schools opening amid Omicron and updates on progress made toward the District's vaccine requirement.

MEET A PRO
Our School of Engineering in Science is soliciting professionals in STEM fields to volunteer to speak to our students about working in science, technology, engineering and mathematics on February 25. Do you want to inspire the next generation of big thinkers? Contact us at carla-dibasilio@scusd.edu or call (916) 395-5040.
KINDERGARTEN REGISTRATION
Do you have a child at home who will be turning 5 by September 1, 2022? Kindergarten registration opens for the 2022-2023 school year on January 11. We hope to see your young scholar in the fall!
Yours in service,
Your team at SCUSD