Watch for Warning Signs of Suicide September is Suicide Prevention Awareness Month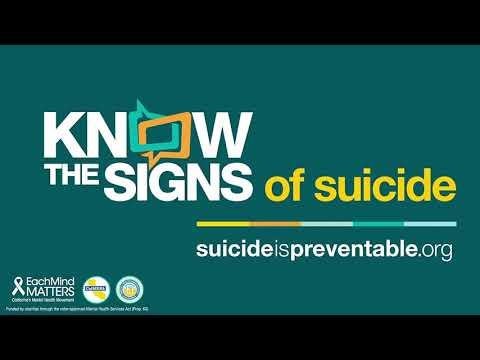 As part of Suicide Prevention Awareness Month, Sacramento City Unified School District urges parents and students to seek mental health support during COVID-19 health pandemic. The district encourages students and parents to learn about signs of distress, and how to ask for help. This includes educating families on the intersection of suicide, mental health, and substance and alcohol abuse.
"It is essential that we educate our community about suicide, mental health and substance abuse problems and the ways they affect all people in the community," said Superintendent Jorge Aguilar. "Our students have experienced a collective trauma, but it is important to know that you are not alone, and that you have support in your school community, including SCUSD Student Support Health Services Staff. We must encourage friends, family, co-workers, and providers to recognize the signs of a problem, and guide those in need to appropriate services and supports – as friends and social media are key sources of information for young people."
We recently learned of a disturbing statistic from recent California Healthy Kids Survey indicating that an average of one out of every five SCUSD students have considered suicide in the past 12 months. We urge anyone considering suicide or who may know someone who needs help to reach out for support by calling the National Suicide Prevention Lifeline at 800-273-8255. Students can call SCUSD's warmline number at (916) 643-2333 or visit the district's Suicide Prevention Page to find more resources.
Signs may include:
Talking about wanting to die or suicide
Increased drug or alcohol use
Uncontrolled anger
Giving away possessions
Anxiety or agitation
Feeling hopeless, desperate, or trapped
Changes in sleep
"One of the best ways we know to prevent suicide is if you see something, say something. To ask those questions, which is really hard and difficult to do, but that really is the intervention," said Victoria Flores, SCUSD's Director of Student Support and Health Services, "If you are considering suicide, please ask for help or seek help."
A recent study in the American Medical Association journal JAMA Network Open found that with the COVID-19 pandemic and social distancing, nearly a quarter of people in the United States are experiencing symptoms of depression, three times as much as before the pandemic.
Crisis Lines
National Suicide Prevention Lifeline: 800-273-8255
National Sexual Assault Hotline: 800-656-4673
National Domestic Violence Hotline: 800-799-7233
The Trevor Project:
Crisis Text Line: Text "HOME" to 741-741
The Source Sacramento: Call/Text 1-916-787-7678 (Support for youth/caregivers 24/7)
The benefits of preventing and overcoming mental health challenges, suicide attempts and loss, and substance abuse are significant and valuable to individuals, families, and our community at large. The SCUSD Student Support & Health Services team is dedicated to promoting and providing suicide prevention awareness, education and interventions designed to build resiliency, create safety, and find hope. Resources can also be found at Each Mind Matters resource page.
Usted también puede leer esta información en español.
Koj mus nyeem tau cov ntaub ntawv no ua lus Hmoob.
您也可以用西班牙語,越南語,苗族或中文閱讀此信息。
Quí vị cũng có thể đọc thông tin này bằng tiếng Tiếng Việt.