Update on Conditions for Reopening – Increased COVID-19 Risk Status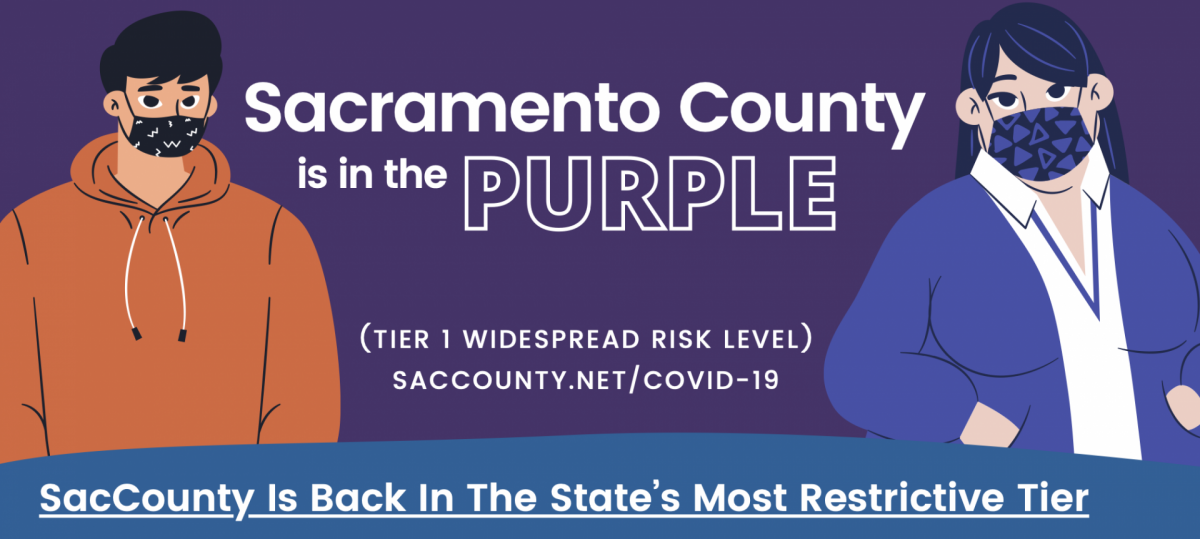 As you may have learned on November 10, due to increased COVID-19 positivity rates in our county, Sacramento County's risk status has increased to "purple" or "widespread risk" under the state's Blueprint for a Safer Economy. With this reclassification, schools that have not already opened are required to remain closed and will not be eligible to reopen until two weeks after Sacramento County moves back into red tier status. Therefore, our students will remain in distance learning until further notice.
This is disappointing news, as our district, like many in the Sacramento region, has been hard at work preparing our school sites and establishing health and safety protocols for reopening so that our students could safely return to schools.
The health and safety of students, staff, and our community are our highest priority. This is why, when we are allowed to reopen for all students, we are committed to implementing COVID-19 mitigation measures for our sites and individuals on campus that go above and beyond basic health and safety guidelines.
We urge our community to help curb the spread of COVID-19 by wearing a mask, practicing social distancing, staying home when sick, and practicing proper hand hygiene. Our community should also be aware that Sacramento County Public Health offers free COVID-19 testing. More information about this can be found here.
Districts Call on the State to Enact Strong Standards for Reopening Schools
Last week, Sac City Unified and six other large California school districts sent a letter to Governor Gavin Newsom urging the state to develop a set of clear and consistent guidelines for reopening which would set forth the health, education, and employee practices and standards needed to reopen schools.
Sac City Unified Presents Proposed Conditions to Reopen
Absent the state guidelines, the district presented its Board of Education with a set of conditions of readiness to reopen our schools for when Sacramento County is in red or orange tier status. You can find a partial list of Sac City Unified's proposed conditions of readiness for reopening below. It is important for our community to know that these conditions for readiness not only meet state and county health requirements but go beyond the minimum requirements to ensure that we are taking the highest precautionary measures to protect our students and staff.
These conditions of readiness include, but are not limited to:
Meeting all required health and safety guidelines as indicated by state and county health officials
Continued training for employees
Access to testing for staff
PPE in classrooms and common spaces
Plexiglass barriers to prevent spread in common and shared use spaces
Signage, maps and posted guidance
A public dashboard to track any positive cases of individuals who were physically present at SCUSD school sites
Third-party assessment of all district facilities
Does this mean that Sac City Unified is ready to open now?
No. Our county is currently classified as "purple" tier. Schools are not allowed to open in this tier. Additionally, while the board heard the conditions of readiness for reopening last week, there is work to be done to meet each benchmark.
How will employees be included in the planning process?
We will negotiate the effects of reopening of schools with our labor partners representing our employees.
What can I expect over the upcoming weeks?
At this time, all students will continue to learn through distance learning. We will continue to update you on changes in risk status and on the progress of reopening conditions of readiness.
Will Learning Hubs continue to operate?
Yes. Learning hubs will continue to operate and support students consistent with the California Department of Public Health (CDPH) guidance on cohorts and associated FAQ. These programs are limited to students with special needs, children of essential workers, English language learners, foster youth, students experiencing homelessness, or other identified needs. Each cohort group is limited to 16 individuals per cohort and may not exceed 25% of the entire school population. Learning hubs provide a safe and reliable space for distance learning within cohorts at some Sac City Unified school sites.
Over the next few weeks, we will provide information to families about learning options when schools reopen and students will be allowed to return to campus. Please watch out for communications from the district and your student's school site.