Students can ride SacRT fare-free all day, every day.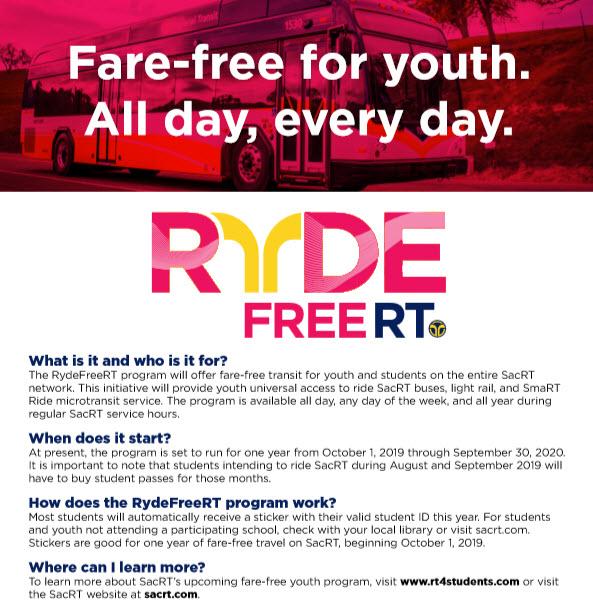 Great news for all of our students using public transportation! Sacramento Regional Transit, City of Sacramento and Sacramento City Unified School District have partnered to offer students free fare transit passes starting October 1, 2019.
The distribution of fare passes to all students will be done at schools located within City of Sacramento boundaries. Schools that are outside the City limits, but have students who are residents of the City can also obtain stickers from SacRT. Students who are experiencing homelessness and/or a part of foster programs will also be allowed to participate in the free student pass program regardless of current residence address or school address.
The City's Student Free Fare Transit Pass program will provide over 100,000 students the opportunity to ride any of SacRT's fixed-route or SmaRT Ride microtransit services at any time free of charge for an initial period of one year (from October 1, 2019, through September 30, 2020). The City is the sponsor of the program, providing funding to SacRT for the cost of student passes.
All students from kindergarten through 12th grade, who live or go to school in the City of Sacramento, will now have the ability to use public transportation for free. They can use it at any time of day, any day of the week, and year-round.
To learn more about SacRT's upcoming fare-free youth program, visit www.rt4students.com or visit the SacRT website at sacrt.com.