Statement and Resources for Discussing Today's Events in Washington D.C.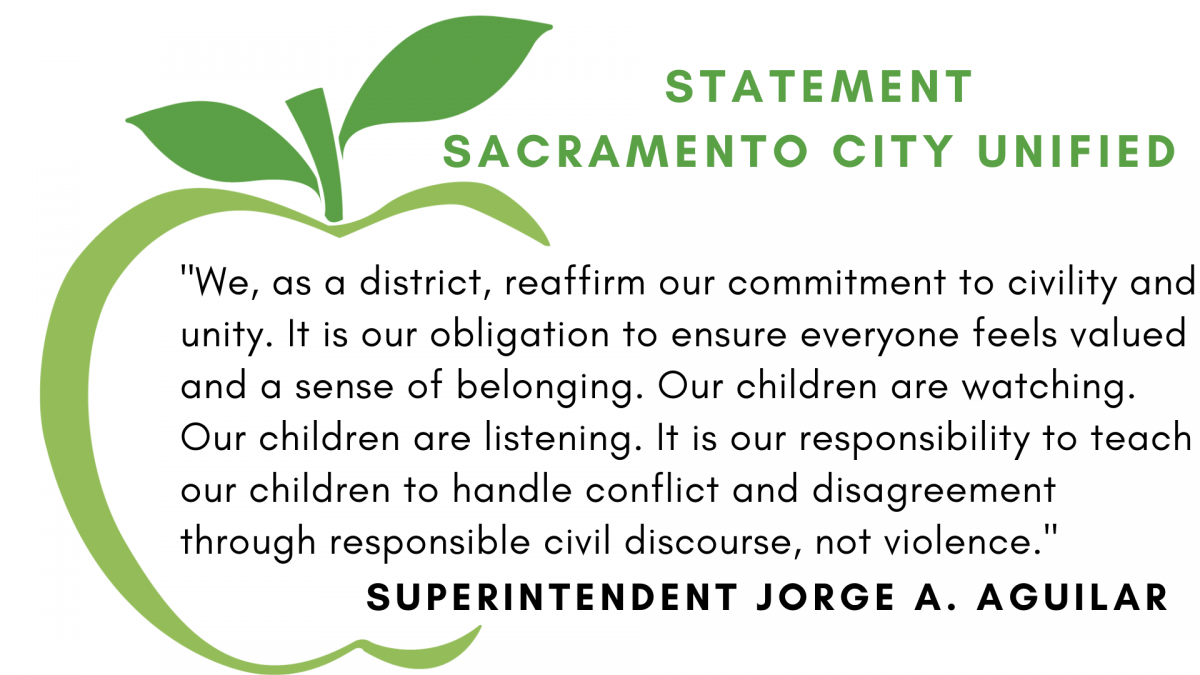 Dear SCUSD Families,
The violence and events that occurred today when rioters breached the U.S. Capitol in Washington D.C. were disturbing, upsetting, and disgraceful. However, we cannot allow these events to define us as a community or as a nation. We must hold tightly to our democratic foundation so that we may advance equity, access, and social justice for all. We, as a district, reaffirm our commitment to civility and unity. It is our obligation to ensure everyone feels valued and a sense of belonging. Our children are watching. Our children are listening. It is our responsibility to teach our children to handle conflict and disagreement through responsible civil discourse, not violence. We must help guide them through unrest and trauma and to support them in processing their grief and uncertainty in a healthy way.
Please visit the below guidance and resources to help discuss these events with your children:
How To Discuss Stressful Situations with Children
Tips to Steer Kids Through Political Season
How to Talk to Your Child About the News
6 Ways to Help Students Make Sense of A Divisive Election
Talking to Children About Violence
We understand that processing these events is difficult, for adults and children. Many of us will be addressing heavy feelings of grief, doubt, sadness, and even anger.
What We Can Do:
Pause to notice your own emotions about current events: Give yourself permission to feel the strong emotions and acknowledge their impact on your emotional health. Take a few minutes to regulate your body's response to the strong emotions by connecting with a colleague or partner to take 5 collective breaths together.
Create safety: Be available, be compassionate. Help those around us create predictability and a feeling of control. Connect visually or auditorily with others on a regular basis.
Provide routine and structure: During times of uncertainty, it is especially important to stick with normal routines – predictability and structure helps all of us self-regulate. Create routines and rituals throughout the week.
Prioritize health and well-being: Adding more stress will worsen our cognitive ability to adapt and learn. Promote healthy sleeping, eating and exercise habits.
Identify individuals who need additional support: Our ability to connect with others can make all the difference. Notice changes in behavior, academics, social interactions, and attendance - get help if concerned. If concerned refer to your school's Student Support Center and/or to the Connect Center to find links to available community resources. Check-in with friends, family and colleagues and provide linkages to the supportive resources listed below.
Monitor media use and utilize self care apps: Monitoring use of media is very important and you can check how you react before taking in media or new information. Set limits on media and opt to use the self-care apps, such as the following:
Sincerely,
Jorge. A. Aguilar
Superintendent