SCUSD's 2019 California School Dashboard results released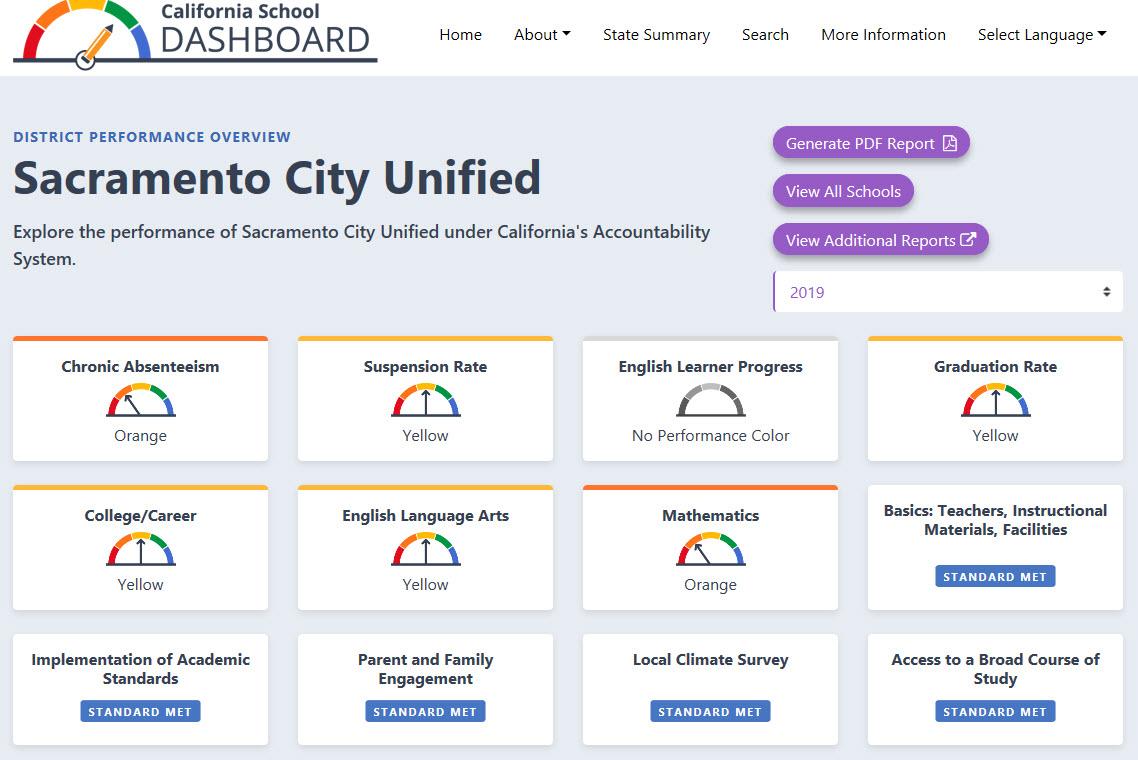 On Thursday, December 12th, the California Department of Education publicly released the 2019 California School Dashboard performance metrics for all schools.
Overall, Sacramento City Unified's 2019 Dashboard results highlight positive change in Suspension Rate and English Language Arts performance. These improvements led to a shift from 'Orange' to 'Yellow' in both areas. We also saw improvements in other areas, and although it was minor growth, Sac City Unified is moving in the right direction. Click on the links below to see the results:
Sacramento City Unified School District Dashboard Results
Individual Schools' Dashboard Results
The California School Dashboard provides parents and educators with meaningful information on school and district progress so they can participate in decisions to improve student learning.
In Sacramento City Unified School District, various Dashboard performance indicators help parents/guardians monitor the district and their school's progress on the following:

Chronic Absenteeism – Percent of K-8 students who miss 10% or more of the instructional days that they are enrolled to attend (minimum of 31 days enrollment). Includes all absences and out-of-school suspensions.

Suspension Rate – Percent of students who were suspended during the school year.

Graduation Rate – Combined 4-5 year graduation rate includes percent of students in a 4-year cohort who graduate plus any 5th-year graduates from the prior group.

College/Career Readiness – Percent of graduates who are deemed 'prepared' for college/career. Students can demonstrate preparedness through various combinations of testing (IB, AP, SBAC), course work (CTE, college courses, A-G, leadership/military science), and/or the State Seal of Biliteracy.

English Language Arts – Average distance from the 'Standard Met' performance level on the state English Language Arts assessment.

Mathematics – Average distance from the 'Standard Met' performance level on the state Math assessment.
The public can assess a school's performance on each Dashboard indicator using a color-coded system that displays performance based on current data on each measure and improvement or lack of improvement from prior year results. Download this fact sheet to understand how colors are determined in the Dashboard and what those colors mean.

The following are direct links to Dashboard results for the district and each of its schools. Click here to learn more about the Dashboard.