SCUSD is Proud to Recognize LGBTQ+ Pride Month!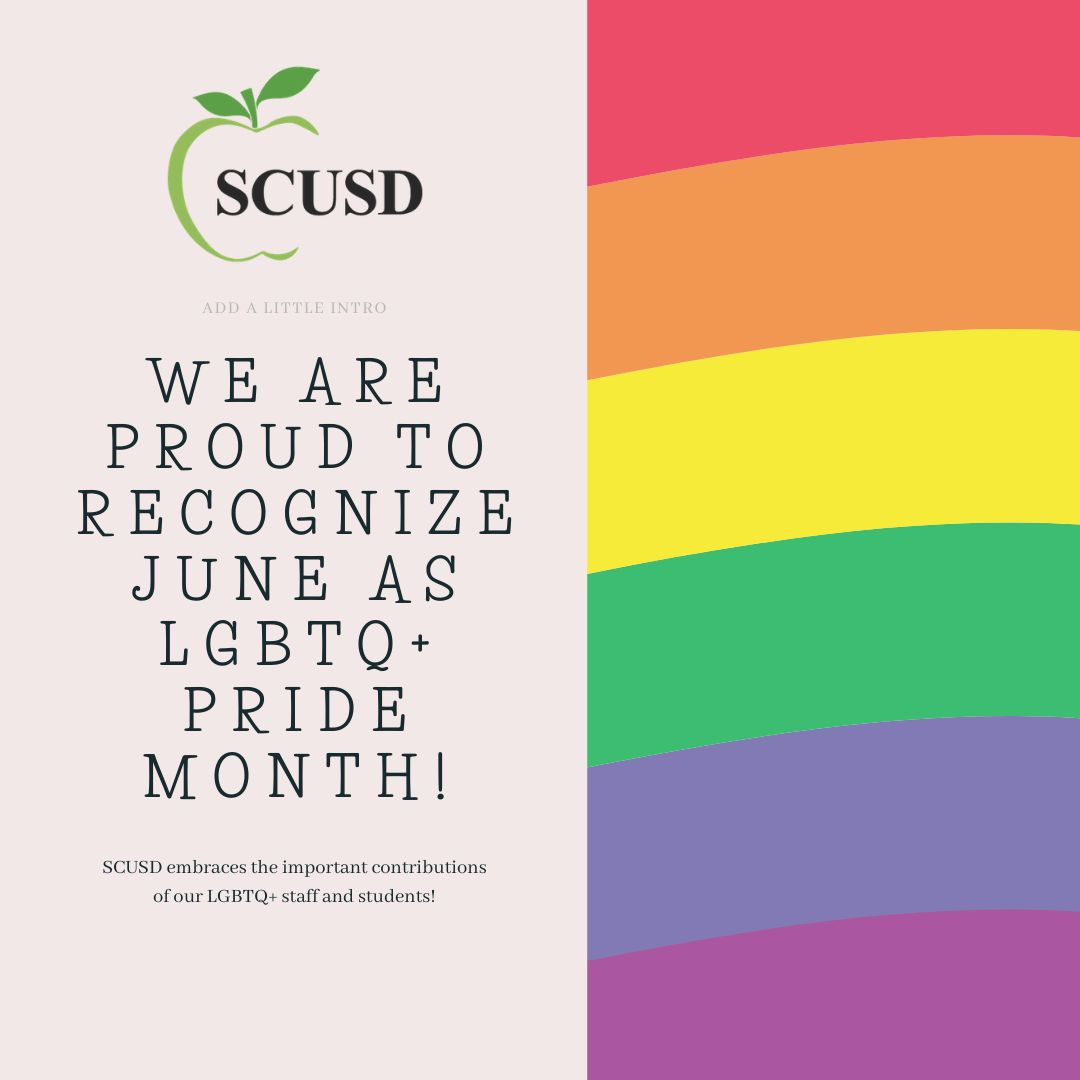 Did you know that the first Queer & Transgender Pride marches occurred one year after Stonewall? Early in the liberation movement, Pride was a protest. It was a time to bring visibility to the brutality and discrimination that with which queer and trans communities faced – and continue to face today. Stonewall Uprising was led by trans women of color like Marsha P. Johnson and Silvia Rivera that served as the catalyst for the Queer & Trans Pride movement we have today.
Stonewall is one of the reasons June has become LGBTQ+ Pride Month. June Pride is the opportunity to highlight and celebrate the identities and contributions of the LGBTQ community and to combat bullying/harassment based on sexual orientation and gender identity.
Today the Supreme Court ruled that Title VII of the Civil Rights Act of 1964, which makes it illegal for employers to discriminate because of a person's sex, among other factors, also covers sexual orientation and transgender status. This ruling will help to protect many LGBTQ educators who have faced harassment or job loss simply because of who they are. It also underscores the urgent need to pass the Equality Act for all of us to combat systemic discrimination on a broader scale. We acknowledge the struggle is not over.
LGBTQ Support Services through SCUSD's Connect Center offers students, families, school staff and community professionals a centralized source of information, and support regarding issues facing LGBTQ students that attend SCUSD schools. Services include services from staff including information/referral, short-term counseling, policy development, advocacy, and Safe Zone training for school communities. All services are confidential and are provided free of charge.
Please make sure to take a look at these important resources:
Each Mind Matters – LGBTQ Pride – https://emmresourcecenter.org/collection/lgbtq-pride
PFLAG Sacramento (Parents, Families and Friends of Lesbians and Gays) - www.pflagsacramento.org
GLSEN: The Gay, Lesbian and Straight Education Network -www.glsen.org/research
National Museum of African American History & Culture - Pride Month https://nmaahc.si.edu/explore/collection/lgbtq-objects
Five Trailblazers You Should Know: Pride Edition - https://nmaahc.si.edu/blog-post/five-trailblazers-you-should-know-pride-edition
The Trevor Project – Pride Everywhere - https://www.thetrevorproject.org/prideeverywhere/?c_src=pride2020&c_src2=homepageHero