SCUSD New Updates for Meal Locations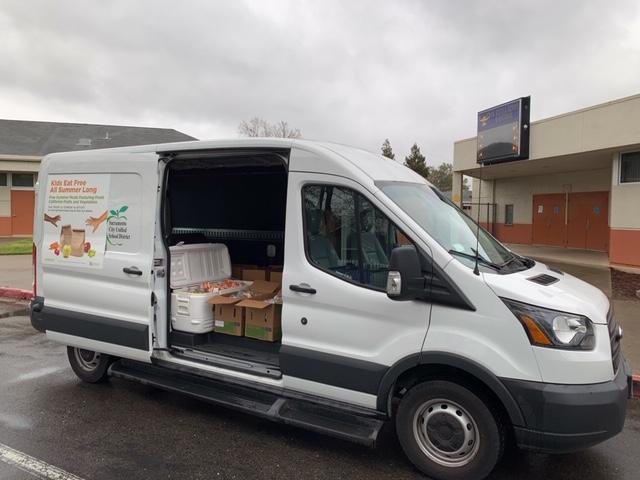 The Sacramento City Unified School District Nutrition Services Department continues to provide meal access for students affected by the school closures. The District made some adjustments to the locations to comply with the recent Governor's order directing all residents to stay at home, unless they are providing or accessing essential services.
The Nutrition Services Department will offer free meals to students at 31 SCUSD schools from 8:00AM to 12:30PM Monday through Friday. Meals will be distributed in the front office at each of the 31 school sites. Free meals will also be available from 4:30PM to 6:00PM Monday through Friday at 14 locations, including the District's Serna Center.
There is new information everyday, for this reason, please make sure to check our website for possible changes in times next week.
Make sure to look for a white District vehicle in front of the school office with our apple logo. District staff will deliver meals to your car. Please call Nutrition Services at 916-395-5600 for more information.
| | |
| --- | --- |
| School Sites OPEN for Meal Service | Meals Available at School Front Office During the Following Times |
| Abraham Lincoln | 8:00AM – 12:30PM and 4:30PM-6:00PM |
| Bret Harte | 4:30PM – 6:00PM |
| C.K. McClatchy | 8:00AM – 12:30PM |
| Elder Creek | 8:00AM – 12:30PM |
| Ethel I. Baker | 8:00AM – 12:30PM |
| Ethel Phillips | 8:00AM – 12:30PM |
| Father Keith | 8:00AM – 12:30PM and 4:30PM-6:00PM |
| Fern Bacon | 8:00AM – 12:30PM and 4:30PM-6:00PM |
| Golden Empire | 8:00AM – 12:30PM |
| Hiram Johnson | 8:00AM – 12:30PM and 4:30PM-6:00PM |
| Hubert Bancroft | 8:00AM – 12:30PM |
| H.W. Harkness | 8:00AM – 12:30PM |
| Isador Cohen | 8:00AM – 12:30PM |
| James Marshall | 8:00AM – 12:30PM and 4:30PM-6:00PM |
| John F. Kennedy | 8:00AM – 12:30PM and 4:30PM-6:00PM |
| John Still | 4:30PM – 6:00PM |
| Kit Carson | 8:00AM – 12:30PM |
| Leataata Floyd | 8:00AM – 12:30PM and 4:30PM-6:00PM |
| Luther Burbank | 8:00AM – 12:30PM |
| Martin Luther King | 8:00AM – 12:30PM |
| Matsuyama | 8:00AM – 12:30PM |
| Nicholas | 8:00AM – 12:30PM |
| Oak Ridge | 8:00AM – 12:30PM |
| Pacific | 8:00AM – 12:30PM and 4:30PM-6:00PM |
| Parkway | 8:00AM – 12:30PM and 4:30PM-6:00PM |
| Rosa Parks | 8:00AM – 12:30PM and 4:30PM-6:00PM |
| Rosemont | 8:00AM – 12:30PM |
| SERNA CENTER | 4:30PM – 6:00PM ONLY |
| Susan B. Anthony | 8:00AM – 12:30PM |
| Tahoe | 8:00AM – 12:30PM |
| Washington | 8:00AM – 12:30PM |
| West Campus | 8:00AM – 12:30PM |
| Will C. Wood | 8:00AM – 12:30PM and 4:30PM-6:00PM |
| William Land | 8:00AM – 12:30PM |