SCUSD launches series of activities to celebrate "Green Week" for fourth year in a row
Schools are empower with sustainability focused lessons, projects and activities!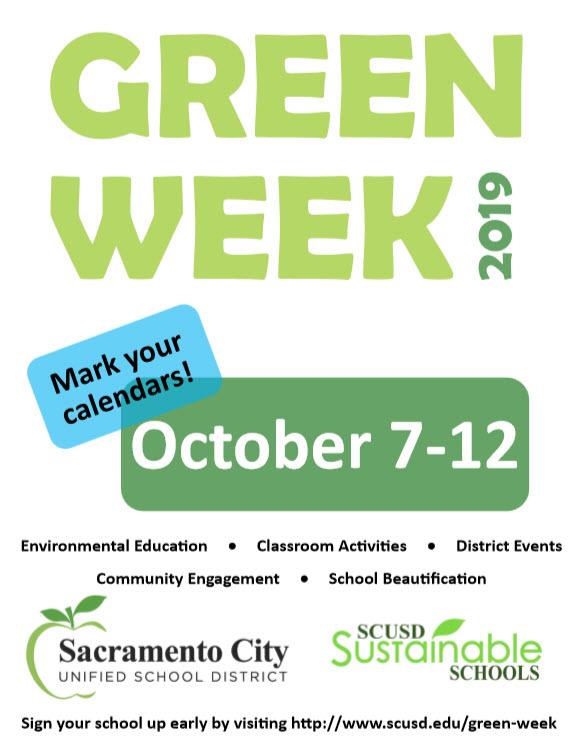 Sacramento City Unified will be celebrating its 4th Annual Green Week by empowering schools with sustainability focused educational materials from October 7th – 12th.
Our Green Week curriculum was provided in partnership with EcoRise. EcoRise is a nonprofit organization that empowers youth to tackle real-world challenges in their schools and communities by teaching sustainability, design innovation, and social entrepreneurship.
Sign up – In order for the schools to participate in green week activities, one staff member must enroll by October 4, 2019.
We are also partnering with the Sacramento Municipal Utility District (SMUD), and the Sacramento Mayor's Office to host our first ever Youth Climate Summit. The event will take place Saturday, October 12, 2019, from 9 a.m. – 3:30 p.m. All SCUSD teachers and high school students welcome. Click here to RSVP.
Here are our themed days:
Monday – Energy
Tuesday – Waste & Recycling
Wednesday – International Walk to School Day
Thursday – Water
Friday – Air Quality
Saturday – YOUTH CLIMATE SUMMIT
Sign up here to participate in Green Week! For more information about green week click here.