Sacramento City Unified Leadership Program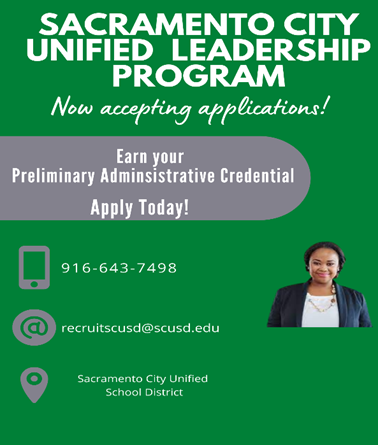 The Sacramento City Unified Leadership Program (SCULP) prepares teachers, counselors, and other educational professionals to take on administrative and leadership positions at a school site level. SCULP will focus on identifying, hiring, and supporting certificated employees to serve in SCUSD leadership positions while they earn their California Preliminary Administrative Services Credential. SCULP in partnership with Sacramento County of Education (SCOE) and National University is pleased to announce the unique and specialized program for current SCUSD employees.
Candidates will learn frameworks for problem-solving, how to use data to make decisions, how to supervise and evaluate teaching and learning, the elements of improvement science to make and analyze decision points at their sites.
For consideration, applicants should:
Step 1: Attend an informational session (4:00-5:00 via Zoom)
Register for the date you would like to attend by clicking on the date or using the below links:
https://www.eventbrite.com/e/2023-sacramento-unified-leadership-program-informational-session-tickets-562505267397
https://www.eventbrite.com/e/2023-sacramento-unified-leadership-program-informational-session-tickets-562514585267
Step 2: Complete an online application
Prepare a letter of introduction that includes a statement regarding your educational philosophy
Submit at least 2 letters of recommendation (one must be from a current supervisor)
You must be eligible for the preliminary administrative credential for participation per CTC regulations
Applications are due April 12, 2023