Sac City Unified's Efforts to Reduce Chronic Absenteeism Are Working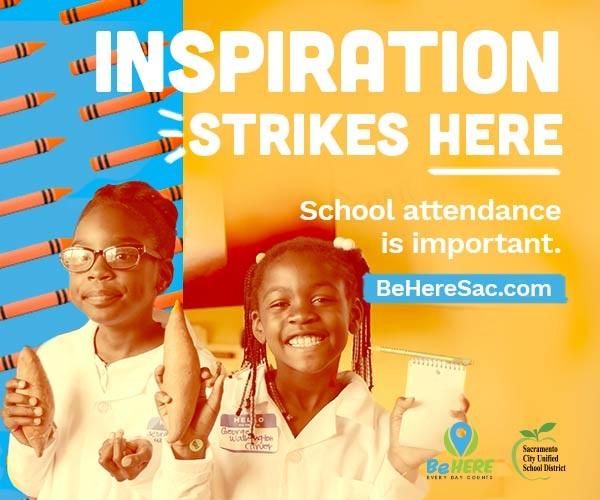 Sacramento City Unified School District's efforts to reduce chronic absenteeism in our highest risk schools are working according to preliminary data released today. The data compares year to year chronic absenteeism rates at ten schools that have been targeted with on-site prevention and intervention supports provided by our Be Here Campaign—a campaign we launched at the start of the 2018-19 school year with a focus on improving student attendance and reducing rates of chronic absenteeism. Below is a chart showing the progress made at each targeted school site.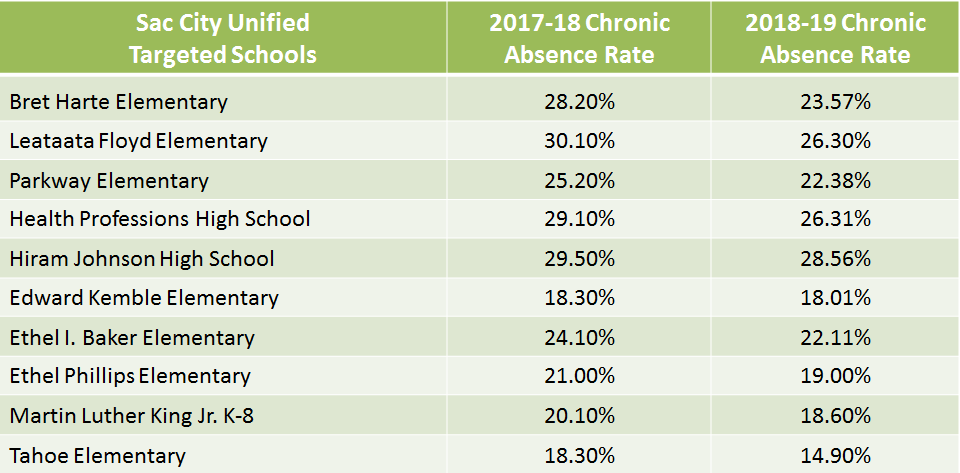 Source: Sacramento City Unified School District
"While we are achieving reductions in chronic absentee rates at our targeted schools, our goal is to help all students improve their attendance to achieve greater academic success and growth towards grade level readiness," said Jennifer Kretschman, who runs the District's Be Here Campaign. "Research shows chronically absent students fall behind and have a tough time catching up with their peers. That is why our campaign is focused on boosting their attendance."
The strategies used by SCUSD's Be Here campaign to help improve student attendance were recently highlighted in a continuous improvement brief published by the independent, nonprofit research center Policy Analysis for California Education (PACE). The brief included examples of local efforts to improve student attendance, with SCUSD's Be Here campaign featured as one of the systematic approaches being used by a California school district to boost attendance. Some of the campaign's main elements include:
Direct communications and hosting small group meetings with chronically absent students and families to discuss the importance of school attendance.
Working with students and their families to recover lost learning days.
Peer to peer campaigns with messaging produced by students, focused on motivating other students to attend school, including hosting attendance rallies and events.
The Be Here campaign is funded by a state grant that was created after the passage of Proposition 47. The grant helps fund efforts to address chronic absenteeism in Sac City schools. At the start of the 2018-19 school year, the District had a chronic absence rate of over 16 percent, nearly 5 percent higher than the state average of 11 percent. Through our targeted efforts, we hope to continue improving student attendance rates in the months and years ahead.
Click here to learn more about the Be Here campaign and the District's efforts to reduce chronic absenteeism.